Key takeaways:
Eczema is a condition with physical symptoms that can be seen by others, which leads to unique stressors for Cristina Sousa.

Cristina has had eczema since she was a baby, and figuring out how to best treat it involves a lot of trial and error.

Cristina has invested time and money in controlling her eczema, including undergoing permanent body and facial hair removal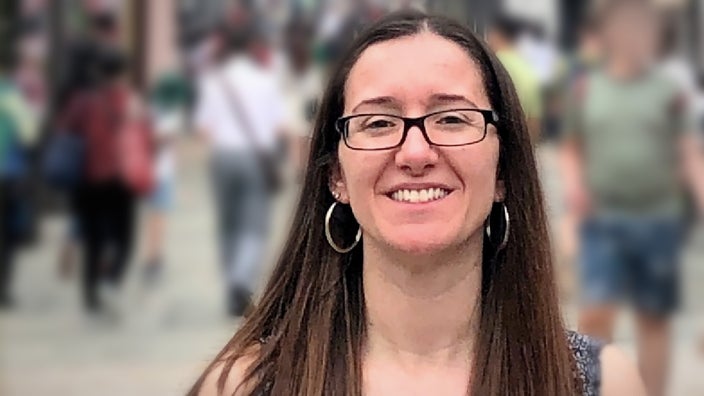 More than 31 million people in the U.S. have some form of eczema, according to the National Eczema Association. Cristina Sousa is one of them. 
But, as Cristina points out, each person diagnosed with the skin condition has a highly different experience: There's no one-size-fits-all reality or solution for those whose days revolve around managing red, itchy skin.
Cristina, 39, was born with eczema. Throughout her life, her symptoms have varied in severity. Right now, her biggest issue is dyshidrotic eczema, which causes itchy blisters on her right ring finger, plus extra dry hands. 
"My skin is very dry," she says. "It cracks."
It becomes particularly painful when she gets her hands wet, like when she's doing laundry. So she sometimes wears gloves to protect them. 
Her finger has been flaring up on and off for about 2 years: "My finger goes from dry and cracked to almost healing to blistering and itching," she says.
Through years of trying new things, Cristina has learned how to manage her eczema symptoms. That includes moisturizing daily, carefully considering what clothing to wear, and investing in permanent hair removal.
'You can't forget about it'
Imagine that you have an itch that's impossible to resist scratching — even though you know you shouldn't touch it. That's what having eczema is like, Cristina says: "The itch can be so intense." 
Sometimes people will tell her to stop itching, but the feeling is difficult to ignore.
Although she loves the sun, Cristina has learned that her skin reacts poorly to sunblock. She remembers vacations during which she's experienced flare-ups on her face — which, to the outside world, looked like big rashes. 
One time, her face got so irritated that she "wanted to go to the hospital," she says. When she reflects on the experience, she recalls being in overwhelming misery. 
"It's super uncomfortable," she says. "It's so uncomfortable to the point where you can't forget about it. You just want to keep your face on ice."
Another time, she accidentally got sprayed with someone else's sunblock on a boat trip and had to take Benadryl, which made her drowsy.  
"I had a rash that was spreading through my body," she says.
Given these issues, she has had to consider whether vacations are even worth it.
Constant trial and error
Over the years, Cristina has tried many treatments recommended by her dermatologist. There's no cure for eczema, but it can be treated with gentle skin care products, like cleansers and moisturizers, as well as topical steroids and other medications. Cristina says she previously experienced topical steroid withdrawal, which is a rare reaction to stopping the use of topical steroid creams.
Now, she focuses on using moisturizers that calm her irritated skin. She uses a certain set of products on her face and another set on her body. Sometimes, individual creams suddenly stop working. Other times, a moisturizer that didn't work for her years ago will become helpful. 
"You go to these high-end stores, like Macy's, or you go to the supermarket and go down the skin aisle and try a few different options," she says. "It's trial and error. You kind of just have to go through the motions of testing different creams."
Cristina has figured out a number of ways to adapt to her eczema and help prevent future flare-ups. For example, she doesn't wear makeup. Even Chapstick lip balm can cause her face to break out into a rash, she says. 
And while she would prefer to wax her eyebrows, that's no longer an option since it causes too much irritation. Instead, she now does threading.
For others struggling with eczema, Cristina recommends trying new products on a limited scope — a small area of the skin — "to prevent a broad-scope skin situation."
A condition that's impossible to hide
Cristina is in the process of cleaning out her closet and ditching solid, dark-colored clothing. 
"My scaly skin finds a way of just spreading throughout all of my clothing," she says. "My dark, solid clothing pieces are constantly sprinkled with skin flakes or striped with lotion."
Because she works in human resources, it's impossible not to interact with people or shake hands. 
"There have been times where I received comments about my dry hands, which didn't impact me much, but it served as a reminder of my condition," she says. "There were times when I'd consider calling out of work because of symptoms, but I wouldn't. I'd show up with a flaky face or rashy hands." 
On those occasions, Cristina would make frequent trips to the office restroom to put water on her face and reapply moisturizer.
Still, sometimes people would point out that her hands were really dry and suggest she use lotion. They didn't realize that she's dealing with a medical condition and already has a rigorous, daily moisturizing routine.
Though there have been times when Cristina didn't like what she saw reflected in the mirror, it's "never really stopped" her from living her life, she says. However, she has days when she considers whether she wants to go out in public, because her face is flaky. And her condition is always in the back of her mind when she shakes hands. She also worries every time she tries a new moisturizer or other product. 
"It's like being preoccupied with, 'Will this cause a flare-up? Will it hurt me?'" she says.
The financial factor
Eczema has had a financial impact on Cristina's life, too. 
"Going to the dermatologist is not cheap," she says, adding that she feels fortunate to have health insurance that covers appointments. 
Not all treatment options are covered by insurance, though: "Beauty products, in general, and experimenting with different creams — it has an impact."
She also invested thousands of dollars in permanent body and facial hair removal, to avoid skin reactions from shaving and waxing. That costs time — many hours over the course of about a year — and money. 
But it's worth it, Cristina says, because it has helped her "quite a bit." Though, she acknowledges it may not be right for everyone.
Hope for others
Cristina recommends patients with eczema tap into online support communities and reach out to others who have the condition. 
"Know that there are other people out there that are experiencing similar symptoms," she says. "You don't have to feel like you're going through it alone."

Want to tell your patient story? Email us at patientstories@goodrx.com.
Subscribe and save.
Get prescription saving tips and more from GoodRx Health. Enter your email to sign up.
By signing up, I agree to GoodRx's Terms and Privacy Policy, and to receive marketing messages from GoodRx.