According to the Centers for Disease Control, more than 60,000 children end up in the emergency room every year due to accidental overdose — often from medications they find around the home.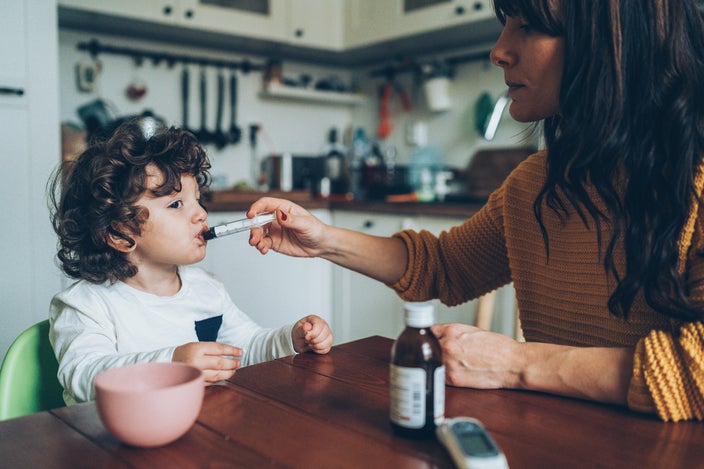 This danger may increase around the holidays, when kids are exploring new territory in a relative's house and grown-ups might not be keeping a close eye. It's especially risky when older adults are involved, as many medications for people age 50+ can be very harmful to children. Even a small dose can have a big effect on a child's body.
Here are some of the most common medications and bathroom products that emergency room physicians uncover in children's overdoses. Ingesting these can cause severe symptoms — even death — for kids.
Symptoms of medication overdose in children
Children can be sneaky when it comes to putting things in their mouths, so you won't always see when they've accidentally swallowed pills. That's why it's so important to be familiar with the symptoms of an overdose.
The most telltale signs of a medication overdose in children are vomiting, diarrhea and/or drooling. Other common symptoms include the following:
profuse sweating

abdominal pain

dilated or shrunken pupils

slurred speech

yellowing of the skin and whites of the eyes

dizziness and stumbling

seizures
Tips to keep medications away from kids
1) Keep your medicines in a locked cabinet
It's not enough to trust pill boxes and child-proof pill bottles to fend off curious children. Even toddlers can get into these containers with just a bit of tinkering. In fact, about 25% of all cases of child overdose are due to children getting into pill boxes. So, keep your children safe by locking your medications in a cabinet (and reminding your relatives to do so, too, in case you visit).
2) Throw away medicines you don't need
Check your medicine cabinet regularly for expired medications and medications you don't need anymore. To prevent anyone—including your children—from accidentally taking them, properly dispose of them by following the instructions on the medication packaging or visiting the FDA's guidelines here on How To Dispose of Unused Medications.
What should I do if a child overdoses?
Accidents can happen, even if you've taken every precaution to prevent them. If you believe your child has overdosed on a medication, act swiftly.
Call The Poison Help Line immediately at 1-800-222-1222. (You might want to take a minute to save this number in your phone.) When you call, you'll speak with licensed healthcare provider who will give you advice on what to do next. This service is free, and interpretation is available in over 160 languages.

Call 9-1-1 instead if your child is unconscious, not breathing or having seizures.

Follow up with your child's healthcare provider. After your child gets immediate care, be sure to inform their regular pediatrician of the incident. With proper treatment and follow up, your child will be in the best position for a full recovery.
Subscribe and save.
Get prescription saving tips and more from GoodRx Health. Enter your email to sign up.
By signing up, I agree to GoodRx's Terms and Privacy Policy, and to receive marketing messages from GoodRx.