Key takeaways:
Accidental medication overdoses are common in kids. Some are mild and manageable, while others are more serious. Kids can even end up in the hospital or die from an accidental overdose.

Both prescription and over-the-counter medications can cause overdoses in kids. Opioid pain medications, Tylenol (acetaminophen), and iron supplements are common culprits.

You can try to prevent an accidental overdose by keeping medications in a locked cabinet that your kids can't access. You can also talk to your kids about the importance of medication safety.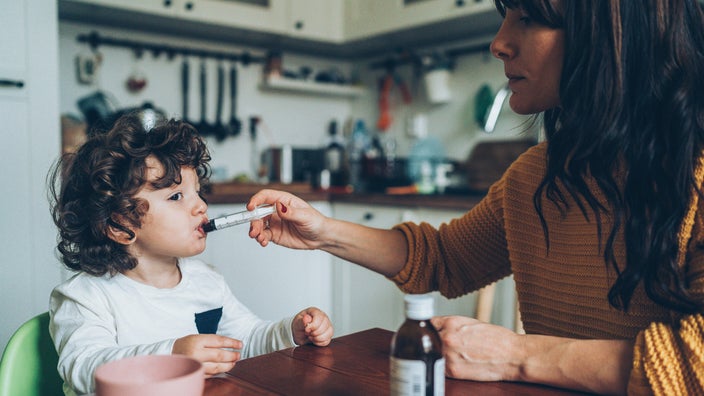 Save on AUVI-Q® (epinephrine injection, USP)
Be prepared with AUVI-Q, an epinephrine auto-injector with voice instructions. See if you could get AUVI-Q for as little as a $35 copay*. Not covered or uninsured? You can still save with GoodRx.
*See full terms at auvi-q.com/support I GoodRx Health information and resources are reviewed by our editorial staff with medical and healthcare policy and pricing experience. See our editorial policy for more detail. We also provide access to services offered by GoodRx and our partners when we think these services might be useful to our visitors. We may receive compensation when a user decides to leverage these services, but making them available does not influence the medical content our editorial staff provides.
Accidental medication overdoses are the cause of about 35,000 emergency room visits every year in kids younger than 5 years old. That's a scary statistic, but it's a situation that can usually be avoided.
Keeping medications out of the reach of children is one step to preventing a medication overdose. But knowing which medications are the most likely to cause these overdoses, which may range from mild to life-threatening situations, is just as important. 
9 common medications related to overdose in children
Children overdoses occur most often at home. Usually, these medications are left out or placed in medicine cabinets that are easy to access. Kids are curious and can be tempted to consume medications, especially since many look just like candy. The prescription and over-the-counter (OTC) medications listed below are common culprits in child overdoses.
1. Opioid pain medications like oxycodone
You or a family member may be taking opioids to manage pain. But these medications are at the top of the list for life-threatening overdoses in kids. Oxycodone (OxyContin), methadone (Methadose), and fentanyl (Actiq) are a few examples of opioid medications. 
Accidental opioid overdoses can happen to anyone. Signs of an opioid overdose may include:
Slow breathing

Breathing changes during sleep

Small pupils

Being unconscious

Blue lips and fingernails

Pale or clammy skin

Limp body
2. Tylenol
With over 600 prescription and OTC medications containing the active ingredient in Tylenol (acetaminophen), you're bound to have at least one product at home. Tylenol is safe and effective for managing pain and fever in adults and kids. But Tylenol is broken down by the liver, so taking too much may cause liver damage. It's easy to accidentally take multiple products that contain acetaminophen without realizing it.
Like many medications for kids, Tylenol's dosage is based on your child's body weight. The maximum dose of Tylenol for kids is 75 mg per kg of body weight per day — but not more than 4,000 mg in a day.
Common symptoms of a Tylenol overdose in kids include:
Nausea

Vomiting

Constipation

Yellow skin or eyes

Skin rash

Confusion
3. NSAIDs like Advil
Nonsteroidal anti-inflammatory drugs (NSAIDs) are common medications that manage pain and fever in kids and adults. Examples include ibuprofen (Advil, Motrin) and naproxen (Aleve). Parents are likely to have at least one NSAID on hand.
Ibuprofen is one of the most common NSAIDs involved in medication overdoses in kids. Kids that ingest less than 100 mg per kg of body weight typically don't experience serious side effects. Your child may experience mild to moderate symptoms — like an upset stomach — if 100 mg to 400 mg per kg of body weight is ingested. At doses higher than 400 mg per kg of body weight, kids can experience more dangerous side effects. Kidney damage and seizures are a couple of examples.
4. Iron
Iron pills treat and prevent anemia in kids and adults. Iron is found in many OTC multivitamins and as stand-alone products. But iron can be especially dangerous if kids take too much.
Iron overdose symptoms depend on different factors, such as the child's age, weight, and how much elemental iron was ingested. But symptoms generally happen when kids ingest 20 mg to 60 mg per kg of body weight of elemental iron — and it can even be life threatening. Iron overdose symptoms may include:
Nausea

Vomiting

Diarrhea

Stomach pain

Bleeding

Seizures

Low blood pressure
5. Blood pressure medications like amlodipine
Beta blockers and calcium channel blockers (CCBs) are groups of prescription medications that lower blood pressure. Metoprolol succinate (Toprol XL) and atenolol are examples of beta blockers. Amlodipine (Norvasc) and nifedipine (Procardia XL) are common CCBs.
But they can be especially dangerous if kids accidentally take an adult dose. Slow and irregular heart rate, low blood pressure, seizures, and coma are a couple of possible symptoms.
6. Cough and cold medications
You may turn to cough and cold medications when your child is sick. But you may be wondering if they're actually safe for kids. The short answer? It depends on their age. 
Experts generally recommend avoiding cough and cold medications in kids under 4 years old. If your child is 4 to 6 years old, it's best to contact your healthcare provider first to see what they think. Cough and cold medications are generally considered safe in kids ages 6 years and older as long as the right dose is given.
Many cough and cold products include a variety of ingredients, such as antihistamines, decongestants, and cough suppressants — raising the risk of experiencing side effects. Accidental overdoses have caused drowsiness, seizures, and fast heart rate. Deaths have happened on rare occasions.
7. Blood thinners like Eliquis
Blood thinners like Eliquis (apixaban), Xarelto (rivaroxaban), and warfarin (Coumadin, Jantoven) prevent and treat blood clots. But they can cause bleeding if kids accidentally ingest them. Bruising, unexplained headaches, and severe dizziness are other overdose symptoms to watch out for.  
8. Diarrhea medications like Imodium A-D
Medications that treat diarrhea — such as loperamide (Imodium A-D) — might be your go to option while traveling. But loperamide can be dangerous if kids take too much. Serious heart problems, like abnormal heart rhythms (arrhythmias), and other dangerous side effects can happen. Symptoms of a loperamide overdose may include a fast heart rate and excessive drowsiness.
9. Eye drops and nasal sprays
OTC eye drops and nasal sprays typically don't have child-resistant packaging — making them easy targets for kids to ingest. These products include redness-relief eye drops and nasal decongestant sprays. Products like Clear Eyes Redness Relief (naphazoline/glycerin) and Afrin (oxymetazoline) can cause serious side effects if swallowed. 
The FDA has received reports of kids being hospitalized for low heart rate, slow breathing, and drowsiness after swallowing these products. Serious side effects can happen even after swallowing less than a teaspoon (5 mL) of these medications.  
What should I do if my child overdoses?
If your child unexpectedly takes medication, or you think too much has been administered, it's important to act quickly. Contact your healthcare provider or call Poison Control at 1-800-222-1222 for advice. Even if their symptoms appear minor, it's worth a call just to check in. Go to the nearest emergency room if your child has trouble breathing, is unconscious, or just had a seizure.
If you or a family member takes opioids, it's a good idea to have Narcan (naloxone) on hand. It's easier to access now, too, as Narcan nasal spray was recently approved for OTC use. It's a life-saving medication that can reverse an opioid overdose in adults and kids.
How to keep your child from overdosing
Parents all want the same thing: to keep their kids safe and healthy. Medication safety is a vital piece of the puzzle.
Keep your medications in a locked cabinet
It's not enough to trust pill boxes and child-resistant bottles to fend off curious children. Even toddlers can get into these containers with just a bit of tinkering. So keep your kids safe by locking your medications in a cabinet that is out of reach. You should also put medications away immediately after using them.
Talking about medication safety with other caregivers — like grandparents and older siblings — who watch your young kids is another good idea. Make sure while traveling to keep all medications out of reach of kids. This can help prevent accidental overdose while on vacation.
Properly dispose of medications you don't need
Check your medicines regularly to see if any are expired or not being used anymore. The best way to dispose of medications is at take-back locations. Many of these are conveniently located at pharmacies. Drug repository programs are another option in certain areas.
Take-back programs may not be an option for everyone. If this is the case, you can check out the FDA's flush list. If your medication is listed, you can safely flush it down the toilet. If it's not on the list, you can mix the medication with used coffee grounds, cat litter, or dirt. Then it can be thrown out in the household trash.  
Read the 'Drug Facts' label on OTC medications
The "Drug Facts" label on OTC medications lists all the active ingredients a product contains. When you're selecting an OTC product for your child, make sure you're not doubling up on the same medication you may already have at home. Safe dosing recommendations are also listed on this label.
Talk with your kids about medication safety
It might be tempting to refer to medications as candy to help get your kids to take them when they're sick. But it can actually tempt them into trying it on their own. This is especially true with gummies and flavored liquids. So it's best to avoid calling medication candy. 
You can also teach your kids about making positive choices when it comes to medications. This can help your kids play an active role in their own health. Let them know that only their parents or other trusted adults should give them medication. If they find a loose pill, they should give it to an adult and never try it. Kids old enough to read can review the medication instructions with their families.

The bottom line
Accidental medication overdoses in kids can be scary for families. Opioids, Tylenol, and cough and cold medications are a few common medications that can contribute to overdose. These can also cause accidental medication overdoses in kids. Luckily, there are ways to prevent overdoses from happening. Keeping medications locked away and reading the "Drug Facts" label on OTC products are a couple of tips. 
Ershad, M., et al. (2023). Ibuprofen toxicity. StatPearls. 
Gaw, C. E., et al. (2023). Characteristics of fatal poisonings among infants and young children in the United States. Pediatrics. 
Graundins, A., et al. (2016). Calcium channel antagonist and beta‐blocker overdose: antidotes and adjunct therapies. British Journal in Clinical Pharmacology.  
KnowYourDose.org. (n.d.). Common medicines containing acetaminophen. 
Mboma, O., et al. (2021). The risk of nonsteroidal anti-inflammatory drugs in pediatric medicine: Listen carefully to children with pain. Children. 
O'Malley, G. F., et al. (2022). Iron poisoning. Merck. 
Tomaselli, G. F., et al. (2020). 2020 ACC expert consensus decision pathway on management of bleeding in patients on oral anticoagulants: A report of the American College of Cardiology Solution Set Oversight Committee. Journal of the American College of Cardiology.  
U.S. Food and Drug Administration. (2020). Drug disposal: FDA's flush list for certain medicines. 
U.S. Food and Drug Administration. (2018). FDA Drug Safety Communication: FDA warns about serious heart problems with high doses of the antidiarrheal medicine loperamide (Imodium), including from abuse and misuse. 
U.S. Food and Drug Administration. (2018). Use caution when giving cough and cold products to kids. 
U.S. Food and Drug Administration. (2016). FDA Drug Safety Communication: Serious adverse events from accidental ingestion by children of over-the-counter eye drops and nasal sprays. 
U.S. Food and Drug Administration. (2013). As they grow: Teaching your children how to use medicines safely. 
United States Consumer Product Safety Commission. (2023). Annual report on pediatric poisoning fatalities and injuries. 
Yuen, H. W., et al. (2022). Iron toxicity. StatPearls.
GoodRx Health has strict sourcing policies and relies on primary sources such as medical organizations, governmental agencies, academic institutions, and peer-reviewed scientific journals. Learn more about how we ensure our content is accurate, thorough, and unbiased by reading our editorial guidelines.