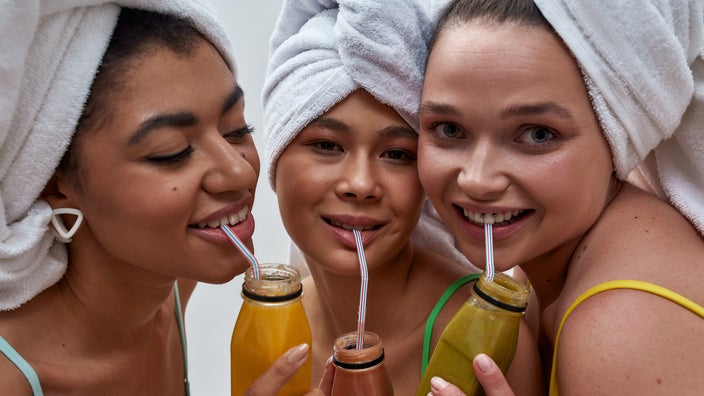 Many people follow diets — either for medical reasons or to make changes in their body. The term "diet" simply refers to the type and amount of food that a person chooses to eat. A healthy diet usually includes foods from a variety of food groups.  
Signs of an unhealthy or "crash" diet are when a diet is extreme, promises rapid results, and requires you to exclude many different foods or food groups. There's some evidence that crash diets could be linked to disordered eating or eating disorders, like anorexia or bulimia.
We'll cover how to tell the difference between a healthy diet and an unhealthy one as well as how to make changes to the way you eat. This way, you can feel good about yourself and your health.   
What is a crash diet?
Crash diets are extreme eating plans. They typically require you to exclude specific foods and sometimes entire food groups from your diet. This makes these diets difficult to follow — and even more difficult to stick to. Sometimes crash diets can even make it hard for your body to get the nutrition it needs to function properly.
Crash diets offer a "quick fix" to a problem you may think you have. These diets often tell you to follow a specific eating plan that is very different from your current diet. The media and celebrities often promote crash diets. But crash diets usually aren't based on research, so they can be risky to follow. And they can cause more harm than good.
More than 33% of female adolescents who are actually at a healthy weight try to diet.
Signs that a diet is unhealthy
If you're curious about a certain diet, keep an eye out for signs that it's not healthy:
It asks you to avoid an entire food group (such as carbohydrates).

It uses the word "cleanse" or "detox."

It promises quick weight loss.

It is extremely low in calories.

It promises improvements to your health in a short period of time.

It tells you that you don't have to exercise in order to experience improvements.

It tells you that a specific product — such as a pill or tea — is all you need.

It doesn't tell you how you should eat or behave after the diet is over.

It is advertised and promoted by famous people in the media.

It sounds too good or too easy to be true.

It doesn't talk about any research that supports its claims.
Examples of unhealthy diets
Here are some examples of eating plans that can be considered crash or fad diets:
Other diets that don't work
Some crash diets recommend drinking things like diet teas or taking diet pills or other supplements. Many of these products are available at local drugstores. But they're not recommended for anyone, and they can be dangerous to your health. Many of them contain harmful ingredients. Studies have even found that some cause dangerous side effects, like seizures and an abnormal heart rate. 
Just because a product is "natural" doesn't mean it's healthy. Talk to your healthcare provider before considering trying any product that says it may help you lose weight.
What are the risks of a crash diet?
The body goes through a lot of growth and development during the teenage years. This means teens have increased nutrient needs that their diet must provide. Following crash diets or food fads makes it much more difficult to meet these needs.
Crash diets often make big promises that are not realistic. These promises and claims are not specific to you, and they're not safe or healthy for just anyone to follow. There are a lot of factors to consider when it comes to your health. So it's never a "one-size-fits-all" subject.
Crash diets come with some serious health consequences. And you don't have to follow a specific crash diet or plan to experience these negative side effects. Other things that are dangerous and can harm your health in similar ways include:
Being too restrictive with your eating

Using diet pills or diet supplements

Counting calories
Sometimes, crash dieting might actually be a symptom of an eating disorder. Eating disorders are mental health conditions that affect your body image and relationship to food. Of course, not everyone who goes on a diet has an eating disorder. But there can be some overlap. 
Malnutrition
Malnutrition happens when you don't get enough vitamins and minerals in your diet. Malnutrition can cause:
Weakened immune system

Poor energy and weakness (this can lead to performing worse in things like sports and school)

Difficulty staying focused
Hormonal changes
Losing too much weight too fast can delay puberty or stop your period, even once it has started. This can affect the way your hormones work and can make it difficult to become pregnant later in life.
Mood changes
What you eat can affect your mood. These mood changes can include depression, anxiety, and irritability. And being focused on a crash diet can get in the way of hanging out with friends and family or even sitting down to enjoy a meal or snack. It can also make you feel tired or cause problems with your concentration and focus.
On the other hand, enjoying a wide variety of nutritious foods — like healthy fats, fruits, vegetables, and whole grains — can really boost your mood. That's because the body needs the nutrients in food to make important chemicals, like serotonin. Without food, the body doesn't have what it needs to keep a balanced mood, high energy, and a sharp brain. 
Changes to how you eat and deal with food
Following unhealthy diets can cause permanent changes to how the body deals with food and responds to hunger:
Your brain may no longer be able to tell when you're full, which can make it easier for you to overeat.

Your metabolism can slow down. This means your body doesn't burn calories as quickly. It can cause weight gain and trouble losing weight later in life.

You can develop disordered eating behaviors, which may be connected to eating disorders. This includes the condition orthorexia — an unhealthy obsession with only eating foods believed to be "healthy."
Problems with body image
This is how you think and feel about your body. It's not just what you see in the mirror. Problems with body image can also include worrying or feeling anxious about how other people view you. 
Crash dieting can cause you to have negative thoughts about your body and can lead to poor self-esteem. As a result, you may become more likely to diet even more, creating an unhealthy cycle that's tough to break.
Healthy eating habits for teens
So, what is a healthy way to eat? Here's the key: Healthy eating means enjoying a wide variety of foods. It also means eating enough food to meet your daily needs. A healthy diet provides your body with a big range of nutrients to support healthy growth, development, and protection from disease.
Instead of following crash diets, it's better to focus on balanced eating habits, like: 
Eating plenty of fruits and vegetables

Eating a variety of whole grains from foods like whole-wheat products, brown rice, and quinoa

Eating lean proteins from foods like fish, poultry, meat, soy, and beans

Eating healthy fats from foods like avocados, olive oil, nuts, and seeds

Drinking plenty of water

Limiting snacks

Not eating or drinking too much sugar from things like desserts, sodas, and juice

Only occasionally eating fast foods and packaged convenience foods
And remember: Unless you have a food allergy, no foods are completely off limits. Crash diets try to convince you that certain foods are bad, but this is wrong. The truth is that almost all foods are OK to enjoy once in a while. Just make sure you're saving plenty of room for nutrition powerhouses, like fruits, veggies, and whole grains.
When is it OK for teens to be on a special type of diet?
Sometimes, it's necessary to follow a specific diet pattern. You may have certain beliefs or food preferences. Or you might have a food allergy or other medical condition that affects what you're able to eat. 
These eating habits may restrict some foods. But they're not the same thing as a crash diet. This is especially true when your dietary pattern still includes a lot of different foods and you're eating enough food to meet your body's daily needs.
Examples of different types of eating patterns include:
Vegetarianism: This means not eating meat, fish, and poultry. But it allows for eating eggs and dairy products (more below on vegetarian diets for teens).

Veganism: A vegan diet means avoiding eating any type of animal products. (more below on vegan diets for teens.)

Gluten-free diet: This diet avoids all grains that contain gluten. This includes wheat, barley, and rye as well as all foods made with them. This diet is usually only for people who have been diagnosed with celiac disease or  an intolerance or allergy to gluten.

Allergen-free diet: This might include cutting out groups of foods that you are allergic too, like nuts, milk, eggs, or soy. 
And remember: If you're a teen, you (or your parents) should check in with your healthcare provider before changing how you eat. The body grows a lot during the teenage years. Your provider can help you understand whether changing what you eat is healthy and how it could affect your short-term and long-term health. 
Is it safe for teens to be vegetarian or vegan?
Yes. According to the Academy of Nutrition and Dietetics, vegetarian and vegan diets are appropriate for people of all ages — including teenagers. But keep in mind: Healthy vegetarian and vegan diets can take a little extra planning. This is because animal foods provide many important nutrients that are needed for healthy growth and development.
If you eat few — or no — animal products, you'll want to make sure you're getting enough of these important nutrients:
Calcium

Vitamin D

Iron

Zinc

Essential fats
If being vegetarian or vegan is part of your personal, family, or cultural identity, it's OK to continue. All the same, it can be helpful to talk to your pediatrician or another health professional about your diet. They can help make sure you get all the nutrients your body needs.
Why do people diet?
Many people choose to go on a diet because they want to change something about their appearance or health. Other people go on a diet for health reasons or because of a medical condition.
Some specific reasons people choose to diet may include:
Wanting to lose weight, and to do so quickly

Not being happy with how their body looks

Believing that following a diet will lead to better health

Needing to manage a health condition

Wanting to improve performance in athletics

Wanting to gain muscle or change the shape of their body

Peer pressure
Some people are more likely to follow a diet than others, including:
Young girls and teens

People whose family members or friends are often dieting

People who believe or have been told their weight is too high

People with mental health conditions, such as anxiety or depression

People who are teased or bullied for how they look
Feeling good about yourself and your body
You are what you eat, but you are also who you are. Try to find joy in what your body can do for you, eat mindfully, and celebrate your own diversity. These are part of the philosophy of Health At Every Size® (HAES). This idea supports people of all sizes to take care of themselves with compassion and respect.
Here are some ways to improve your health and well-being beyond dieting:
Concentrate on what your body can do rather than what it looks like.

Try to limit the time you spend on social media.

Whether in real life or online, spend time with role models who have a positive body image and don't make you feel bad about how you look.

Make healthy diet and lifestyle changes with the guidance and expertise of a trained health professional such as a registered dietician.

Work with a mental health professional who can help you cope with stress and difficult life circumstances.
How can you lose weight safely?
Although most young people who diet or think about dieting don't need to lose weight, some people do. If your healthcare provider has recommended losing weight, there are ways to do it safely — without crash dieting. 
The key is to do it slowly. Make healthy changes to what and how you eat. And find a level of activity that you can keep going throughout your life — not just for the next few weeks.
To figure out whether someone has a healthy weight for their height, healthcare providers use the body mass index (BMI). This screening tool isn't always accurate, but it can be a good starting point.
For a teen, a BMI between 18.5 and 24.9 is considered "healthy." A BMI below that range is considered "underweight." A BMI above the range is considered to be "overweight" or "obese."
But remember: Your BMI is just a guide for your weight and your health. It isn't the last answer. A healthy BMI for one person can be unhealthy for another. It can depend on your race or body type. For example, do you have more fat or more muscle in your body? The location of the fat on your body — such as around your waist — can really affect your health, too. 
You can read more about BMI here, and how it is not a perfect measure of weight.
If your healthcare provider recommends that you lose weight, here are some changes that can help.
Eat a healthy and balanced diet
A healthy diet is one that contains:
Lots of fruit and vegetables

A variety of foods that provide lean protein (such as fish, chicken, tofu, and beans)

High-fiber carbohydrates (such as fruits and whole grains)

Healthy fats (such as nuts and avocados)

Low salt and low sugar
Practice healthy eating behaviors
This means eating at regular times, without being distracted:
Eat with your family at mealtimes.

Turn off the TV and set your phone aside while you eat.

Pay close attention to when and how your body tells you that you're hungry and when and how your body feels full.

Take time to slow down when you're eating. This is also called "mindful eating."
Be physically active every day
It's always best to choose activities that you enjoy. This makes it easier to keep doing them. Teens should aim for:
At least 1 hour of moderate physical activity that raises the heart rate (like hiking or walking) every day

At least 30 minutes, 3 days per week of activities that build muscle strength, like climbing or weight training
Prioritize good sleep
You might think that sleep has nothing to do with weight, but it does. Not getting enough good quality sleep (sleep hygiene) every night is linked to tiredness, lower activity levels, and changes in how the brain makes decisions about food. Teens need between 8 to 10 hours of sleep each night. Try these tips to get a better night's sleep:
Stick to a regular bedtime and wake time.

Turn off your screens and devices at least 1 hour before bedtime.

Keep your bedroom cool and dark.

Limit caffeine from sodas, energy drinks, and coffee or tea at night.
Eat nutrient-rich foods
All foods are OK to eat. But when it comes to nutrition, not all foods are created equal. For example, almonds provide the body with important nutrients like healthy fats, fiber, protein, and vitamins. These nutrients help you feel full and satisfied and support a normal metabolism.
On the other hand, a donut provides empty calories. Donuts are fun to eat, but they're mostly just made of sugar and unhealthy fats. They only fill you up for a little while, and they don't do much to help your energy or mood later in the day.
It's fine to enjoy different types of food. But remember to make room for nutritious foods. Try to make nutritious foods (like proteins and veggies) the "stars of the show," and make less nutritious foods (like cookies and chips) occasional background characters. 
Lose weight slowly
If your provider recommends that you lose weight, it can be tempting to want to lose weight quickly. But rushing things is not healthy for the body. And when you lose weight fast, you're more likely to gain it back in the future. For safe and successful weight loss, aim for a slow-and-steady loss of about 1 to 2 pounds per week.
More information and resources
If you want to learn more about healthy eating, check out these helpful resources:
The bottom line
Crash diets aren't the answer to good health for anyone — especially not teens. One of the best things teens can do is to create a positive and healthy relationship with food. This means eating plenty of nutrient-rich foods every day and staying away from trendy "quick-fix" diets that can be hard on physical and mental health. And there are other things you can do to improve your health and well-being. It's not just about what you eat.
Association for Size Diversity and Health. (n.d.). HAES principles. 
Barrea, L., et al. (2019). Nutritionist and obesity: Brief overview on efficacy, safety, and drug interactions of the main weight-loss dietary supplements. International Journal of Obesity Supplements.
BetterHealth Channel. (2019). Body image and diets.
BMJ. (2020). Food and mood: How do diet and nutrition affect mental well-being? The BMJ.
Bourke, C. D., et al. (2016). Immune dysfunction as a cause and consequence of malnutrition. Trends in Immunology.
British Nutrition Foundation. (2019). Top healthy eating tips for teenagers.
Centers for Disease Control and Prevention. (2020). Sleep in middle and high school students.
Centers for Disease Control and Prevention. (2022). BMI percentile calculator for children and teens.
Centers for Disease Control and Prevention. (2022). How much physical activity do children need?
Centers for Disease Control and Prevention. (2022). Losing weight.
Centers for Disease Control and Prevention. (2022). Tips for better sleep.
Eating Disorder Hope. (2021). What is an eating disorder: Types, symptoms, risks and causes.
Eunice Kennedy Shriver National Institute of Child Health and Human Development. (2017). What causes amenorrhea?
Greer, S. M., et al. (2013). The impact of sleep deprivation on food desire in the human brain. Nature Communications.
Lassi, Z., et al. (2017). Nutrition in middle childhood and adolescence. The World Bank.
Mandal, A. (2019). Fad diet examples and efficacy. News Medical.
Martins, V. J. B., et al. (2011). Long-lasting effects of undernutrition. International Journal of Environmental Research and Public Health.
Meline, V., et al. (2016). Position of the Academy of Nutrition and Dietetics: Vegetarian diets. Journal of the American Academy of Nutrition and Dietetics.
Memon, A. N., et al. (2020). Have our attempts to curb obesity done more harm than good? Cureus.
National Centre for Eating Disorders. (2018). The effects of under-eating.
National Eating Disorder Association. (n.d.). 10 steps to positive body image.
National Eating Disorder Association. (n.d.). Orthorexia.
National Eating Disorder Association. (n.d.). Risk factors.
National Health Services. (2020). Symptoms: Malnutrition.
National Institute of Diabetes and Digestive and Kidney Diseases. (2020). Eating, diet, & nutrition for celiac disease.
Nelson, M. (2020). New study, a quarter of calories that children and teens eat may come from added sugars and fats. American Institute for Cancer Research.
Nemours TeensHealth. (2022). The deal with diets.
O'Connor, A. (2021). How food may improve your mood. The New York Times.
Office of Dietary Supplements. (2022). Vitamin B12.
Pediatrics & Child Health. (2004). Dieting: Information for teens.
Penn Medicine. (2018). Want to lose weight quickly? Here are 7 reasons why crash diets probably won't work.
Redman, L. M., et al. (2011). Caloric restriction in humans: Impact on physiological, psychological, and behavioral outcomes. Antioxidants & Redox Signaling.
Shufelt, C. L., et al. (2017). Hypothalamic amenorrhea and the long-term health consequences. Seminars in Reproductive Medicine.
Soulu, O. B. (2013). Clinical findings of functional and secondary constipation in children. Iranian Journal of Pediatrics.
Stanford Medicine. (n.d.). Determining body mass index for teens.
The Center for Mindful Eating. (n.d.). The principles of mindful eating.
GoodRx Health has strict sourcing policies and relies on primary sources such as medical organizations, governmental agencies, academic institutions, and peer-reviewed scientific journals. Learn more about how we ensure our content is accurate, thorough, and unbiased by reading our editorial guidelines.