FDA Approves Comirnaty: Pfizer's COVID-19 Vaccine
August 23, 2021
---
Key takeaways:
Pfizer's COVID-19 vaccine is now fully FDA-approved — under the name Comirnaty — to prevent COVID-19 in people at least 16 years old.

The vaccine is still available under the existing EUA for groups not yet included in the approval, including adolescents ages 12 to 15 and a third dose for certain people that are immunocompromised.

Getting vaccinated is the best way to protect yourself and those around you from getting seriously sick or dying from COVID-19.
Today, the FDA approved Pfizer's COVID-19 vaccine (under the name Comirnaty), making it the first fully-approved COVID-19 vaccine in the U.S. The vaccine is a two-dose messenger RNA (mRNA) vaccine, with doses given 21 days apart. It's also the first FDA-approved mRNA vaccine.
In December 2020, Pfizer's vaccine became the first FDA-authorized vaccine against COVID-19. At the time, it had been tested in nearly 44,000 people and was shown to be safe and effective against the disease. Since then, over 200 million Pfizer vaccine doses have been administered in the U.S.
Read on to learn more about what's changed now that the vaccine is approved, who's eligible to receive it, and what we know about its safety and effectiveness against COVID-19.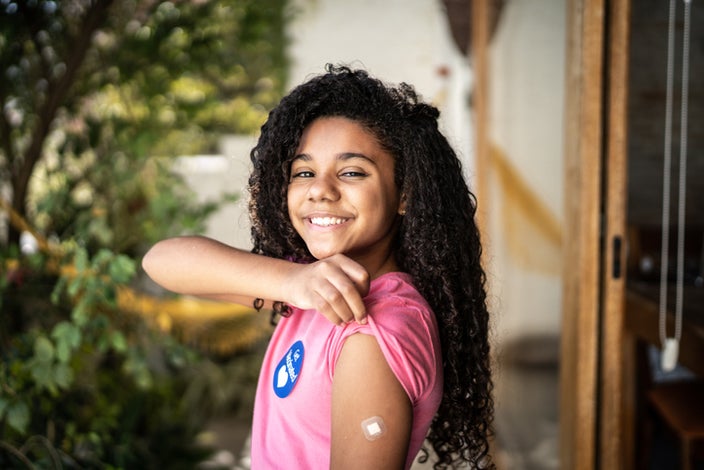 Advertisement
Advertisement
What's the difference between an Emergency Use Authorization (EUA) and full FDA approval?
First, let's start by reviewing the difference between an Emergency Use Authorization (EUA) and full FDA approval (called a Biologics License Application), and what additional steps have been taken as part of the process.
Emergency Use Authorization
An EUA allows for temporary access to vaccines, tests, and treatments that haven't been FDA-approved during a public health emergency. The FDA authorizes their use based on the best available evidence — and they can change or revoke EUAs at any time. 
For the FDA to authorize a vaccine under an EUA, a pharmaceutical company needs to show that it's safe and effective at preventing the disease. As part of the EUA application process, the FDA reviews available phase 3 clinical trial data (final or interim) to determine if the vaccine's known benefits outweigh the known risks. 
In the case of the COVID-19 vaccines, at least half of the phase 3 trial participants are to be followed at least 2 months after completing the vaccine series — since this is when most side effects tend to happen.
If authorized, a pharmaceutical company is required to continue following study participants and report any serious adverse events — unexpected problems that may be linked to the vaccine — that occur. 
Safety is also tracked as the general public starts receiving the vaccine using a reporting system called the Vaccine Adverse Event Reporting System (VAERS). VAERS is managed by the Centers for Disease Control and Prevention (CDC) and FDA. 
Although VAERS is a helpful tool, it isn't perfect. It's a passive reporting system, meaning that the submitted reports — which can come from anyone — aren't verified. Adverse event reports will need to be investigated to confirm whether or not they're linked to the vaccine.
Biologics License Application
Compared to conventional medications, vaccines are approved and regulated differently. When pharmaceutical companies pursue vaccine approval, they submit a Biologics License Application (BLA) instead of a New Drug Application (NDA). This is because vaccines are considered to be biological products — products made from living cells, proteins, etc. — and the process to make them is more complex than conventional medications approved through an NDA. 
Vaccines available through an EUA can only be used in the way they've been authorized. In other words, the EUAs need to be amended for things like booster doses, new age groups, and other changes if new supporting data becomes available. 
But once a vaccine is fully approved, healthcare providers can use their clinical judgment to prescribe it as medically appropriate for their patients — which may be outside of its approved labeling (called off-label).
What additional information did Pfizer need to provide to get approved?
For the Pfizer vaccine to be approved, the clinical trial participants needed to continue being monitored for safety for a longer period of time — 6 months after completing the two-dose series. The company also needed to provide additional clinical data, manufacturing process and quality assurance details, and have their manufacturing facilities undergo an FDA inspection.
Who is the Pfizer COVID-19 vaccine approved for?
Pfizer's COVID-19 vaccine is currently FDA-approved for use in people at least 16 years old — the original group authorized under the first EUA. 
This is because the more recent authorizations — including adolescents (ages 12 to 15) and booster (additional) doses for certain people who are immunocompromised — weren't part of the original BLA submission. However, these groups are still covered under the existing EUA. 
Pfizer will need to continue assessing adolescent trial participants and provide additional data for the group to be added to the approval. Additionally, clinical trials for booster shots are currently in process, and Pfizer plans to submit a supplemental BLA (an application for the new use) when results are available.
Is there anyone who shouldn't get the Pfizer vaccine?
The Pfizer vaccine — as well as the Moderna and Johnson & Johnson COVID-19 vaccines — isn't approved or authorized for use in children under 12 years old. Although Pfizer is currently conducting clinical trials in younger age groups (with different doses), we'll need to wait a little longer to see if they're eligible.
Additionally, people with a history of severe (anaphylaxis) or immediate (within 4 hours) allergic reactions to any vaccine ingredients — including those who had a severe or immediate reaction to their first Pfizer dose — shouldn't receive the vaccine.
Talk to your healthcare provider if you're unsure about getting the Pfizer COVID-19 vaccine due to potential allergies or underlying conditions.
Is it safe and effective?
Pfizer's initial EUA was approved based on 95% efficacy at preventing symptomatic COVID-19 in people at least 16 years old. The vast majority of side effects were mild to moderate and lasted only a few days.
A few months after authorization, real-world data showed similar effectiveness, with 90% or higher protection. Vaccine safety has also been tracked through VAERS.
As part of the approval process, the FDA reviewed updated information from the clinical trial that led to the initial EUA. This updated trial information assessed vaccine effectiveness in about 20,000 people in each group — those who received the vaccine and those who didn't. Safety was assessed in about 22,000 people in each group. About 12,000 people who received the vaccine were followed for at least 6 months.
Based on this assessment, the vaccine was shown to be 91% effective at preventing COVID-19. Common side effects were consistent with those noted during the EUA process, and the FDA has added a warning regarding certain heart-related inflammation identified after authorization — more on side effects and potential risks below.
What are the side effects?
Side effects after the shot tend to be mild to moderate in severity, and last only a few days. They're typically more pronounced after the second dose.
Common side effects can vary by age, but they include:
Pain, swelling, or redness where you were injected

Feeling tired

Headache

Muscle pain

Joint pain

Fever and/or chills
In rare cases, people may experience an allergic reaction to the vaccine, which may be life-threatening. This is why you should be monitored for 15 to 30 minutes after your shot.
While also rare, the vaccine carries warnings for myocarditis (heart inflammation) and pericarditis (heart lining inflammation). These conditions have been found to happen more often in people assigned male at birth that are under 40 years old, with the highest risk being between the ages of 12 to 17. It's also more common within a week of the second dose. 
Myocarditis and pericarditis are treatable, so you'll want to seek medical care if you or your child start experiencing symptoms such as shortness of breath, chest pain, or fast heartbeat within a week of getting the vaccine.
The vaccine also has a warning that some people might faint after receiving a dose. This isn't unusual after getting a vaccine. Because of this, it's important to be seated or lying down when getting the shot to prevent injury from fainting.
Does the Pfizer vaccine protect against the Delta variant?
With over 200 million doses administered so far in the U.S., the Pfizer COVID-19 vaccine has been shown to be safe and effective at preventing hospitalization and death from COVID-19 — even with the Delta variant. 
Although we're seeing more breakthrough cases from the Delta variant in vaccinated people, the vast majority of these cases aren't severe. In fact, more than 9 in 10 people who are hospitalized or dying from the disease are unvaccinated or not fully vaccinated.
That means you might still catch and spread the virus — and experience a symptomatic case — but the vaccine makes it far less likely that you'll end up in the hospital or dying from COVID-19.
However, people with compromised immune systems (e.g., organ transplant recipients) may need a booster dose for extra protection since they may not have responded as strongly to the first two doses. The Pfizer vaccine is currently authorized for booster doses in this group — a booster dose can be given at least 28 days after the second dose.
Additionally, the U.S. Department of Health and Human Services (HHS) announced that booster doses for everyone else — starting with healthcare workers, nursing home residents, and older adults — would be made available in late September. These booster shots can be considered 8 months after receiving a second dose. The decision was based on data suggesting declining protection against serious illness over time and concerns about the Delta variant.
Advertisement
Advertisement
The bottom line
Some people have been hesitant to get the COVID-19 vaccine until it was approved, but they don't have to wait any longer. The Pfizer COVID-19 vaccine's full approval has been long-awaited, and many are hoping that it will help others feel more comfortable receiving it.
Getting vaccinated is the best way to protect yourself and those around you from getting seriously ill or dying from COVID-19. Talk to your healthcare provider if you have questions or concerns about COVID-19 vaccines.
Subscribe and save.
Get prescription saving tips and more from GoodRx Health. Enter your email to sign up.
By signing up, I agree to GoodRx's Terms and Privacy Policy, and to receive marketing messages from GoodRx.