Key takeaways:
Vaccine Adverse Event Reporting System (VAERS) is a reporting system that anyone can report to or access data from.

The VAERS system keeps track of any unusual or unexpected adverse events that occur after vaccine administration.

VAERS cannot determine if a vaccine was the specific cause of an adverse event.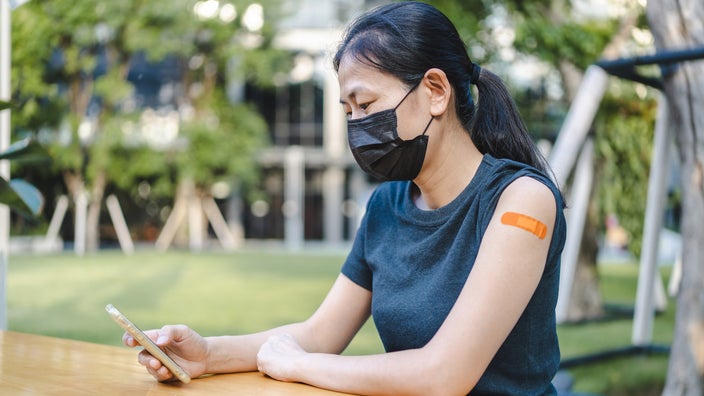 We know that the COVID-19 vaccines are safe and effective. We've heard multiple times that these vaccines have and continue to undergo safety monitoring. For those who have received the shot, you've probably been told to report any side effects or abnormalities. But you may be wondering how these events are collected and analyzed to flag potential issues. The answer to that is the Vaccine Adverse Event Reporting System, better known as VAERS.
While vaccine safety and potential side effects are studied in clinical trials, rare events may not show up until it's used in the broader population. This is why adverse event monitoring — the tracking of unexpected problems that may be linked to the vaccine — is important to ensure ongoing safety.
Read on to learn about how VAERS works, how to report an event, and how the information is used to keep the public safe.
What is VAERS?
VAERS is a reporting system that relies on the public, healthcare professionals, and vaccine manufacturers to submit any information or experiences from a vaccine to the Centers for Disease Control and Prevention (CDC) and FDA.  
The CDC and FDA manage VAERS, and it's been around since 1990 —  so healthcare professionals have been using VAERS long before the COVID-19 vaccine. 
After a person receives a vaccine, they should report any adverse events (possible side effects) so that the agencies can analyze the reports and take action on any potentially serious findings. The information reported to VAERS is accessible to the general public.
The goal of VAERS
VAERS was started to help identify and keep track of any unusual or unexpected patterns of potential vaccine side effects. This is still the goal of VAERS today, and it helps determine if there are any safety concerns with a vaccine. 
However, it's not meant to determine if a vaccine caused an adverse event. In fact, there is a wide range of events reported to VAERS — like hair color changes — that likely don't have a relationship to a vaccine. 
Once information is reported to VAERS, the FDA and CDC can see if they need to explore any safety concerns further. For example, if people report that a vaccine is causing neurological effects, the agencies would investigate the issue. Part of their review process is to determine the likelihood of the vaccine being linked to the adverse event.
The objectives of VAERS are to:
Identify and determine new, unusual, or rare vaccine side effects

Gauge the safety of new vaccines (like the COVID-19 vaccine)

Monitor any trends in known effects

Identify any risk factors that may cause a specific adverse event type

Discern any administration errors

Deliver a safety monitoring system nationally that caters to the general public in order to respond to public health emergencies or pandemics
Is VAERS data reliable?
If the question is whether VAERS data can be relied upon by the public to show actual adverse events linked to a vaccine — the answer is no. VAERS is a passive reporting system and reported events aren't reviewed before listing.
On that note, not everything you view on the VAERS database should be taken to heart. Some information can be unverified, inaccurate, or coincidental. As a reminder, these reports can't confirm if an adverse event was linked to the vaccine.
Anyone is allowed to report to VAERS, including the general public. Healthcare professionals are actually mandated to report to VAERS in certain instances. That's why it's important to let your healthcare provider know about your vaccine experience and any potential adverse reactions. 
Healthcare professionals are required to report to VAERS in these instances: 
Any adverse event listed in the VAERS Table of Reportable Events Following Vaccination that happens in the specific time frame 

Any adverse event that the vaccine manufacturer lists as a contraindication — a condition or circumstance in a person that raises their risk of serious reactions — to further doses of the vaccine
It's strongly suggested, but not required, for healthcare providers to report to VAERS if vaccine administration errors or any adverse reactions happen after a vaccination, even if it may not be linked to the vaccine.
It's important to know that COVID-19 vaccine manufacturers like Pfizer, Moderna, and Johnson & Johnson must also report all adverse events that they are made aware of. 
How can I report to VAERS?
As mentioned above, anyone can report to VAERS. If you're looking to submit a report, there are two ways to do so online. You can also call the VAERS toll-free number at 1-800-822-7967 to submit a report over the phone.
The first online option is to submit a report directly to VAERS. Once you start your submission, be sure to complete it, as your information will not be saved if you want to return to it later. 
The second online option is to download the PDF form to be completed. All you have to do is save the form when it's finished and upload it here. 
Although you can also provide certain pieces of optional information, here's what you'll need to complete a report:
Age when you received the vaccine

Date of birth

Sex

Brand of the vaccine you received

Description of the adverse event (e.g., symptoms, time course, etc.)

Date, time, & location you received the vaccine

Date, time, & location symptoms started

Adverse event result or outcome (e.g., hospitalization)
How to verify claims reported on VAERS
Once you've submitted the information using one of the above methods, the data becomes publicly available. You can download the information here. 
It can also be accessed from the CDC's VAERS Wonder system. You can find step-by-step instructions on how to search data on the website as well.
If you use VAERS to submit a claim or to review the data, please be sure to read the disclaimers and instructions. You're encouraged to report anything significant that happened after a vaccination, even if you don't know if it was caused by it. 
Benefits and limitations of VAERS
Reports to VAERS are crucial in helping identify adverse events. A recent example includes the rare blood clotting disorder with the Johnson & Johnson vaccine that led to a brief vaccination pause while the agencies investigated it. However, since VAERS is a passive reporting system that anyone can report to and all data is publicly available, there's room for misuse of this public health system. 
This is why it's important that information reported to VAERS is vetted by the agencies. As mentioned above, just because it's in VAERS, doesn't mean it's legitimate or linked to the vaccine. 
Overall, VAERS is an important tool in helping to keep the public safe, but it isn't without flaws. Here are some benefits and limitations of the VAERS system:
Benefits:
Limitations:
Misuse: People may not understand what or how it's used and may report incorrect information.

Abuse: Sometimes, people deliberately post flawed information to deter others from getting vaccinations.

Accepts any report: Any adverse event after a vaccination may be submitted, even if it's unclear a vaccine caused the issue.

Underreporting: VAERs only receives a fraction of the actual adverse events.
The bottom line 
VAERS has been a buzzword, especially with the COVID-19 vaccine authorizations. It's a great public health system used to maintain transparency and identify patterns. Although there are a few limitations, it is a crucial tool for providers, the public, and vaccine manufacturers in helping to keep the public safe.
GoodRx Health has strict sourcing policies and relies on primary sources such as medical organizations, governmental agencies, academic institutions, and peer-reviewed scientific journals. Learn more about how we ensure our content is accurate, thorough, and unbiased by reading our editorial guidelines.