Key takeaways:
Losing a pet can be just as significant and distressing as losing a human friend or family member.

There is no "normal" way to experience grief, and each person will have their own timetable for grieving a pet.

It's possible to cope with grief in healthy ways such as reaching out to loved ones for support and engaging in mourning traditions.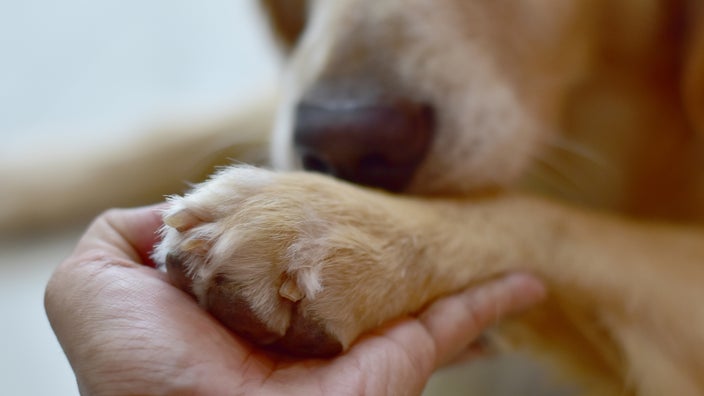 Many of us choose to share our lives with animals. In fact, it's estimated that 70% of U.S. households include a pet. What's more, we sometimes form our strongest bonds with these animals. Pets often provide many of the important foundations of a close relationship, such as consistency, acceptance, affection, and loyalty.
When we lose a pet, it can be devastating. It may feel as though we're trapped in heartache and sad feelings with no way out. Yet there are things that we can do to honor our pets as we cope with the grief of their loss.
How do you cope with the grief of losing a pet?
While it's not typically possible to control whether grief shows up or not, there are ways to cope with grief that can promote your well-being.
1. Allow your feelings to exist
Losing a beloved pet can be devastating. Feeling deep and painful emotions after a loss is sometimes the flip side of the deep love and importance that your pet held in your life. While it's tempting to try to avoid these emotions, avoidance can cause more problems in the long term. Let yourself experience the feelings, and seek support if it becomes overwhelming. It may help to think about grief as something to be experienced and lived through, rather than a problem to be solved.
2. Practice self-care
When a person is grieving a pet, their energy and emotional reserves can quickly become depleted. Yet, making time for the basics can go a long way in supporting you through the grief process.
After losing a pet, make sure you are:
Eating nourishing foods

Getting enough sleep

Practicing personal hygiene

Doing nice things for yourself 
To do this, you may need to prune back other areas of your life when possible, such as taking some time off from work or reducing additional responsibilities.
3. Seek support
Everyone deserves support when they're grieving a pet. Reach out to your friends and family or community members, if that feels right. Finding a grief therapist or connecting with a support group are also options for maintaining supportive connections to others as you grieve.
Not everyone understands the profound grief that can come with losing a pet. Support groups can help validate and normalize your feelings while being held by a community that understands what you're going through.
4. Try mourning rituals
Throughout history and around the world, people have engaged in ceremonies and traditions to cope with loss. These rituals can also help after losing a pet.
If you're not sure what to try, brainstorm any activity that honors your pet's life, the bond that you shared, or the experience of grieving. Here are a few examples:
Holding a memorial service

Lighting a candle

Writing your pet a letter

Documenting memories

Scattering their ashes

Continuing to celebrate their birthday

Making a donation in their name
5. Create physical memorials
Sometimes the thought of forgetting or losing the connection to a pet is scarier than the idea of grieving them. Creating physical memorials is a concrete way to help you remember your pet and reflect upon the life that you shared with them.
Some ideas for physical memorials are:
Making something new with their collar or tag

Creating a photo collage or scrapbook

Planting a garden

Placing a headstone in a location that you can visit
Why is losing a pet so painful?
Millions of pet owners in the U.S. mourn a lost pet each year. The death of a pet can lead to feelings of grief that are on par with those that come after losing a close human. Yet, many people feel or are treated as though their grief after losing a pet is not valid or real.
Each human-pet relationship is unique, and there are many reasons why the loss of a pet may feel painful. For one, losing a pet can leave significant voids in our lives and daily routines. Pets are also often our closest companions. They're who we come home to at the end of a long day and who we wake up to on most of our mornings.
Some people cuddle with their pets when they're feeling sad and celebrate with them on joyous occasions. We get to know their quirks, and they get to know ours — and we accept each other. Sometimes a pet is our main source of affection. The bond can run so deep that pets have even been known to give their lives to protect their human companion.
While pets are often thought of as treasured members of the family, the immensity of their loss is not always recognized. When a pet dies, a person's grief can be magnified if it's not acknowledged and validated. This is sometimes called disenfranchised grief. Such experiences can create added feelings of embarrassment, confusion, or loneliness following the death of a pet.
What are symptoms of grief?
Grief is a type of reaction that a person may have to a loss. It looks different for everyone, and there is no "right" way to grieve. The exact same loss can be experienced by two different people in completely unique ways.
For example, after the loss of a pet, one family member may express very little grief and continue functioning at their baseline. Another family member may experience intense grief that sticks around for more than a year.
A person's experience of grief can also fluctuate from day to day and week to week. One day they may not feel much at all, while the next day they're overcome with sorrow.
Symptoms of grief following the loss of a pet may include:
Tearfulness

Sadness

Difficulty sleeping

Loss of appetite

Headaches

Stomach aches
Keep in mind that grief does often ebb over time. Many years later, a person may feel a lingering sense of sadness as part of their grief process after losing a pet. Yet, they are also able to return to their usual level of functioning and live joyful, fulfilling lives.
How long does grief last after losing a pet?
There is no standard timeline for grief. For some, grief after the loss of a pet can last for more than a year. Others may start to feel relief from their grief in days, weeks, or months following the loss.
Research suggests that depression associated with grief may tend to peak at around 6 months. Some people will continue to struggle with a low mood and problems with functioning over the long term. The truth is there's no way to know exactly how long a person's grief will last after losing a pet.
Over time, it's possible to develop what is called prolonged grief disorder. This is a type of grief that often involves daily preoccupation and intense longing for the deceased pet. It interferes with a person's relationships, work, and other important aspects of life in a significant and ongoing way.
How do I help my child deal with the grief of losing our pet?
The loss of a pet is sometimes a child's first experience with grief and death, and it can be felt very deeply. It is also an opportunity to support your child in understanding grief as a natural part of life and love.
Here are some ways to help children cope with the loss of a pet:
1. Make room for their feelings
Just like adults, each child will experience grief in their own way. It's possible your child will feel guilty, angry, afraid, sad, all of the above, or something completely different.
As you make space for your own feelings, it's just as important to make space for your child's. Let them know that you understand how hard it can be to lose a pet and explain that each person experiences grief differently.
2. Tell the truth
Typically, a child of any age will notice that their pet is no longer around. Making up a story about what happened can often lead to more distress and confusion. It also sends the message that we don't want to make room for their difficult feelings.
Talk to your child about what happened in a way that someone of their developmental age can understand and allow them the opportunity to grieve and share their concerns with you.
3. Involve them in the grieving process
Children need closure as much as adults do. Include your child in parts of the grief process that you can experience together.
For example, they may want to create a speech for a memorial service or make a painting. They may also have happy memories to share or ideas for how to memorialize your pet.
4. Allow their grief to take time
Coping with the loss of a pet can be a long process. It's a big adjustment.
For a child, it may be the first time that they become aware of death. The impact can be traumatic. If you're concerned about your child, consider reaching out to a mental health professional.
The bottom line
Anyone who has loved a pet knows firsthand how deep of a connection a person can form with an animal. For this reason, grieving the death of a pet can be heart-wrenching.
While we can't predict how grief will affect us — or whether it will last for days, months, or years — there is solace to be found in the love and meaning that our pets hold in our lives. Even though the loss can be overwhelming, there are things that you can do to promote you and your family's well-being. As a start, be kind to yourself and make plenty of space to honor your pet's memory.
Arizmendi, B. J., et al. (2015). What is "normal" in grief?. Australian Critical Care.
Baker, A., et al. (2022). 'Hero' dog who saved woman from mountain lion dies. KRON4.
Barker, S. B., et al. (1988). The human-canine bond: Closer than family ties?. Journal of Mental Health Counseling.
Brody, J. E. (2018). Understanding grief. The New York Times.
Child Bereavement UK. (n.d.). Children's understanding of death at different ages.
Cleary, M., et al. (2021). Grieving the loss of a pet: A qualitative systematic review. Death Studies.
Crawford, K. M., et al. (2020). The mental health effects of pet death during childhood: Is it better to have loved and lost than never to have loved at all?. European Child & Adolescent Psychiatry.
Dotson, M. J., et al. (2008). Understanding dog–human companionship. Journal of Business Research.
KidsHealth®. (2018). When a pet dies.
Maciejewski, P. K., et al. (2007). An empirical examination of the stage theory of grief. The Journal of the American Medical Association.
Messam, L. L. McV., et al. (2019). Chapter 15 - Persons experiencing prolonged grief after the loss of a pet. Clinician's Guide to Treating Companion Animal Issues.
Mughal, S., et al. (2022). Grief reaction. StatPearls.
Park, R. M., et al. (2021). A literature review: Pet bereavement and coping mechanisms. Journal Of Applied Animal Welfare Science.
Whipple, E. E. (2021). The human–animal bond and grief and loss: Implications for social work practice. Families in Society: The Journal of Contemporary Social Services.
GoodRx Health has strict sourcing policies and relies on primary sources such as medical organizations, governmental agencies, academic institutions, and peer-reviewed scientific journals. Learn more about how we ensure our content is accurate, thorough, and unbiased by reading our editorial guidelines.
Habits for a Healthier Mind!
Sign up for our GoodRx Mental Well-being Newsletter to receive up-to-date information on the latest medications, tips, and savings that are most relevant to you.
By signing up, I agree to GoodRx's Terms and Privacy Policy, and to receive marketing messages from GoodRx.