Telemedicine (also called telehealth) has become an increasingly popular option for patients seeking remote access to care. Many companies offer cash-pay telemedicine services, which don't require insurance and quickly connect you with a healthcare professional, with no need for an appointment. While the proliferation of these services can make healthcare more accessible for many patients, they can differ greatly in cost — particularly when you take the cost of the visit plus treatment into account.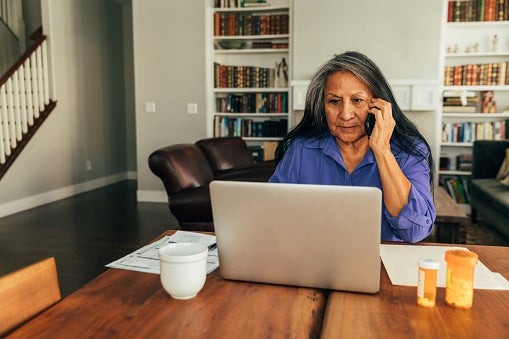 How do telemedicine prices compare?
To get a better understanding of what prices for telemedicine actually look like, GoodRx collected data from a sample of popular telemedicine providers. The chart below shows the range in the total cost (including estimated prescription drug costs) of popular telemedicine services. Telemedicine to treat acne can cost as little as $43 to as much as $86, though the majority of providers charge less than $61. There is a similarly wide range for costs of services like getting birth control and treating cold sores, erectile dysfunction, and hair loss.
These differences in total cost may not always be apparent to a patient who is comparing listed prices across telemedicine providers. That's because different providers structure their costs differently. Take telemedicine visits for erectile dysfunction, for example. Some providers offer free or low-cost visits, but charge substantially more for treatment because they dispense the medication. Providers that offer telemedicine visits without dispensing medication may charge for the visit, but patients can save on the actual cost of treatment by using prescription drug coupons or insurance.
The story is similar for birth control. The majority of the telemedicine providers we looked at offer birth control services for less than $50 total. However, lower upfront costs don't necessarily indicate a cheaper overall service; often, there's a shift in the distribution of costs from the visit to the medication. When that happens, patients may continue to pay high prescription drug prices for future medication refills if they keep using the same telemedicine provider.
How can I reduce the cost of my telehealth visit?
So how can you get the best price for telemedicine services?
Shop around: Just like prescription drug prices, the cost of telemedicine can vary from one provider to the next, so it pays to shop around before you buy. You can compare prices (including medication) across telemedicine providers on the GoodRx Telehealth Marketplace.

Use coupons: If you get a prescription through a telemedicine provider, you can use a coupon like GoodRx to save on the retail price at your local pharmacy. Some telemedicine services like GoodRx Care and K-Health will automatically send your pharmacy a GoodRx coupon for your prescription after your visit.

Use insurance: If you have insurance and get a prescription through a telemedicine provider, your medication may be covered by your insurance. Be sure to check GoodRx to see if you can save even more by using a coupon instead of insurance.
– – –
Co-contributors: Andy Kageleiry, MBA and Tori Marsh, MPH
Methodology
Total cost for each service is calculated as the sum of the visit cost and the estimated prescription drug cost for the first fill. Where the telemedicine provider dispensed prescription drugs directly to the patient, the telemedicine provider's prescription drug cost was used. Where the telemedicine provider only provided a prescription for treatment, the best GoodRx discount price was used.
Subscribe and save.
Get prescription saving tips and more from GoodRx Health. Enter your email to sign up.
By signing up, I agree to GoodRx's Terms and Privacy Policy, and to receive marketing messages from GoodRx.