What is telehealth?
Telehealth is the use of technology to access medical care — without having to see a doctor in person. Telehealth is often provided through secure websites and apps, and it can use different technologies, like:
Email

Text

Video chats

Phone calls
A telehealth visit is very similar to a traditional doctor's appointment. Though you won't see a healthcare provider in person, you will still be able to discuss your symptoms, get medical advice, and sometimes even get a prescription.
And today it's easier than ever to use telehealth services. Telehealth services are growing quickly, thanks to improvements in technology and changes with the COVID-19 pandemic. In fact, we may reach over a billion telehealth visits in the U.S. by the end 2020.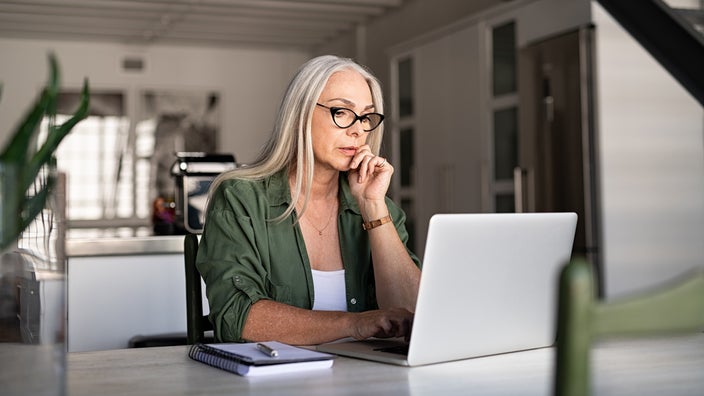 Why trust us
Sarah Gupta, MD, is board-certified by the American Board of Psychiatry and Neurology. She has been a featured speaker and panelist both domestically and internationally, and has served as a medical expert for a variety of media outlets. She currently enjoys consulting with various biotech companies and working with patients remotely using video conferencing and secure texting.
The benefits of telehealth
Telehealth can have many benefits. A virtual telehealth visit can often be cheaper, more convenient, and more accessible than seeing a doctor in person. With telehealth, you can meet with a licensed professional from the comfort of your own home — and still get great medical care.
According to the World Health Organization, telehealth can help you:
Get support when and where you need it

Overcome geographic barriers to medical care

Use technology to enhance your medical care

Get better when you are sick
Research shows that telehealth can save you time and money. It can also help you feel happier about your medical care.
Though telehealth isn't right for every visit, it can definitely make it easier for you to manage your physical and mental health. This is a guide to help you understand the benefits and downsides of telehealth, so that you can decide whether remote care is right for you.
Who should use telehealth?
Most people will benefit from having a primary care doctor they can see in person. But what about when your doctor is not available? Or it's hard for you to make it to their office? And what if the office is already closed for the day? Telehealth can bridge the gap — and help you get the medical care you need.
Telehealth services are available for everyone:
All genders

All ages

People with acute (temporary) problems

People with chronic (ongoing) health conditions

Pregnant women

People with mental health concerns
And for people with additional needs, telehealth can make it even easier to get medical care. Groups that might be especially likely to benefit from telehealth include:
People who live in rural areas with limited access to medical care

People who need to see a specialist (like a dermatologist) but do not have one in their area

People who are transgender or non-binary

People who are caregivers for children or other family members

People with limited physical mobility

People who are bilingual
Telehealth is also great for people who want to feel more involved in their treatment. And for people who may be considering a trip to urgent care or the emergency room, a virtual visit can sometimes be a safe and easy alternative.
Even though telehealth is intended for everyone, that doesn't mean it's always the right fit. For example, some people simply prefer to see a doctor in person. Others might not feel comfortable using telehealth technologies. And in some cases, a doctor's office is actually the safest and most confidential place to discuss health concerns — especially for people who are experiencing violence, abuse, or neglect at home.
What health conditions can be treated with telehealth?
You may already be familiar with some of the conditions that can be treated with telehealth — like colds, flu, and upset stomach. But did you know that telehealth can be used for more complicated conditions as well, like migraines, ADHD, and diabetes?
Here are some examples of temporary (acute) conditions that can be treated over telehealth:
Telehealth can also be useful for managing ongoing (chronic) health conditions. For example:
Telehealth can even be used for other types of ongoing treatment, like psychotherapy and physical therapy. And it's a great option for getting general health advice — like if you're breastfeeding or learning how to use an inhaler.
Technology also continues to expand the types of conditions that can be diagnosed and treated virtually. For example, many people now have home blood pressure monitors and oximeters, which can help doctors check on your heart and lung health. And new devices and apps allow providers to do a better job remotely, by making it possible to listen to your heart and look at your throat and ears.
One thing to remember is that services can vary between telehealth providers. If you have a specific question or concern, it might be worth looking for a doctor that specializes in this area of medicine. For example, a telehealth primary care doctor may be able to help you with high blood pressure, but a telehealth dermatologist (skin specialist) might be a better match if you have questions about acne.
And keep in mind that some chronic or complex conditions can only be treated effectively in person. If you have a complicated medical history, talk to your care team about whether telehealth services may be right for you.
The convenience of telehealth
Convenience is one of the greatest benefits of telehealth. During a telehealth visit, you receive high-quality care from a licensed health professional — all from the comfort of your own home.
And for most people, convenience is a vital part of good medical care. In fact, in a survey from 2015, 76% of people said that access to care is more important than face-to-face interactions. Being able to conveniently communicate with your provider can help you feel engaged, empowered, and informed.
Using telehealth services can also save you time and money because:
There's no commute time.

There are no transportation costs.

You don't have to spend time in a waiting room.

You don't have to take as much time away from work.

You don't have to pay for a babysitter or caregiver.
Telehealth is especially convenient for people who travel frequently or who have irregular schedules. And many telehealth services allow you to send and receive messages from your provider at any time — meaning you can communicate whenever it's most convenient for you. Some telehealth services are even available 24 hours a day, 365 days a year. This can help you get the care you need without having to go to urgent care or an emergency room.
Finally, one of the greatest conveniences — especially given the current COVID-19 pandemic — is that telehealth allows you to get medical care without visiting a doctor's office or hospital. Staying at home can protect you from infectious illnesses (like coronavirus or influenza). This can be especially helpful for people who are at risk for complications.
The cost of a telehealth visit
In general, telehealth tends to be less expensive than an in-person office visit. Costs vary between telehealth services, and can depend on what type of insurance you have. A 2014 study found that the average cost for a virtual telehealth visit is $40 to $50, while an in-person visit can cost as much as $176 per visit.
But beware: Companies offering free or low-cost telehealth visits may have higher prices when it comes to treatment, lab tests, and prescriptions. Here are some ways to keep your costs low:
If you have health insurance, talking to your insurance company is a good place to start. They can help you understand what types of telehealth options are included with your current plan. Some insurance companies even have their own telehealth services that you can use. Keep in mind that some states require insurance companies to pay for telehealth visits, while other states do not.
If your insurance company doesn't offer telehealth services, you can always shop around on your own. There are many different types of telehealth companies, staffed by licensed board-certified health providers. It's worth taking the time to compare, as the costs can vary widely. Some companies take insurance – others do not. Other companies have a monthly membership fee.
And, if you have Medicare, you may be surprised to learn that using telehealth is easier than ever during COVID-19. Many of the restrictions for Medicare reimbursements were changed in March 2020 to help more people access medical care during the global pandemic. If you have Medicare, you can now:
Receive telehealth services no matter where you live

Access telehealth visits from your smartphone

See a healthcare provider over video for an initial visit

Access some types of services over the phone
Getting a prescription
Telehealth can make it easier and faster to get your prescriptions. But unfortunately, telehealth prescriptions (or e-prescriptions) aren't always allowed for every medication. This is because different states may have their own laws about what can be electronically prescribed. And some providers and telehealth services may be comfortable with certain types of medications — especially controlled substances — while others are not.
But in many cases, a telehealth doctor will be able to prescribe the medication you need. For new prescriptions, a doctor will usually need to meet with you over video. If you already have an established relationship, your provider may be able to give you a prescription over the phone. Some e-prescriptions will be delivered to you through the mail; other e-prescriptions will need to be picked up at your regular pharmacy.
Technical requirements and data privacy
Some people may worry about using new telehealth technologies, but in reality, most people already use some versions of these technologies in their medical care. In fact, in a 2015 survey 70% of people said they are already comfortable communicating with their doctor over text, email, or video.
Not everyone has access to telehealth technologies, though. Many people don't have WiFi at home, and 10% of Americans don't even use the internet. And it can be hard to have a good telehealth visit if you don't have a private computer or smartphone.
Some people also worry about their health information being exposed online. But fortunately, telehealth doctors and clinics are required to protect all of your personal information — even if it's electronic. Telehealth visits have to follow the same HIPAA privacy rules that apply to in-person visits. HIPAA stands for Health Insurance Portability and Accountability Act of 1996, which stipulates how personal health information is protected and kept confidential. This means your medical information will be secure.
Follow-up care
There are many telehealth options for follow-up care, including phone, video, email or text. Sometimes, a virtual visit will lead to an in-person follow up. And in some cases — if you are having severe or worrisome symptoms — your telehealth doctor may even recommend you follow up right away at urgent care or the emergency room.
One of the downsides of telehealth is that with some companies, you may see a different doctor for each visit. This can be frustrating, especially if you have a complicated health history. If it's important to you to see the same provider at each visit, consider choosing a company where you will have your own doctor assigned to you. You can also consider reaching out to your regular primary care provider to see if they offer their own telehealth services.
How to find a telehealth doctor
There are several ways to find a telehealth doctor. You can:
Contact your insurance company to see what options they provide

Contact your regular primary care doctor to see if they offer telehealth services

Search the internet for a healthcare provider or service that is a good match for you
With the GoodRx Telehealth Marketplace, you can compare telehealth providers based on:
Your health condition

Your state of residence

Whether insurance is accepted

Whether prescriptions are available through the mail
If finances are a challenge, you can also consider searching for a free clinic. During COVID-19, many in-person free clinics are offering telehealth options for medical care.
When should I see a doctor in person?
Though telehealth can be convenient, cost-effective, and accessible, there are times when it's just not appropriate. Seeing a doctor in person can be important — especially when you need a high-quality physical exam, or may be experiencing a health emergency.
In general, telehealth isn't a good choice for any situation where:
You need a full physical exam

You are experiencing severe symptoms

You may need lab tests urgently

You may need urgent, hands-on treatment (like stitches, a special bandage, or a cast)

You may need emergency medications or an IV

You need to have a preventive procedure (like a colonoscopy or mammogram)
Telehealth is also not for emergencies. You should call 911 or go to the emergency room if you are experiencing a life-threatening issue, including but not limited to:
Worsening drowsiness or confusion
High fever that does not go away with medicine
Sudden chest pain
Seizures
Sudden difficulty breathing
Severe nausea or vomiting
Sudden loss of vision or hearing
Weakness on one side of the face or body
Head, neck, or spine injury
Suicidal thoughts
Heavy bleeding
 
Though telehealth can be convenient, cost-effective, and accessible, there are times when it's just not appropriate. Seeing a doctor in person can be important — especially when you need a high-quality physical exam, or may be experiencing a health emergency.
In general, telehealth isn't a good choice for any situation where:
You need a full physical exam

You are experiencing severe symptoms

You may need lab tests urgently

You may need urgent, hands-on treatment (like stitches, a special bandage, or a cast)

You may need emergency medications or an IV

You need to have a preventive procedure (like a colonoscopy or mammogram)
Telehealth is also not for emergencies. You should call 911 or go to the emergency room if you are experiencing a life-threatening issue, including but not limited to:
Worsening drowsiness or confusion
High fever that does not go away with medicine
Sudden chest pain
Seizures
Sudden difficulty breathing
Severe nausea or vomiting
Sudden loss of vision or hearing
Weakness on one side of the face or body
Head, neck, or spine injury
Suicidal thoughts
Heavy bleeding
 
More information and resources