Key takeaways:
The cost of a telehealth visit will depend on several factors, such as your insurance, the condition, and the provider.

On average, you could pay anywhere between $40 to $90 for a telehealth visit without insurance.

You can save money on telehealth visits by checking your insurance coverage and asking about discounts.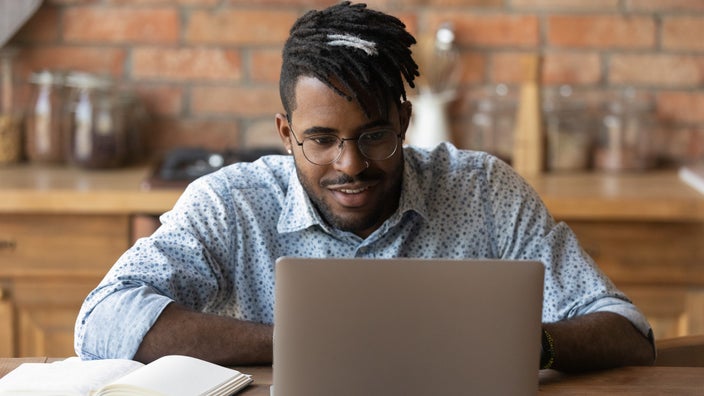 Telehealth visits have become popular since the COVID-19 pandemic. It's a way for people to receive healthcare services without leaving their home. Within minutes, you can make a virtual appointment with a healthcare provider. You'll be able to connect with them using a smartphone, laptop, or computer. 
Before you make a telehealth appointment, it's a good idea to get a better idea of the cost to avoid any surprise bills. The cost of a telehealth visit will vary depending on your insurance coverage, condition, and healthcare provider.
What is telehealth? 
Telehealth is a way to use technology to see a doctor or get medical advice. Telehealth offers a wide range of care services including primary care and urgent care.
Examples of telehealth services:
Other types of telehealth services include:
Condition management: Your provider can watch you and your symptoms remotely if you have a chronic condition like diabetes or migraine.

Counseling/mental health therapy: Meet with a therapist or psychologist to discuss mental health issues, like anxiety or depression.

Patient education: Attend classes to learn more about your condition and how to manage it at home.

Prescription refills: Discuss your medications with your provider and ask for refills.
To take advantage of telehealth services, you can either schedule a virtual visit directly with your healthcare provider or use a third-party app like GoodRx Care. 
How much does telehealth cost on average?
On average, a virtual telehealth appointment can cost anywhere from $40 to $90 per session. The actual amount you will pay for telehealth services will depend on many factors, including:
Type of healthcare provider: You can get telehealth services from a primary care physician, gynecologist, psychologist, dermatologist, or other healthcare provider. The type of provider you choose for your telehealth visit can affect the fees you pay. For example, telehealth visits with a primary care physician may have a different cost structure compared to those with a specialist.

Specific services provider: The complexity of your condition and service will play a role in figuring out your total cost. For example, a simple telehealth consultation for general medical advice may be less expensive than a specialized telehealth service, such as a mental health therapy session or a telemedicine procedure.

Insurance coverage: Some insurance plans may cover a part or your entire cost of telehealth visits. Other plans may need you to pay deductibles, copays, or coinsurance. Review the details of your insurance plan to get a better idea of coverage and out-of-pocket costs.
A 2017 Health Affairs study. shows the average cost of a telehealth visit for an acute respiratory infection (such as a sinus infection, laryngitis, or bronchitis) was $79 compared to $146 for an in-person visit.That's almost a 50% savings. When you consider the time and gas you save driving to a doctor's office, the cost of telehealth may be well worth the service.
GoodRx analyzed the cost of telemedicine services and created several comparison charts for five conditions: acne, birth control, cold sores, erectile dysfunction, and hair loss. An acne telehealth visit, for example, ran from $43 to $86. Most birth control visits were less than $50.
Telehealth continues to evolve. Pricing will most likely change, and services may be added or removed depending on demand and government regulations. Providers may offer packages instead of individual visits, and more insurance companies may hop on board and add coverage.
Does insurance cover telehealth services?
Health insurance typically covers telehealth services, depending on your benefits. Some plans cover telehealth visits if they're held on pre-approved video platforms. Others cover telehealth with third-party providers. It's a good idea to review your insurance plan details to avoid unexpected out of pocket costs. 
During the COVID-19 pandemic, Medicare expanded telehealth and telemedicine coverage. This coverage is available through December 31, 2024. Medicare will pay for office, hospital, and other visits with a wide range of providers such as:
Doctors

Nurse practitioners 

Licensed social workers
Bear in mind that you may still have to pay a copay like a regular visit. You'll also have to pay your Medicare Part B deductible. Contact your insurance company to learn more about out-of-pockets costs. Ask if you need prior approval for telehealth services before making an appointment.
If you have Medicaid, some telehealth services may be covered. It depends on the state you live in. Check with your healthcare provider or local Medicaid office to find out what services are covered. 
How will I be billed for my telehealth visit?
Getting billed for telehealth can vary depending on the provider, the service, and the state you live in. But for the most part, billing often mimics the way you pay for regular visits including:
Paying a set fee up front like with GoodRx Care

Getting a bill in the mail for out-of-pocket costs

Getting an explanation of benefits from your health plan

Getting a waiver to cover costs from government agencies such as Medicare
Always talk to the provider about billing before you schedule an online appointment.
What are some ways to save on telemedicine visits?
In today's consumer-friendly climate, you can save money on just about anything. That includes healthcare and, specifically, telemedicine. Here are some ways you may be able to cut costs:
GoodRx Telehealth Marketplace: Use the GoodRx Telehealth Marketplace to compare prices for common services across popular telemedicine apps.

Prescription discounts: Use GoodRx discounts for prescriptions you get from telehealth visits.

Insurance: Use your insurance to cover or lower out-of-pocket costs. Keep in mind that GoodRx discounts may beat insurance prices for medications depending on the drug.

Discounts or payment plans: If you can't afford to pay for your visit, you can ask if special arrangements are available for people facing financial hardship. You can also ask for discounts if you are paying out of pocket.
As you explore telehealth services, understand that they may not save you money in the long run.
The Health Affairs study showed that people who spent less on a telehealth visit for a respiratory issue often spent more on follow-up visits, lab tests, and prescriptions. Researchers said on average, patients spent $45 more if their care for a respiratory illness started with a telehealth visit rather than an in-person visit.
The bottom line
The price of telehealth services will vary depending on your insurance coverage, health status, and provider. If you have insurance, review your plan to see what's covered. If you don't have insurance, you may be able to save money using GoodRx discounts or online price comparison tools.
GoodRx Health has strict sourcing policies and relies on primary sources such as medical organizations, governmental agencies, academic institutions, and peer-reviewed scientific journals. Learn more about how we ensure our content is accurate, thorough, and unbiased by reading our editorial guidelines.