Key takeaways:
The term "telehealth" refers to the use of digital technology to deliver and improve healthcare. Providers meeting online to discuss a patient's care is an example of telehealth.

The term "telemedicine" refers to when a patient gets a specific service from a healthcare provider online. Virtual visits are one example. Telemedicine is a type of telehealth.

Most insurance companies cover at least some form of telemedicine. You may have to pay a copayment or coinsurance for these services.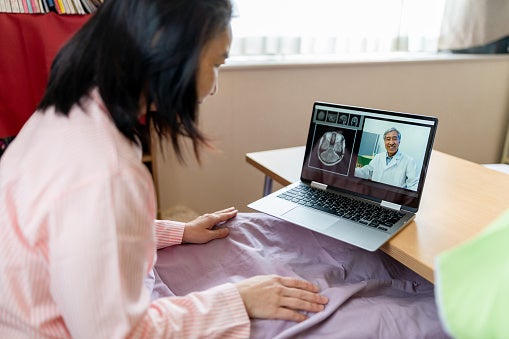 Telehealth and telemedicine have become buzzwords during the COVID-19 pandemic. Both involve using technology to increase access to healthcare.
While the two terms are often used interchangeably, their meanings are slightly different. Whether you're a patient or a provider, it's helpful to understand what these terms mean and what kind of services each one refers to. 
Telehealth vs. telemedicine: Definitions
Here's a breakdown of telehealth and telemedicine:  
Telehealth

Telemedicine

Definition

A broad term that refers to various types of healthcare services provided using digital technology, including telemedicine services

Specific to services provided online by a healthcare professional to a patient who's in a different location 

Types of services

Medical care delivered online, such as a virtual visit with a healthcare provider



Includes non-clinical services such as patient education, training for healthcare professionals, and any healthcare-related communication done online

Medical care delivered online, such as a virtual visit with a healthcare provider 

Does not include non-clinical services

Technology used

Videoconferencing, email, text, streaming media

Videoconferencing, email, text, online patient portals
Telehealth also includes mHealth, short for "mobile health." This refers to healthcare apps and other programs you use on a mobile device. For example, you may use a mobile health app on your cell phone or tablet to help you manage a health condition or set doctor's appointment reminders. Some mobile health apps allow you to share measurements like blood sugar readings with your provider. Wearable tracking devices are also part of mHealth.
Another type of telehealth is when your primary care provider emails your health information or an X-ray to a specialist for a second opinion. This is called store-and-forward. 
What is the difference between telehealth and telemedicine?
The difference between telehealth and telemedicine is that telehealth includes telemedicine and more. If you say "telehealth," you'd be talking about services beyond just online doctor's visits. Telehealth includes medical consultations and administrative processes in healthcare facilities. It basically covers all healthcare activities that take place using digital technology.
Telemedicine is a type of telehealth. It refers to medical services delivered by a healthcare provider to a patient online. Think of a virtual visit with real-time interaction with your healthcare provider. Generally, the healthcare provider is not physically present with the patient. 
So while telemedicine is considered a telehealth service, telehealth also includes the following:
Healthcare provider training

Administrative meetings for healthcare organizations like hospitals

Provider-to-provider communication

Continuing medical education for providers

Health tracking devices
What are some examples of telehealth and telemedicine?
To further illustrate, here are some more examples of telemedicine and telehealth services.
Telemedicine examples 
Telemedicine includes but is not limited to the following healthcare services when they are conducted online:
Telehealth examples
Telehealth would include all the telemedicine examples above plus activities such as:
A healthcare provider sending patient exam notes, medical history, and X-rays to a specialist through a secure email  

Healthcare providers attending continuing medical education lectures online

A team of healthcare professionals meeting through a video platform to coordinate a patient's care

Using a health tracking app on your mobile device

Using an app that gives you general health information or notifies you of a disease outbreak
How do I know when to use telehealth vs. telemedicine?
As a patient, you're more likely to use telemedicine than the other, nonclinical services referred to by the term telehealth. For example, telemedicine can be a convenient option if you need medical care for a condition such as a urinary tract infection. You can often set up a telemedicine appointment with your primary care provider without leaving your house. 
Telemedicine is also helpful if you need to refill a prescription or want to talk to a therapist about a mental health issue. You may even use telemedicine to get a COVID-19 screening.
But telemedicine isn't always appropriate and sometimes you need to get care in person. If you have severe symptoms such as shortness of breath or chest pain, you should call 911 and go to the nearest emergency room. 
What are the benefits of telehealth and telemedicine?
Telehealth and telemedicine offer many conveniences both for you and for your healthcare providers. Here are a few of them.
Benefits for patients
Telehealth visits are more convenient and may be less expensive. As a patient, you can also get care without traveling to a provider's office and you can access providers who are far away. This can have a number of advantages. It might allow you to: 
Book an appointment and see a provider on the same day

Avoid driving time and sitting in waiting rooms

Avoid exposure to infectious diseases, such as COVID-19

Receive care without having to take time off from work

Meet with a provider online when it's difficult to see one in person

Be more involved in your care because it's easier to reach a provider

Save money by avoiding travel costs for in-person appointments
Benefits for providers
Telehealth allows providers to use new tools to help care for patients. With telehealth and telemedicine, providers can:
Help patients manage their condition through remote-monitoring devices

Treat more patients across a wider geographic area

Communicate and work together more easily with other providers

Receive patient data more quickly and efficiently from other providers

Deliver better coordinated and more effective care

Help patients avoid unnecessary emergency room or office visits
Since the COVID-19 pandemic, more healthcare providers have been offering telemedicine visits. But a virtual visit may not always be possible. If an online visit is not an option, talk to your provider about ways to make an in-person appointment more convenient. You may ask about late office hours, seeing your provider on the weekends, or going to an office that's closer to you. 
Are telehealth and telemedicine covered by insurance? 
Most private insurance plans cover at least some telemedicine services. But your coverage will depend on your plan. You may be responsible for a copay for a virtual visit, as you would for an in-person visit. There also may be additional costs for services like lab tests ordered by your healthcare provider.
If you're insured by Medicare, you generally have to meet certain requirements to get coverage for telehealth and telemedicine services. But currently Medicare has expanded telemedicine coverage to all enrollees because of the COVID-19 pandemic. 
This means that if you have original Medicare, your plan will likely cover telemedicine services. These include provider visits, psychotherapy, and mental health provider consultations. But expect to pay your Medicare Part B deductible and 20% coinsurance for these services. Medicare will continue to cover telemedicine services from anywhere in the U.S. during the COVID-19 public health emergency and through December 31, 2024. 
Some Medicare Advantage plans may provide more telemedicine benefits than original Medicare. And since Medigap plans follow Medicare's guidelines, they will likely cover any part of the bill for telemedicine services that isn't covered by original Medicare. 
Medicaid also covers some telemedicine services. But since coverage varies from state to state, it's best to check what services are covered in your state. 
Keep in mind that you do not need insurance to see a provider on many telemedicine apps. Cash prices for telemedicine services can be affordable. Use the GoodRx Telehealth Marketplace to compare telemedicine companies. You can check what services they offer, how much they cost, and whether they accept insurance.
The bottom line
Telemedicine and telehealth are slightly different things. With telemedicine, you can access medical care from the comfort of your home. Most health plans, including Medicare and Medicaid, cover some types of telemedicine. But verifying your benefit details for these services with your insurance carrier is always a good idea.  
Telehealth is a term used to describe a broad range of healthcare services provided through electronic methods. Telemedicine falls under the umbrella of telehealth. 
GoodRx Health has strict sourcing policies and relies on primary sources such as medical organizations, governmental agencies, academic institutions, and peer-reviewed scientific journals. Learn more about how we ensure our content is accurate, thorough, and unbiased by reading our editorial guidelines.