Key takeaways:
Lexapro (escitalopram) is a medication approved to treat depression and generalized anxiety disorder. Sometimes, it's used off label to treat other conditions, including premenstrual dysphoric disorder.

Some people who have taken it say it has helped them deal with life's stressors.

Talk to your healthcare provider about your mental health to find relief for symptoms related to depression and anxiety.
When the symptoms of illness involve mental rather than physical health, primary care providers can be good sources of information. They can help people struggling with anxiety, depression, or other challenges.
Lexapro is a commonly prescribed medication for anxiety and depression. Three women share their experience.
Dealing with life's stressors
In 2007, Alice Murray thought she was doing pretty well.
She was a successful adoption attorney, a stress-filled occupation. She was heavily involved in her children's lives and their activities. Her oldest child was preparing to leave home for college. Her parents were experiencing more and more health problems as they aged.
"Everything hit the fan at one time," she remembers.
Alice felt challenged by life's stressors. She worried about living in another state, too far from her parents to help them on a regular basis. She knew her mother had experienced anxiety as an adult. But Alice didn't fully understand the family history until she was older.
"Toward the end of my mother's life, she would call me in a panic and go on for 15 minutes about things like not having any air freshener in her apartment," Alice recalls. "I never wanted my family or children to have to deal with me being in that condition if it could be avoided."
During her next annual physical, Alice mentioned her high stress levels to her physician. The doctor administered a simple in-office screening test for anxiety and depression. The doctor discussed the results and recommended a 10 mg dose of Lexapro.
"It was one of the best things I've done," says Alice, who continues to take Lexapro daily. Her dosage was increased to 20 mg several years later when she was dealing with the stresses of retirement and a divorce.
"Before I started taking Lexapro, what I felt was a great weight upon me, and a lot of stress led to that. Now, it makes me feel better able to deal with my circumstances. I think it was a great decision on my part to talk to my physician," says Alice, a resident of Valparaiso, Florida. "It was what I had to do for me to be the best I can be and to meet my responsibilities and obligations to the people around me."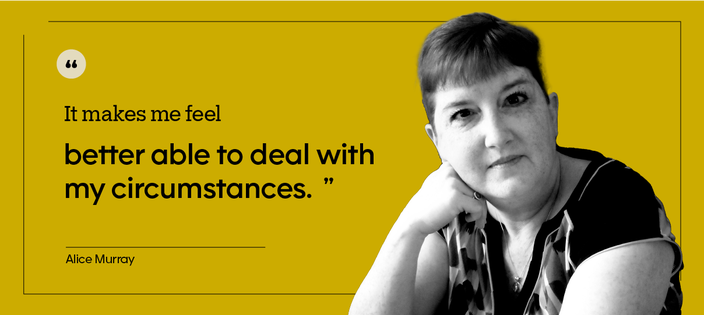 She takes Lexapro daily at breakfast and has not experienced side effects. If she misses a dose for several days, however, "I get more irritable and can't cope as well," she says. "It's hard to explain, but I can just tell the difference when I don't take it. I start feeling dizzy and tired, and then, I realize I haven't taken it. I feel less equipped to handle what's coming at me."
Alice now thinks about Lexapro as a helpful, preventive medication.
"There's still a lot going on in my life, and I've seen what happens when somebody isn't getting the help they need," she says. "It's OK to say, 'Yeah, I have a problem with stress,' and then handle it responsibly. My advice to others is to get the help you need, because everybody needs help in some way."
It helps 'with more than just depression'
As a college student in her twenties, Katie Boyce began experiencing what she thought was a severe case of premenstrual syndrome (PMS).
Her gynecologist, however, suggested that Katie's symptoms might be a more severe form of PMS called premenstrual dysphoric disorder (PMDD).
"The depression you're experiencing isn't a normal part of PMS," Katie remembers her doctor saying at the time.
While it's not approved to treat PMDD, research suggests Lexapro may help with mental and physical symptoms. So, the doctor prescribed 10 mg of Lexapro. She also described possible side effects and told Katie to give the medication several months for her body to adjust. For the first few weeks, Katie experienced an upset stomach, night sweats, and sleep problems.
A month after starting Lexapro, Katie's dental hygienist — while asking about new medications — also encouraged Katie to give the medication time to work because she, too, had taken it to treat severe postpartum depression.
"I waited it out, and Lexapro helped with more than just depression," says Katie, 34, a consulting chemist and board-certified patient advocate in Phoenix. "It also helped with anxiety. I no longer have those massive, deep depressive swings. They were cyclic with my menstrual cycle, and Lexapro pulled me out of that."
The initial side effects disappeared after several weeks, and Katie has remained on the 10 mg dose since 2012. She also sees a therapist regularly.
"Anxiety is so common now," she says, "and I've had so many friends do well on Lexapro, even if they needed it only for one season of their life. If you're in a tough spot, my advice is: Don't be afraid to ask for help, because you might miss an opportunity to live a more fulfilling life. If it helps, take notes before your doctor's appointment so you don't freeze up or forget what you want to talk about."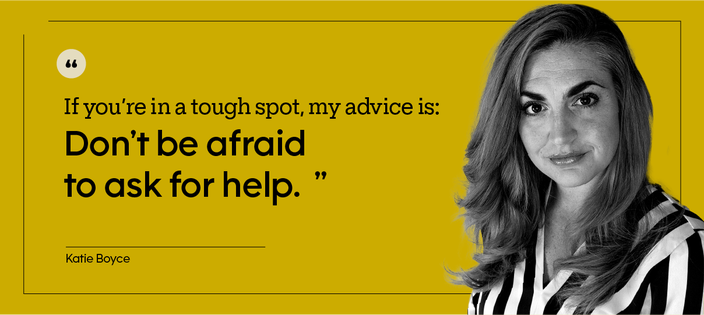 "Don't just assume that this is just 'normal' PMS. It's important to discuss your symptoms with your gynecologist or primary care doctor, because deep depression isn't a normal part of PMS."
Overcoming constant fears
Even as a child, Sara Rauckhorst was aware of a history of anxiety and depression on her father's side of the family. During adolescence, she had taken antidepressants at various times to deal with stress.
In May 2020, her father died from cancer at age 63. Several months later, Sara realized some newly emerging fears. Worries about other family members dying interfered with her daily thought processes.
"I was making my husband text me every day when he got to work because I was afraid that he'd die in a car wreck on his way to work," says Sara, a 43-year-old transportation logistics professional in Florence, Kentucky.
During the next visit with her primary care doctor, she mentioned her history of anxiety and the new thoughts and feelings. She and her doctor agreed that Sara might benefit from the recommended starting dose (10 mg) of Lexapro. She started taking it in December 2020 and still takes it daily.
"It started to kick in pretty quickly," she says. "In about 2 to 3 weeks, I noticed a difference in my anxiety, and it kept lessening over time. I didn't have that constant fear that something bad was going to happen to my family members or my husband. I was able again to trust that my husband would be fine when he drove to work the same way he drives to work every single day."
Sara has not experienced side effects from Lexapro. She encourages others to overcome any embarrassment or shame and talk to their healthcare provider about mental health symptoms and solutions.
"I have always looked at mental health the same as physical health," she says. "If I had high cholesterol, I would talk to my doctor and take medicine to lower it. With anxiety, it's an imbalance in my brain chemistry and nothing else. So, I talked to my doctor to see what we could do to fix that imbalance. And it has improved my quality of life."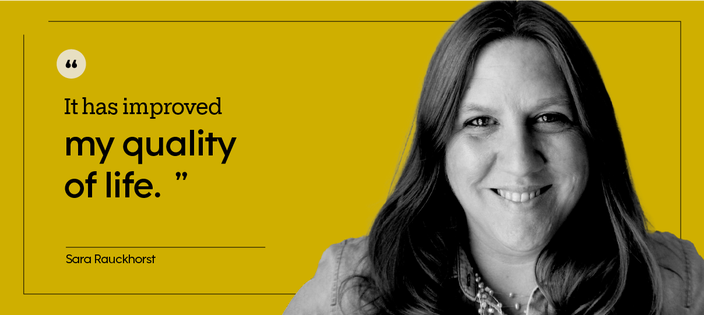 In her heart, Sara says she knows her father died too young, unable to pursue his late-life dreams. To honor his memory, she addressed her own anxiety and pursued her own dreams. She combined her love of photography and cooking and is now a part-time food blogger.
What does the pharmacist say?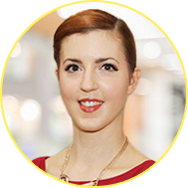 Alyssa Billingsley, PharmD 
Director, Pharmacy Content
Lexapro is part of a group of medications called selective serotonin reuptake inhibitors (SSRIs). Its approved uses include major depressive disorder (MDD) and generalized anxiety disorder (GAD). But it also has several off-label uses, including PMDD and postpartum depression.
When you first start taking Lexapro, it's normal for some people to experience side effects like trouble sleeping and an upset stomach. Changing when or how you take it — morning instead night, with food instead of without food — can help make a difference. And for most people, these side effects are temporary and should improve over time.
Keep in mind that Lexapro takes time to start working. And it can take 4 to 8 weeks to experience the full benefit. So, it'll work best if you take it every day, as directed by your healthcare provider. 
Stopping Lexapro cold turkey or missing doses can cause unpleasant side effects, including flu-like symptoms, irritability, and anxiety. If remembering to take pills every day is a challenge for you, medication reminder apps and pill organizers with alerts can help you stay on top of your regimen. If needed, your healthcare provider can help you stop Lexapro safely. 
But not everyone responds to a particular antidepressant the same way. In other words, you may need to try more than one before finding the best fit.
If you haven't found success with Lexapro, there are many other choices available. Make sure to talk to your provider. They can help you decide on the best medication for you.

Want to tell your patient story? Email us at patientstories@goodrx.com.