Key takeaways:
Patrick McSweeney, 22, has spent most of his life living with leukemia.

Gene therapy kept cancer at bay until he had a bone marrow transplant.

With his cancer in remission for nearly 4 years, he's now studying to become a nurse.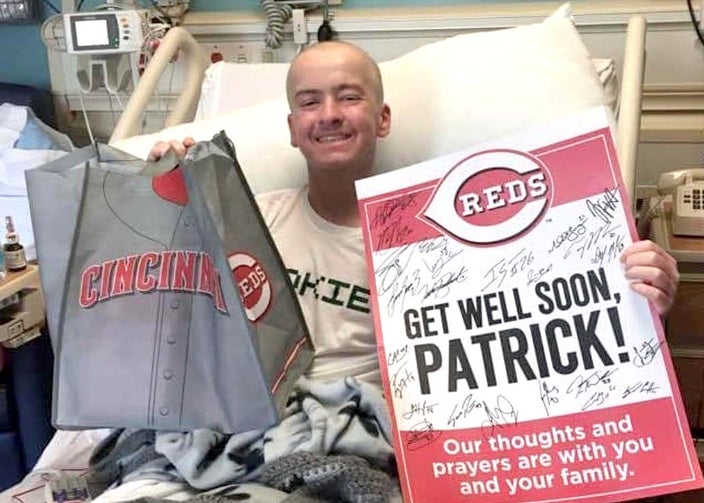 Patrick McSweeney has spent most of his life dealing with leukemia. He was first diagnosed at age 5, followed by six relapses. 
Traditional chemotherapy failed to treat him. So, too, did an initial bone marrow transplant. And Patrick's participation in three early gene-therapy trials also did not achieve long-lasting success. What gene therapy did accomplish was to help keep him alive until his cancer went into lasting remission by means of a second bone marrow transplant.
As a lifelong cancer patient who longed to be free from hospitals, Patrick, now 22, recently changed course to study nursing and serve at the bedside of patients like himself.
Gene therapy hope for a common childhood cancer
Each year, about 3,100 patients age 20 and younger are diagnosed with acute lymphoblastic leukemia (ALL), a cancer of the bone marrow and blood, according to the American Academy of Pediatrics. Gene therapy — which replaces a gene that causes a medical problem with one that doesn't — holds promise for those with ALL who have difficulty finding lasting remission upon relapse.
Some 85% of children with ALL are cured with traditional treatment chemotherapy, according to the Children's Hospital of Philadelphia (CHOP), the first hospital to use gene therapy. 
In patients whose disease stubbornly resists conventional treatment, certain cells known as T-cells are extracted from the immune system, genetically engineered, and injected into the body to eliminate leukemia-causing B-cells. In 2017, the FDA granted the first approval for gene therapy to be used in pediatric leukemia patients.
In all, according to CHOP, some 400 pediatric leukemia patients have been treated with gene therapy. Patrick was among the first, traveling to Philadelphia from his hometown of Louisville, Kentucky, in 2014.
'The Fighting Irishman'
By 2014, two rounds of traditional chemotherapy protocols and a bone marrow transplant had failed. Patrick was 14. His doctors recommended against a second bone marrow transplant so soon after the first. He had already endured full-body radiation. A second bone marrow transplant would require another course of radiation — one that could prove too damaging to his vital organs. 
After nearly a decade of treatment, the stubborn leukemia had evaded conventional solutions.
Gene therapy trials just beginning at that time offered hope for a new way to beat blood cancer. Patrick was patient number 34 in the first 2014 trial for pediatric leukemia. When re-engineered cancer-fighting T-cells faded away, he became patient number 4 in a second trial. Finally, his leukemia B-cells evaded a third round of gene therapy, assisted with Keytruda — an anti-cancer drug — by 2018.
Although those three rounds of experimental gene therapy protocols did not achieve long-lasting remission, they allowed Patrick to endure full-body radiation again for a second, successful bone marrow transplant in 2018. Ever since, he has been attending college at the University of Louisville, where he just began his senior year studying nursing.
"The poor kid has just been a guinea pig most of his life," his mother, Debbie McSweeney, says of her son, also known by loved ones as "the Fighting Irishman." 
"He is a success story from the bottom line that gene therapy was his bridge," his mother says. 
Sprint vs. marathon
Compared to his marathon years of traditional leukemia treatment prior, gene therapy holds potential to become a sprint to being cancer-free, Patrick says.
"Eventually, immunotherapy in general is going to be the future of cancer treatment, because it is more targeted," Patrick says. "It does not cause the hair loss and does not cause a lot of damage to internal organs like chemo does."
Chemotherapy kills the fastest-growing cells in the body, like cancer cells. But it also slays quick-reproducing cells of the hair, nails, and the lining of the digestive tract, to name a few. 
"Gene therapy is only designed to attack cancer cells and nothing else," Patrick says. "I think it is going to be the future, but it could also be several years before it is widely accessible."
Side effects and new career dreams
As a cancer patient for much of his life, Patrick's health still suffers painful and long-lasting side effects from years of chemotherapy, full-body radiation, prolonged steroid medications, and other therapies that damage his metabolism, vital organs, and bone. As a result, he also copes with treatment for chronic conditions such as Type 1 diabetes, lung disease, hypothyroidism, adrenal insufficiency, cataracts, bone disease, and more.
By 2019, Patrick returned to in-person engineering and math classes in college. But complications from his second bone marrow transplant forced him to miss a week of summer courses. He remained in remission from leukemia. But his body was struggling with severe side effects. Patrick was still studying hard to catch up with schoolwork when a second, unexpected hospital stay took him out for the first 2 weeks of the fall semester.  
During intermittent hospital stays in Cincinnati, he began to rethink his career plans. A nursing career would place him within a community of people that understood his health challenges. His experiences could benefit others like himself.
"I've had hundreds of doctors and nurses take care of me over the years," Patrick says. While trying to tackle complex math and engineering topics, his thoughts kept returning to his beloved community of caregivers.
"For the longest time, the last place I wanted to be was in the hospital," he says.
So he decided to join the fight to broaden gene therapy's reach. Besides this newfound passion, hard-learned lessons as a patient himself made it easier to tackle complex topics such as undergraduate biology, anatomy, and physiology in quick succession. After all, he still rotates in and out of clinics for follow-up care for his bone marrow transplant, diabetes, and pulmonary issues. In some ways, he and his family consider his 17 years of continuing medical treatment like medical school.
"You can still do what you have had to do, and it can also help others," he says. "It is a message that applies in general to life."
As 2022 begins, Patrick has just started his senior year of college nursing studies. This summer, he expects to return to the Norton Children's Hospital in Louisville, where he was first treated at age 5. This time, he will be a nursing intern. Upon graduation, he expects to join the team in Cincinnati as a nurse on the bone marrow transplant unit.
"I am going to make the most of whatever career I can and enjoy what I am doing to help us grow to be the best," Patrick says. "I can't change what has happened. But I can change my future."
Subscribe and save.
Get prescription saving tips and more from GoodRx Health. Enter your email to sign up.
By signing up, I agree to GoodRx's Terms and Privacy Policy, and to receive marketing messages from GoodRx.