Key takeaways:
Palliative care is for people with a serious illness. It focuses on improving their quality of life.

Hospice is a specific type of palliative care that a healthcare team provides in the last 6 months of life.

Both palliative and hospice care make difficult times more bearable for people with a serious illness and their families.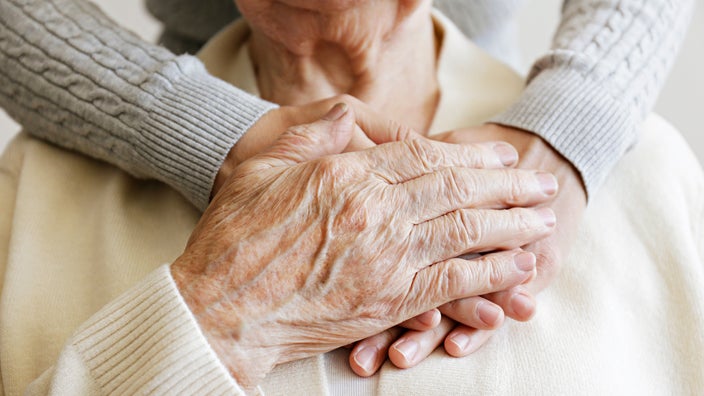 Confusion about palliative care and hospice is more than just common — it's almost universal. In fact, many healthcare providers have a hard time explaining the difference.
Perhaps that's because no one likes to think about suffering, illness, or end-of-life issues. Or maybe it's because formal programs for palliative care have only been around for a few decades in the U.S.
The fact of the matter is that most people will need these services at some point in their lives. And with an understanding of palliative and hospice care, you can help loved ones navigate difficult times, too. 
What is palliative care?
Palliative care is a way to help people with a serious disease like cancer, heart failure, or lung failure. The goal is to relieve suffering and improve a person's quality of life.
Because each situation is unique, palliative care uses a team approach. Team members look at all aspects of someone's life to see where help is needed.
The palliative care team centers around the person who is living with the illness. The team includes:
Family, friends, and any nonmedical person helping with care

Palliative care doctors, nurses, and providers

Primary care and specialty care providers working with the person

Spiritual professionals and chaplains

Social workers

Pharmacists

Nutritionists

Volunteers
How does palliative care work in practice? 
The process usually starts when someone's provider requests a palliative care consult. This is usually the provider who is most closely involved with someone's condition.
Many times, this begins in the hospital. But outpatient palliative care consults are also common. Patients and families work with the palliative team. Together they identify the most pressing problems and set goals of care. 
Is palliative care considered end-of-life care?
Palliative care does not mean end-of-life care. Healthcare teams can provide it at any stage of an illness. And that's true whether someone's condition is improving, getting worse, or staying the same.
People who get palliative care often still seek treatment or a cure for their disease. They see their primary and specialty providers for all the usual checkups and procedures. If they get better and don't need palliative care anymore, they can simply stop it.
What is hospice care?
When someone is nearing the end of their life, the primary goal of their care often shifts. The focus becomes relief from suffering and improving quality of life. That's where hospice comes in.
Hospice is a specific type of palliative care. It's palliative care that a healthcare team provides at the end of life. There are two main differences: 
People in hospice care are no longer seeking a cure to their disease.

In order to qualify for hospice care, a doctor must certify that someone has a life expectancy of 6 months or less.
What types of treatments are included in palliative care vs. hospice?
The most common areas of treatment that are part of both palliative and hospice care include:
Symptom management of things like pain, nausea, agitation, or shortness of breath

Maintaining function for activities of daily living — like bathing, cleaning, and cooking

Emotional support for patients and families through social workers/counselors

Spiritual support from a chaplain or other spiritual leaders

Coordination of care for access to medications, equipment, transportation, and caregiver help
Healthcare teams can give this support in many different environments. Most often, members of the care team go to someone's home. But these supportive services could occur in an assisted living facility, a nursing home, or a hospital.
How long is a person typically in palliative care or hospice care?
The length of time in both palliative care and hospice is different for each person. A person receiving palliative care can get services for years. But when someone starts hospice care, it's often only for weeks or months.
Hospice services don't stop if the person outlives the life expectancy of 6 months. They can remain in hospice for longer, as long as their prognosis is the same.
What are the biggest challenges of going through palliative vs. hospice care?
The goal of both palliative and hospice care is to make things easier for the person with a serious illness and their families. But challenges still exist. 
Misconceptions
Some people have misconceptions about what palliative and hospice care do. Here's some clarification on three areas that people often misunderstand:
Neither palliative or hospice provides 24-7 care. For most people receiving palliative or hospice care, the family does most of the day-to-day caregiving at home.

Palliative and hospice care don't take over all medical care. People in palliative care continue all care with their regular providers. And people in hospice can still see their doctors for issues that aren't related to their primary hospice diagnosis.

Focusing on comfort doesn't speed up the process of death. Palliative and hospice providers use medications only to ease someone's suffering.
Timing
It can be very difficult to decide when to consult palliative care or start hospice. There are a few reasons the timing is challenging:
Outpatient providers may not recognize someone's slow decline. Or they may not know how palliative care could help their patients. 

It can be difficult to predict a 6-month life expectancy in some illnesses — like dementia, heart failure, or lung failure.

It may be hard for someone with a serious illness to decide when to stop pursuing a cure, like chemotherapy, and to begin hospice. But palliative teams are experts at helping people decide what is important to them and how to achieve those goals. 
Family dynamics
Family dynamics can also be challenging. Patients and their loved ones don't always agree on the best course of care. This is especially true when someone's illness affects the decision-making process. One way to avoid this is to ask the person's wishes ahead of time. These conversations can be hard, so it may help to reach out to your healthcare team. They can help you file an advance directive, so there's a clear document everyone can refer to.
Finances and regulations
It can be a challenge to figure out who pays for what. Similarly, with so many people on the care team, it can be hard to know which doctor to see about a certain problem.
What is the average cost of palliative care vs. hospice?
Studies suggest the timely use of palliative care lowers healthcare costs, among other benefits. Coverage and out-of-pocket costs for palliative care may vary depending on your insurance. As of April 2022, 15 states are taking action to support or expand palliative care.
Hospice, on the other hand, is a benefit of Medicare. Commercial insurance and Medicaid coverage are generally similar. Hospice covers the following expenses when they are related to a terminal diagnosis:
Medications

Equipment

Medical care

Social services
Medicare's hospice benefit started in 1986 and remains relatively generous in 2022. It also covers occasional respite care to give your usual caregiver a break. Out-of-pocket costs are limited to 5% of the Medicare-approved amount for inpatient respite care. If you have Medicare supplement insurance (Medigap), it will cover out-of-pocket hospice costs such as respite care and prescription drugs. 
The bottom line
Dealing with a serious illness is stressful. It can take a toll on people and their caregivers in many different ways. Palliative and hospice care address the challenges of serious and terminal illnesses. Both forms of care help someone with a serious illness and their family find peace, comfort, and relief in a difficult time. 
GoodRx Health has strict sourcing policies and relies on primary sources such as medical organizations, governmental agencies, academic institutions, and peer-reviewed scientific journals. Learn more about how we ensure our content is accurate, thorough, and unbiased by reading our editorial guidelines.