Key takeaways:
Undocumented immigrants are far more likely than other U.S. residents to be uninsured, which creates barriers to healthcare.

Even without insurance, undocumented immigrants can receive medical care at certain health facilities, and many of these locations charge on a sliding scale.

Undocumented immigrants also may qualify for emergency Medicaid, which covers access to healthcare during an emergency medical condition.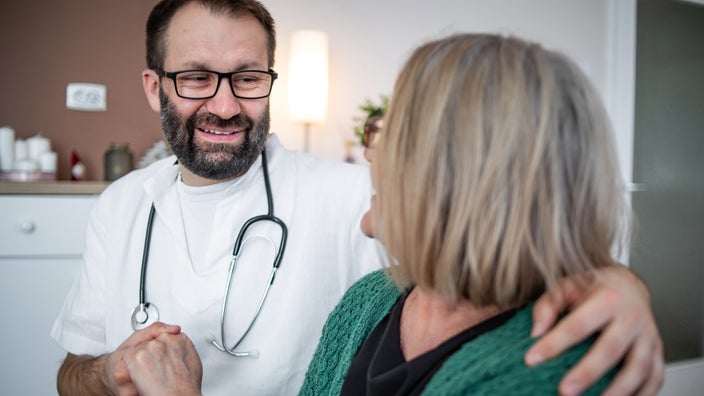 More than 10 million undocumented immigrants live in the U.S., and nearly half who are not yet seniors are uninsured. For many, the lack of financial resources can make access to healthcare complex and confusing.
Some undocumented immigrants face barriers to receiving quality medical treatment. Some fear deportation, have language barriers with providers, or do not have the ability to pay for treatment. Still, undocumented immigrants have healthcare options.
What risks are associated with receiving medical care if you're undocumented?
Many undocumented immigrants are long-term residents of the U.S. Some are in mixed-status families, namely as parents of children who are U.S. citizens. Accessing healthcare for yourself or a loved one as an unauthorized immigrant can bring challenges, including:
Where can undocumented immigrants safely receive healthcare?
Undocumented immigrants can receive medical care at a variety of healthcare facilities, including federally qualified health centers (FQHCs), urgent care clinics, public hospitals, and emergency rooms — regardless of immigration status. 
It is very likely that you will be required to pay out of pocket unless you are receiving services at a free clinic. You should ask about expected costs.
What is emergency Medicaid, and how do you qualify?
Undocumented immigrants are eligible to apply for emergency Medicaid, which is used when an individual is experiencing acute symptoms that could cause a body part or organ to not function properly or in a way that would directly affect life or health. This includes emergency labor and delivery. Those who qualify would be able to use emergency Medicaid to cover medical expenses. 
As part of the application, you will be asked to provide certain documents including:
What are safety-net hospitals, and how can you find one?
A safety-net hospital will provide care to those who are uninsured as well as those with low incomes and undocumented immigrants regardless of ability to pay. Though there is not a single definition for these comprehensive health centers, they also may be called county hospitals, public hospitals, or essential hospitals. You can find a safety-net hospital on this state-by-state list or by searching online for a safety-net hospital, county hospital, public hospital, or essential hospital in your area. 
Can undocumented individuals qualify for other types of Medicaid?
Undocumented immigrants do not qualify for Medicaid, except emergency Medicaid under emergency conditions, but they can apply for government health insurance on behalf of relatives who are here lawfully. When applying for Medicaid, Medicare, CHIP, or the ACA marketplace for someone else, undocumented immigrants are not required to disclose their immigration status.
What are federally qualified health centers, and are they accessible for undocumented immigrants?
Federally qualified health centers, or FQHCs, are community health facilities funded by the federal government to provide medical care to underserved areas and populations. Patient costs are based on ability to pay. 
FQHCs usually offer primary and preventive healthcare, but also may provide dental, mental health, substance abuse, specialty, and hospital services. Depending on funding and policies, some centers are accessible to undocumented immigrants.
If you're undocumented, can you go to an urgent care clinic or emergency room?
Undocumented immigrants can receive care at an urgent care clinic or emergency room but will usually have responsibility for the bills. If that's the case, you have options if you receive a medical bill you can't afford. 
Disclosing your immigration status is not required to receive care, but you may be asked about your status if you apply for insurance. You can say you do not wish to apply for insurance and decline to respond about your immigration status. Regardless of status, patients have a right to an interpreter when receiving medical treatment. 
The bottom line
Undocumented immigrants face barriers in accessing healthcare, but there are options — from free clinics and price negotiation to paying cash — for the medical care you may need. Federally qualified health centers and safety-net hospitals typically have the resources and policies to serve undocumented patients who cannot pay fully out of pocket for healthcare. Undocumented immigrants experiencing emergency conditions also may qualify for emergency Medicaid.
GoodRx Health has strict sourcing policies and relies on primary sources such as medical organizations, governmental agencies, academic institutions, and peer-reviewed scientific journals. Learn more about how we ensure our content is accurate, thorough, and unbiased by reading our editorial guidelines.