Key takeaways:
Common issues with prescription refills involve needing prior authorizations, not having insurance coverage for larger fills, and pharmacists needing to speak with healthcare providers about medication interactions.

Using a GoodRx coupon and paying out of pocket may help you save money and prevent potential delays in getting your medication. 

Planning ahead and talking with a healthcare provider about filling a larger prescription can also help you get your medication on time.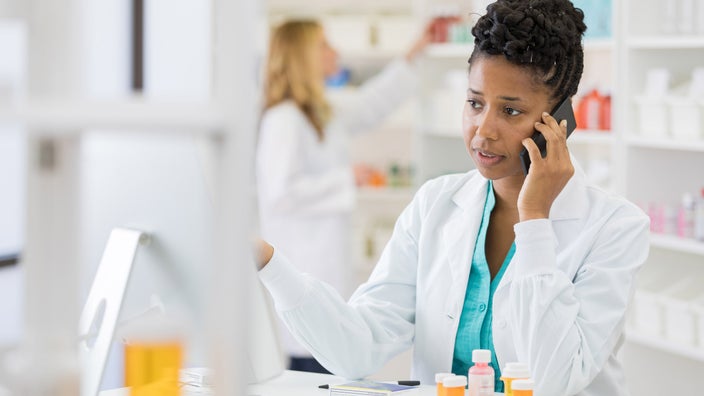 Healthcare providers regularly answer calls after hours from pharmacists and people having trouble getting new prescriptions or refills. It's a frequent reason for lost time and stress for everyone involved. 
From reaching the pharmacy's voicemail to hearing that there's a delay on their Rite Aid or CVS prescription refill, people sometimes face challenges at pharmacies. Here are 10 of the more common refill issues and questions that healthcare providers see and tips to navigate them.
1. My insurance won't cover my prescription
If this is a new prescription or refill for a generic medication, check what the price would be with a GoodRx coupon. In many cases, this will allow you to get your medication at a lower cost — without having to get prior authorization from a healthcare provider for brand-name medications. 
This also applies to new prescriptions for products that are generally for short-term use, like seasickness patches, antibiotics, or sleep medications. If it's financially possible for you, talk to a pharmacist about paying out of pocket so there's no delay. 
For new prescriptions that you may need on an ongoing basis (i.e., medication for an overactive bladder or diabetes) contact your healthcare provider as soon as possible to get the prior authorization. The pharmacy will typically contact your provider's office to request a prior authorization be completed. But it can help if you also reach out to your provider to tell them that your insurance isn't covering your medication.
2. My insurance said it's too soon to fill my prescription 
While your insurance company may not pay for a refill sooner than expected, there may be some options to get your medication anyway. It's important to keep in mind that this information doesn't apply to controlled substances (medications that can be habit-forming). Those prescriptions have much stricter rules around when you're allowed to fill them.
You may face this situation if you recently changed the dose of your medication. For instance, let's say you've been told to take two pills a day of your existing medication when you previously only took one pill a day. You may be told to wait because your insurance plan is only aware of the old directions.
In this case, it's important to make sure your healthcare provider has sent a prescription with the updated directions to your pharmacy. The pharmacist or pharmacy technician can then request an override from the insurance. But this doesn't always work and varies between insurance plans.
If an insurance override isn't available or doesn't work for your plan, check to see what the GoodRx discount would be. If it's within your budget, you can tell the pharmacist you'll pay out of pocket. 
3. My pharmacy says I can't get a 90-day supply 
While some insurance companies may offer you a better rate for a 90-day supply of medication, others plans may not cover it. 
If your healthcare provider has written you a 90-day prescription, you can get it filled at the pharmacy. Check GoodRx for the best pricing, and if it's affordable, tell the pharmacist you'll pay out of pocket. 
4. The pharmacist wouldn't fill my prescription because of interactions with other medications
You may run into this issue if you're taking warfarin (Coumadin, Jantoven) or certain heart medications. Checking for interactions is one of the most important tasks a pharmacist does while filling a prescription. Some interactions can be very dangerous and cause serious complications, especially with blood thinners, like warfarin. So if your pharmacist isn't filling a medication due to an interaction, it's likely serious. And it could cause problems if you took it as originally prescribed.
If you find yourself in this situation, the best first step is to ask your pharmacist for details on the interaction. What medications are interacting? What could happen if I took them together? Sometimes, the interaction may be with a medication you're no longer taking. Pharmacists can't see what's in your chart at your healthcare provider's office. So they're often unaware if you've been told by your provider to stop taking a medication.
If you're still taking both interacting medications, you can try to reach out to your healthcare provider. Ask if they can return the pharmacist's phone call as soon as possible. Sometimes, that extra nudge can help speed things up — but not always. Patience is essential here. Remember, interactions can be very serious. And you want to make sure both your provider and your pharmacist are comfortable proceeding with the medication combination. 
5. The pharmacy says your medication is on backorder
In some cases, the medication you need might be on backorder, or out of stock. A backorder means the medication's manufacturer isn't able to supply the medication to the pharmacy. But different pharmacies use different medication suppliers. If your usual pharmacy isn't able to order it due to a backorder, see if other nearby pharmacies have it available. 
If a medication is out of stock, chances are the pharmacy can have it available the following business day. In the meantime, your pharmacist may be able to provide you with a partial prescription (e.g., a few days' worth). This can help tide you over until the full order is available.
6. My medication was discontinued — now what?
Medications may be discontinued due to safety concerns. This happened with a very common heartburn medication ranitidine (Zantac). If your medication was discontinued, call your healthcare provider's office so they can prescribe you a different medication. Often, there are other medications that work similarly and can be used in place of a discontinued medication.
7. It's a weekend, so the pharmacy can't get approval for my prescription
Imagine you've run out of refills on a daily medication without realizing it — and it's Saturday morning. Your provider's office is closed until Monday. Now what? This is a very common problem.
First, ask your pharmacist if they have any prescriptions "on hold" in their computer system. Often, when you take something every day, like cholesterol medications, your provider will send a new set of refills to the pharmacy ahead of when you're due to run out. The pharmacy places this prescription on hold until you're ready to use it.
 If not, try to call your healthcare provider's office. Many offices have an after-hours line that can connect you with an "on-call" provider. This healthcare provider can contact the pharmacy to authorize more refills for maintenance medications after usual business hours, on the weekends, and on holidays.
Keep in mind, getting a refill for a medication may be more challenging or take longer than usual on a weekend. If an on-call healthcare provider isn't responding to a refill request within a few hours, try to call the after-hours line again. You can also use a telehealth service like GoodRx Care to request a one-time refill for certain maintenance medications.
8. I'm leaving town for the summer — can I get a 90-day supply?
Yes, you can. If you are leaving for an extended period of time and have a medication you've been taking for a while — like antidepressants or medications for high blood pressure — ask your provider to approve a 3- to 6-month supply of your medication.
Make sure to ask your provider to note on the prescription that the pharmacist should dispense all the medication at once due to an upcoming vacation. Prescriptions written for 1 month at a time may not be able to be filled for more than that in some U.S. states. Pharmacy laws vary between states, so it's important to discuss with your pharmacist whether a prescription needs to be written a certain way before calling your provider.
Chances are, you may have to pay cash for some of it, since some insurance plans may not cover larger fills. But you can still get enough if your healthcare provider approves it. However, it's worth calling your insurance company to ask about their policy on large fills for vacations. Some plans can make exceptions and allow you to get several months filled at once.
Keep in mind, filling large quantities at a single time is usually not an option for controlled substances. The rules are much stricter and pharmacists often can't legally dispense more than a certain amount of medication at one time. If you take a controlled substance, discuss your options for planning a vacation fill with your healthcare provider and pharmacist.
9. I went to get my flu shot, and they asked me about all my other vaccines
If you're unsure which vaccines you actually need, talk to a healthcare provider. An annual flu shot is appropriate for most everyone, but check whether you are due for a pneumococcal vaccine (pneumonia), Shingrix (shingles), or Tdap (tetanus, diphtheria, and whooping cough) before you get one. Some vaccines are only recommended once or twice during your lifetime, while others require boosters every so many years.
Many insurance plans, including Medicare, cover certain vaccines. If you don't have insurance, you can check whether you're eligible for free or low-cost vaccines. You can also use GoodRx coupons for vaccines. 
10. I lost my prescription medications — what can I do? 
If you've left a routine medication somewhere or lost it and the pharmacy tells you they can't fill it, you may still be able to get your medication. Many insurance plans allow you to fill maintenance medications early due to losing them. But the pharmacist may need to call your insurance plan to request this. So be sure to let your pharmacist know if you lost your medication. This will allow them to take proper steps to try to get a refill covered for you.
If an override isn't available with your insurance plan, you can often still get the medication. But you may have to pay cash for it. This is where a GoodRx coupon can come in handy to help save you money. 
This advice does not apply to controlled substances. Due to the risks that come with these types of medications, most providers won't refill a prescription for a lost controlled substance without seeing you first. And pharmacists will need to verify this information with your provider before being able to dispense the medication.
The bottom line
Many of the common refill challenges at the pharmacy can be resolved through a few strategies, like paying for the medication out of pocket or planning ahead to prevent missed doses. 
When in doubt, call your healthcare provider for necessary prescriptions or approvals on refills. You can also talk to the pharmacist to see what options may be available  to get your prescription filled. Remember to check GoodRx to help you save on your medication if you're paying out of pocket.