Key takeaways:
For free or low-cost adult vaccines, start with your local health department or community health center.

You can also get free or discounted vaccines through vaccine makers' patient assistance programs.

If you go to a pharmacy, comparison-shop first to find the lowest prices in your area.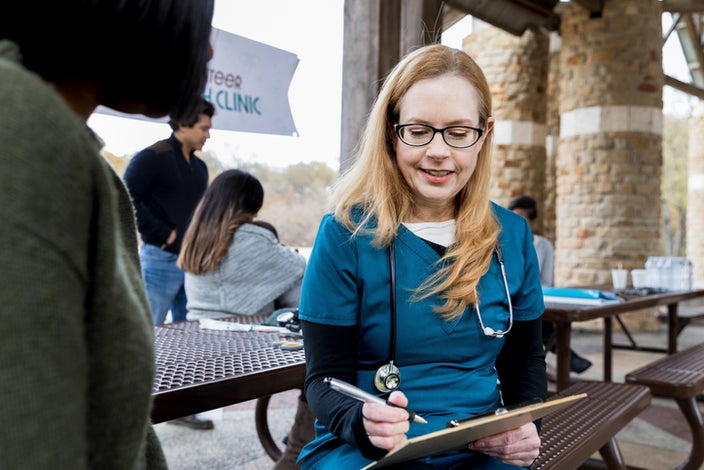 Making sure your vaccinations and booster shots are up to date is one of the easiest ways to  safeguard your health. But getting shots can be expensive, especially if you don't have insurance.
Here are some tips on how to find affordable adult vaccines, even if you don't have insurance. 
How much do vaccinations like the annual flu shot cost without insurance?
If you're uninsured, you may already know that vaccines can be expensive. The Centers for Disease Control and Prevention (CDC) has a list on its website of the vaccines it recommends for adults and at what ages they should be given. 
After you find what you need, you can get an idea of how much the vaccines cost by checking out the CDC's roster of vaccine list prices. In general, prices range from $25 to over $150 for each dose of a vaccine. 
Pharmacies sometimes list their prices, and if they don't, you can ask for them. For example, the shingles vaccine is given in two shots, 2 to 6 months apart. Each dose costs about $200 without insurance at CVS. 
Annual flu vaccine season generally starts in August. Even a flu shot can run you $40 to $70 if you have to pay out of pocket. For tips on how to get a free or discounted flu shot, check out GoodRx's flu shot guide. 
The big exception in 2021 is the COVID-19 vaccine. This is free for everyone regardless of health insurance or immigration status no matter where you receive it. 
How can I find places that offer free or low-cost vaccinations near me?
If you don't have insurance, you may be able to receive free or low-cost vaccinations through your state health department or local community health center. State health departments often provide shots for free or on a sliding-scale basis, meaning based on your income. 
In Texas, for example, uninsured adults aged 19 and older can receive low-cost vaccines through the Adult Safety Net program. You can find out how to contact your state's health department about low-cost vaccines on the CDC website. 
Federally funded health centers are another good resource for low-cost adult vaccines, as are clinics run by charitable organizations. You can find a healthcare center near you using the clinic locator tools on the websites of the U.S. Department of Health & Human Services and the National Association of Free & Charitable Clinics. 
You can get vaccinated at pharmacies, but you may have to comparison-shop to find the cheapest vaccine in your area. Retail pharmacies generally carry a wide range of vaccines. But call first to make sure they have the one you want in stock and to ask what it costs. 
GoodRx can provide you with a list of pharmacy prices in your area, along with coupons you can use to reduce the cost on select vaccines. Search for the name of the vaccine you need to see what's available. 
Can I get free or discounted vaccines through drug company patient assistance programs?
Vaccine manufacturers offer financial assistance for a wide variety of vaccines. You may qualify for low-cost or even free vaccines through the maker's patient assistance program. 
Here's a chart listing some of the leading vaccine makers, their patient assistance websites, and the names of the vaccines they make to help you check eligibility guidelines: 
You can also use the Medicine Assistance Tool online to find out which assistance programs you qualify for and how to contact them. This tool lets you search for public and private programs that can help pay for medications, including vaccines. Just enter the name of the vaccine and answer a few eligibility questions. Then the search engine will tell you which programs you may qualify for and how to reach them.  
How can I get insurance that covers vaccines?
Many routine vaccines are covered by Medicare, Medicaid, and health plans under the Affordable Care Act. You can check to see if you qualify for free or low-cost insurance to help get your vaccinations.   
The Affordable Care Act
If you're under age 65 and don't have health insurance, you may be eligible for low-cost coverage through Healthcare.gov or a state exchange established by the Affordable Care Act (ACA). 
Under the ACA, routine vaccines are considered preventive care. This means they must be covered at no cost to you when given by a provider who is covered by your insurance. This is also true for most private health plans. Adult children are allowed to stay on their parents' health plans until age 26.
You can apply for ACA coverage through the extended August 15 deadline on Healthcare.gov. If your state runs its own exchange, you can check the enrollment deadlines on Healthcare.gov as well. 
Monthly premiums on ACA marketplace health plans are lower than usual, too. Due to the pandemic, the federal government has boosted financial assistance for people of all income levels.
Medicare
For Medicare eligibility, visit the Social Security Administration. Medicare serves people: 
Age 65 and older

Who are younger with long-term disabilities

Who have permanent kidney failure (end-stage renal disease) or amyotrophic lateral sclerosis (ALS or Lou Gehrig's disease) 
You can find out which vaccinations Medicare covers by using its services coverage tool.  
Medicare Part B fully covers vaccinations against influenza (flu) and pneumonia. It will also pay for hepatitis B vaccines for people at higher risk for the disease, and for vaccines related to injury, disease, or wound care such as rabies or tetanus. 
Medicare Part D or your Medicare Advantage plan will often cover the cost of shots and boosters for vaccines such as:
Measles/mumps/rubella (MMR)

Tetanus/diphtheria/pertussis (Tdap) 
Consult your individual Part D or Medicare Advantage plan to see which vaccines are covered. You also may have a copay, deductible, or have to pay upfront and be reimbursed, depending on your plan. 
Medicaid
If you have a low income, you may qualify for Medicaid. This insurance program offers free or low-cost coverage to those who can't afford to pay for health insurance. You can find out if you qualify for Medicaid by answering some questions about your income on Healthcare.gov.
Medicaid coverage for vaccines varies state to state — and sometimes even county to county in large states like California. You'll need to contact your state Medicaid office to find out which shots are covered. You can find contact information for state offices on Medicaid's website.  
The bottom line 
Vaccines aren't just for children, and adults need more than just inoculation against COVID-19  to stay healthy. If you need help paying for vaccinations, contact your local health department or community health center to see if you can receive your needed jabs for free or at a discounted rate. You may also qualify for free or low-cost shots through the vaccine maker's patient assistance program.
GoodRx Health has strict sourcing policies and relies on primary sources such as medical organizations, governmental agencies, academic institutions, and peer-reviewed scientific journals. Learn more about how we ensure our content is accurate, thorough, and unbiased by reading our editorial guidelines.