Key takeaways:
Greg Hoyd, a former Ole Miss linebacker, says he was always a big guy.

When he learned his blood pressure was dangerously high, he also found out how common hypertension is in the Black community.

Today, he has adopted a healthier lifestyle and encourages others to pick up habits that will keep their blood pressure in check.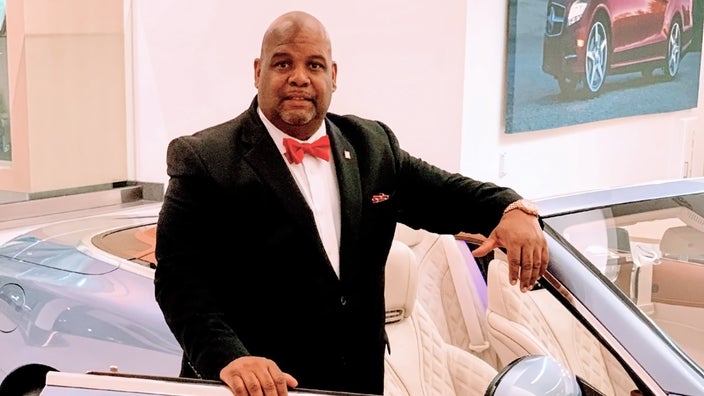 In 2020, Greg Hoyd was enjoying a visit to a California winery when he suddenly fell ill with food poisoning and began throwing up so much that it prompted a trip to a hospital.
Once there, he learned he had a much more serious problem. His blood pressure was dangerously high, showing a reading of about 185/105 (well above a healthy reading of a top number less than 120 mmHG and a bottom number less than 80 mmHG).
"I was, like, what? I had no idea," he recalls.
Ultimately, his hospital stay lasted five days as providers discovered other intertwined problems, including that he was prediabetic.
But it would end up being a blessing in disguise. "That's when I realized that I was living with hypertension," he says.
Hoyd, who is 51, knew he wasn't alone but was surprised to find out how incredibly prevalent hypertension was in the Black community, which he is a part of.
Hypertension, or high blood pressure, affects nearly half of all adults in the U.S. But the rates vary by race. It is more common among Black people than any other ethnic group. For Black people, hypertension can also be harder to control with medication.
There isn't a definitive answer as to why it's more prevalent. But possible causes include genetic and environmental factors, such as being more likely to live in areas with less access to healthy food.
Hypertension is difficult to spot
Greg says that he was always "a big guy." That helped land him a spot playing linebacker for the University of Mississippi, in the early 1990s. 
After a stint as a coach, he started a California-based recruiting business in 2006, to help high school athletes in their quest to win college sports scholarships.
The business was a big success. But that meant a lot of travel to sidelines and homes across the country to meet with coaches and families of students. And that, in turn, meant a lot of unhealthy fast food and little time for exercise. 
Over time, he experienced unhealthy weight gain, to the point that he struggled to put down the tray table on a plane. At the time, however, he wasn't thinking about the link between weight gain and hypertension. 
He thought the headaches and occasional dizziness he experienced were just him getting older, he says. He only later surmised that they were related to his high blood pressure. 
Even when he registered a slightly elevated blood pressure at a checkup, he thought it wouldn't become a more serious problem. "I'm a former athlete, right?" he recalls thinking. 
A common condition in the Black community
And, in some ways, hypertension was invisible to Greg because it was so common in his life.
In 2013, Greg's mother, who had hypertension, passed away after facing other serious health conditions. And his wife took blood pressure medication — as did a lot of people in his business circles.
"In the Black community, it's, like, OK, just get on your blood pressure medicine that your dad was on," he says.
Greg took blood pressure medication, too. He had started after his visit to the hospital in 2020. But his doctor had also recommended lifestyle changes, including staying at a healthy weight, eating a healthy diet full of fruits and vegetables, and exercising.
But implementing those lifestyle changes was difficult when he traveled for business. And back at home in California — with his wife, older children, and friends — social gatherings in his community often revolved around food, Greg says.
He was still struggling to get his hypertension in check, he says.
In June 2021, Greg started taking fiber supplements to help reduce insulin resistance. He also tried intermittent fasting. Eventually, his weight dropped from 317 pounds to 278 pounds.
"I went from a size 4X to a 2X," he says. "The inflammation in my body has decreased substantially. And my blood pressure has regulated. It's not perfect, but, you know, it's in a good range."
Lifestyle and diet changes pay off
Greg has been able to get off his blood pressure medication, and he has seen an improvement in his mental health, sleep, energy, and focus, he says.
​​"Taking my blood pressure, waking up in the morning and seeing that it's good. Oh, my, gosh. That's a mental high," he says. "I feel like I'm a linebacker back in the days, playing at Ole Miss."
Other changes were evident, too. 
During a trip to a national coaching convention in Texas, he was more comfortable traveling on the plane. At his hotel, he no longer had to worry that his sleep apnea might cause breathing problems when his wife wasn't next to him.
He now carries messages about healthy habits into his travels and business life. In fact, he began marketing his own fiber product that's designed to help with diabetes, weight gain, and high blood pressure.
Most of all, he spreads awareness about the signs of and treatments for hypertension. 
"People have normalized it. And it shouldn't be normal. So, I'm evangelizing," he says. That includes highlighting the critical benefits of a healthy diet.
And, after a lifetime in the sports world, he says he offers advice similar to what his coaches said ahead of Mississippi football games: study up on your rival.
"Know your opponent," he says. "And the opponent is our modern food environment. So you've got to know what you're dealing with." 
Subscribe and save.
Get prescription saving tips and more from GoodRx Health. Enter your email to sign up.
By signing up, I agree to GoodRx's Terms and Privacy Policy, and to receive marketing messages from GoodRx.