Key takeaways:
DeQuindra Blakey grew up in a culture that taught her to love her body at any size.

Working from home early in the pandemic gave her a chance to evaluate how she could be healthier.

She adopted a lifestyle that builds a plant-based diet and exercise into her routine, and she's never felt better.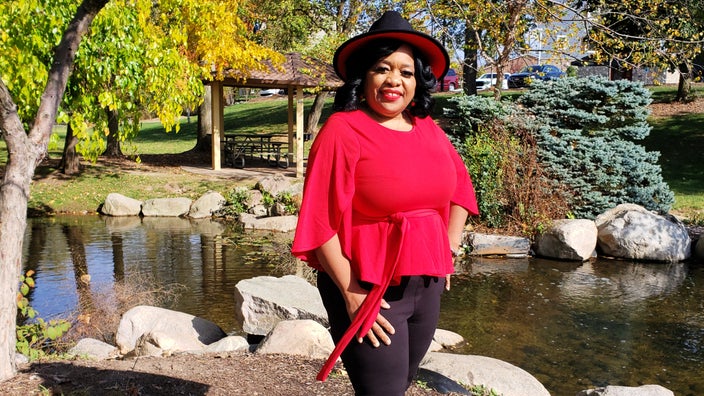 DeQuindra Blakey's lifestyle transformation started a few months into the pandemic, when she and her husband found themselves working from home. Their new routine wasn't as active, but they wanted to stay healthy.
"We started to walk on a daily basis and started to incorporate more of a plant-based diet," she says.
DeQuindra, a 55-year-old family nurse practitioner in Detroit, started preparing meals showcasing vegetables a few times a week.
"We both had some health challenges that we wanted to improve through lifestyle changes — through changing our diet a bit and through exercising," DeQuindra says. "So we started on that journey." 
A different comfort zone
DeQuindra never looked at herself as overweight, even if the numbers on the scale said otherwise. At 5-foot-1, she weighed 205 pounds, which according to body mass index (or BMI) calculations would make her obese. But, culturally, as a Black woman, she didn't put much stock in BMI. She didn't care if people viewed her as "thick" or "PHAT." When she looked in the mirror, she saw curves in all the right places.
"My mindset in the past had always been that I'm fine," she says. "I have been told, over several years, by my physician that I needed to lose weight, and I'm, like, 'Right, OK.' You know, I know I may have a couple of extra pounds, but when I look in the mirror, I look fine to me."
DeQuindra was raised by her grandparents "who always said it's not good to be so small," she says. "Because if you get sick, then you won't have anything to draw from and you need some reserves, and, you know, we see having some curves as a good thing."
Powering through the pain
It never occurred to DeQuindra that she should be doing things differently. Eventually, however, health issues began to affect her quality of life. She suffers from osteoarthritis and avascular necrosis in her right hip. Most days, she considers her pain level to be at a 6 or 7 on a scale of 1 to 10. Because of her pain intensity, her provider cleared her for strong pain medications. She avoided these medications because they made her tired and she couldn't function well while taking them, she says.
Though walking caused some pain and discomfort, it helped her build up endurance and lose weight. Today, she says, she feels less pain. 
When she does feel pain, she manages it with hot baths, heated blankets, and by using cannabidiol (CBD) oil, which is usually taken as drops under the tongue. She has also tried adding natural anti-inflammatories into her diet.
She recalls a compliment from her mother about how good her skin looked. Her mother had assumed she must be using a new product, but the truth was that her diet and exercise changes were having a positive effect on her entire body. 
"Everybody who I know that looks at me says that I look great," she says.
Finding her 'why' 
For DeQuindra, the path to sustained health lies in "having a better 'why.'" Right now, her "why" is eating to feel better, to feel well.
DeQuindra knew a plant-based diet could lower her risk of heart disease, high blood pressure, diabetes, and obesity. She's always loved vegetables, but her husband can be picky about what foods he'll try. So, she focuses on flavor. 
She stocks her refrigerator with mostly vegetables, and she keeps a bowl of fresh fruit on the counter. She focuses on buying and eating foods from the earth, not foods from a box.
She uses real spices to flavor her dishes. 
"I use a lot of cayenne pepper. Things like cumin and thyme and rosemary I like to use, depending on what I'm cooking," she says. "I use everything bagel seasoning without the salt. I've also started to make some of my own seasoning mixes." 
It took a visual push to get committed
DeQuindra works in healthcare. In the early days of her lifestyle change, she was occasionally called into the hospital where she works. During those times, she witnessed the incredible devastation of people dealing with COVID-19. She didn't ever want to end up on a ventilator herself and resolved to do everything she could to improve her health.
That became her new "why" to get healthy. Along the way, she and her husband both lost weight (30 pounds for her and 50 for him). But their bigger goal was to build a healthier lifestyle into their routines.
"I was not just trying to lose a few pounds for appearance sake," she says. "I was looking at changing my life so I could feel better. So I think that once I changed that mindset that my overall mindset toward obesity kind of changed. 
I want to do this diet change. I want to do this exercise. I want to implement this plant-based foods into my life. Because these are the things that I believe are going to give me a healthier lifestyle, increase my sense of well-being, keep me from hurting so badly every day."