Key takeaways:
Wayne Eskridge has a form of fatty liver disease.

Changing his diet and losing weight helped his liver heal itself.

Wayne founded the nonprofit Fatty Liver Foundation to help others manage their disease.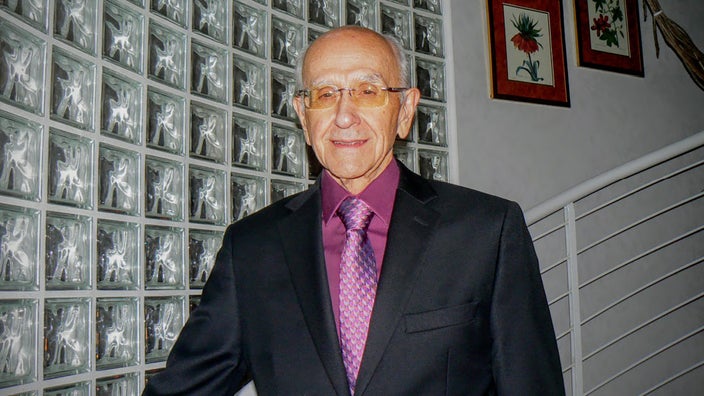 Just after Wayne Eskridge had surgery to remove his gallbladder 11 years ago, he awoke to some bad news about a different organ: his liver.
Three doctors were at his bedside that day in late December 2010. One showed him a picture of his liver, which was covered with bumps, like an orange peel, instead of being smooth and shiny.
The doctors told Wayne — who lives with his wife, Rosemary, in Boise, Idaho — that he had cirrhosis, or a scarring of the liver tissue. They said the disease was severe.
"They had told my wife I was stage 4 (the final stage of liver disease leading to liver failure) and had 2 or 3 years to live," he says.
Wayne started to consider a liver transplant.
His doctors told him there was no medical treatment to cure his disease, but that losing weight with exercise and diet could help.
More tests and specialists
A follow-up medical report contradicted the original diagnosis and, Wayne says, he was told he didn't have cirrhosis after all. But the picture the surgeon took of his liver still haunted him.
As an engineer, Wayne was used to diagnosing problems and seeking out information to help solve them. He took a copy of the picture to show other doctors for the next several years. Still, there was no consensus on what caused the liver surface to appear bumpy. He felt fine, and his blood tests were normal.
However, in 2015, after another test raised concern about his liver function, he was determined to see a liver specialist. The liver specialist with the kind of expertise he needed was 300 miles away, in Salt Lake City.
It didn't take long for the specialist to diagnose him with something Wayne had never heard of: nonalcoholic steatohepatitis (NASH), which is a type of nonalcoholic fatty liver disease. This means there was an abnormal amount of fat and inflammation in his liver, which was leading to organ damage.
The specialist told him that diet and exercise were not only good for his health, but also potentially life-saving.
Pounds accumulated over decades
At the time of his diagnosis, Wayne was carrying 210 pounds on his 5-foot-9-inch frame. But with the doctor's grim prediction, he says, he didn't feel motivated to make big changes in his diet.
Wayne says he had put on about an extra pound a year over his 50 years as an electrical engineer and corporate executive. He was a meat and potatoes guy, and he enjoyed an extra helping of dessert and a beer or wine every now and then. His vice wasn't alcohol, he says, but bread and butter.
He exercised often but didn't pay much attention to his weight.
But, after his diagnosis, he was determined to change his diet and reverse his weight gain. And, with his wife's encouragement, he did.
Meals became centered on vegetables, with a generous serving of extra virgin olive oil, and fruits. He learned to cut out unhealthy fats and sugar.
Over the next few years, he lost 70 pounds. Now, at age 79, he is holding steady at 140 pounds.
Wayne went from an advanced to a more moderate stage of liver disease, with no need for a transplant.
"It is fantastically better than stage 4," he says. "I was the poster boy for the clinic."
A recent biopsy showed his disease was not progressing.
Helping his liver heal itself
Although there are no medications to cure NASH, people can sometimes help their liver heal itself with lifestyle changes.
"It is important to understand that it is not a death sentence, necessarily," he says.
Now, he is looking forward to more time with Rosemary and their three children, four grandchildren, and two great-grandchildren.
Wayne wants to raise awareness about his condition. He wants to help people learn about the changes they can make to improve their disease or decrease their risk of developing it in the first place. 
That's why he founded the national nonprofit organization Fatty Liver Foundation, which has grown to 6,000 members. He serves as its CEO.
According to the National Institutes of Health, about 24% of American adults have nonalcoholic fatty liver disease, and up to 6.5% of them have NASH. These types of liver disease are more common in people who have conditions such as obesity and Type 2 diabetes.  
One of the Fatty Liver Foundation's missions is to advocate for early screening for liver disease. Screening is not done routinely in primary care settings, unless a person shows symptoms. The foundation says patients should be able to get an inexpensive diagnostic test, similar to an ultrasound, if they are concerned about their liver health.
Things he wishes he had known
On the foundation website, Rosemary and Wayne share some tips they wish they had known earlier.
Among them are:
Take the time to learn more about your condition.

Ask questions whenever something seems confusing or doesn't make sense.

Your doctor may not be able to answer all of your questions, and that's OK. But it's important to find someone who can. This may mean being referred to a specialist. 

If the diagnosis does not feel right, trust your instinct. Don't hesitate to get an additional medical opinion when things are not adding up.
Wayne says he now makes decisions with his liver health in mind.
One way to change your eating patterns, he says, is to consciously think about what food is made of and how your body will process it, before putting it in your mouth.
"Every day, you make decisions about what you ask your liver to do," he says. 
And that is true for the rest of your body and health, as well.

Want to tell your patient story? Email us at patientstories@goodrx.com.