Key takeaways:
Heart disease is the leading cause of death for men in the U.S., but usually you can prevent it.

Some ways you can lower your risk of heart disease include exercising, losing weight, and cutting back on smoking. It's also important to track your blood pressure, blood sugar, and cholesterol. 

The same risk factors that affect your heart may also put you at risk for erectile dysfunction.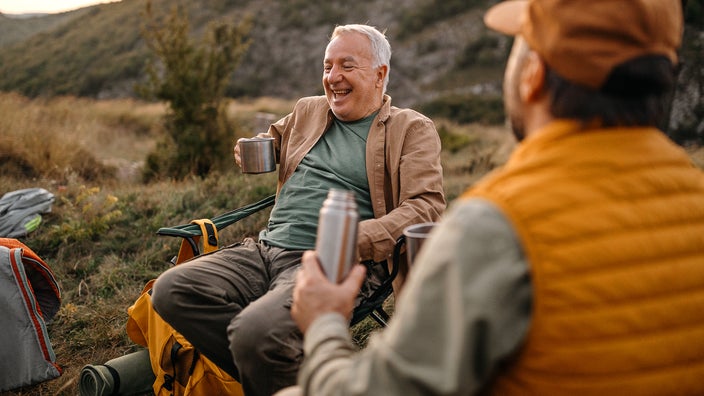 Heart disease is the number one cause of death in men in the United States — ahead of all forms of cancer combined. It accounts for about 1 out of every 4 deaths. Thanks to advances in heart care, many people will recover after a heart attack. But some people will have lifelong problems. Survivors may experience heart failure, irregular heart beat, low energy, and poor endurance.
But it doesn't have to be that way. Most of the time, you can prevent heart disease. And even if you already have a heart condition, small changes can have a big impact on your health. In this article we'll discuss:
Ways you can tackle heart disease head on

Common risks, as well as some of the hidden risks that many men ignore

Links between erectile dysfunction, low testosterone, and heart disease
How can men improve their heart health?
Heart health is important for everyone. It doesn't matter if you have a high or low risk — or if you already have a diagnosis of heart disease. 
There are some risk factors (contributors) to heart disease that you can't avoid. One risk factor is being born genetically male. Your age is another. But there are many more factors that you can change. And you don't have to act on all of them at once. Small changes over time will really add up. 
Here are a few ideas of where you can start. 
1. Know your family history 
The health of your parents and siblings can tell you a lot about your risk for heart disease. You are at higher risk if your father or brother developed heart disease under the age of 55, or if your mother or sister developed it under the age of 65. Genetics contribute to 40% to 60% of all heart attacks, but genes usually aren't the only cause. Instead, your genes may interact with your lifestyle and environment. That's why paying attention to the other items on this list is so important. 
2. Check your blood pressure
Hypertension, or high blood pressure, affects about 1 in 4 men in their 20s. By the age of 75, about 75% of men have hypertension. But it's easy to ignore high readings, especially because most of the time hypertension does not cause symptoms. But this silent condition can put you at risk for more than heart disease — it can also cause strokes, kidney disease, dementia, and erectile dysfunction. 
Consider buying a blood pressure cuff, checking it at the pharmacy, or visiting your healthcare provider. If your number is high, talk to your primary care provider. There are many effective options that will keep your blood pressure in the normal range.
3. Know your cholesterol
Cholesterol levels can be high due to your diet, weight, activity level, or genetics. The only way to know is to get tested. You may be able to lower your cholesterol with lifestyle changes. If not, there are medications that can help.
4. Check your blood sugar
Type 2 diabetes is on the rise in both men and women. But most cases of Type 2 diabetes are preventable with things like exercise and weight loss. Higher body weight is a big risk factor for diabetes, and it's also associated with more severe risk factors for heart disease (like blood pressure, cholesterol, and blood sugar levels). 
Diabetes harms the heart by damaging the blood vessels, and that's why it's a risk factor for your heart. If you have been diagnosed with diabetes, taking the right medication to keep your blood sugar within normal range can help prevent heart disease. 
5. Exercise regularly 
Exercise is great for your blood pressure, cholesterol, and blood sugar levels. It also has direct benefits for your heart health. And regular exercise improves mood, well-being, and even your ability to solve problems. 
One decades-long study of men found a nearly 25% lower likelihood of death in those who exercised regularly, even after accounting for other risk factors. Exercising for 2.5 hours weekly is optimal, but less than that will still do you a lot of good. The importance is consistency. It's great if you enjoy going to a gym. But there are other ways you can get regular exercise, including:
Regular walks, even as little as 15 minutes daily

Yoga, either with videos at home or in a studio

Bike rides, either on a stationary bike or outdoors 

Soccer, skiing, skateboarding, tennis, or any activity that gets you moving
6. Kick the smoking habit 
Smoking hurts your heart by causing inflammation and damage to the arteries of the heart and other blood vessels. It also raises the risk for blood clots in the heart and other organs. The good news is that as soon as you quit, your risk of heart and vascular disease begins to drop. There are many different approaches to cutting back, and there's no right or wrong way. So choose one that feels best for you.
7. Go easy on the alcohol 
Alcohol is a gray area when it comes to heart health. At one time scientists thought that alcohol was good for the heart. More recent studies have found no benefit. Light alcohol use (1 drink or less per week) seems to have little effect on heart health. But more than that may raise your risk for hypertension, high triglycerides (a type of cholesterol), and heart disease. 
8. Choose food that will support your health 
Your heart craves nutrients that keep it healthy. And there are multiple ways and food groups that are good for heart health. Consider incorporating more plant-based foods and cutting back on animal products and processed foods. This is also a good approach to maintain a healthy weight. This supports your heart health and also lowers the likelihood that you will develop conditions like sleep apnea and atrial fibrillation.
9. Address your stress 
Stress is a part of daily life for many of us. But long-term stress may raise your blood pressure. It can also lead to unhealthy lifestyle choices, like stress eating. And there's research that suggests men who manage stress with hostility may be at especially high risk for heart trouble. Coping with stress is not easy, but ignoring it can be harmful. If you feel like you're under stress, consider reaching out for professional help.
10. Protect yourself against COVID-19 
COVID-19 is a newer risk factor and one we are still learning about. Even a year after infection, the risk to your heart appears to be higher. This is another good reason to get vaccinated and boosted if you haven't done so already.
What is the link between erectile dysfunction and heart health?
There's a close connection between erectile dysfunction (ED) and heart health. The penis depends on healthy blood vessels and blood flow, so many of the same risk factors affect both organs:
People with heart disease can often safely take medications to treat ED. If you take these medications, it's important to avoid any drug that is a "nitrate." These include nitroglycerin and isosorbide. That's because dangerous drug interactions can occur. You can discuss your options with your healthcare provider or cardiologist so you can safely treat both conditions. 
Does testosterone affect heart health?
Research has linked low testosterone levels to a higher risk for heart trouble. Testosterone levels are higher in people who are born genetically male. As they get older, levels often drop. If your levels are too low, a regular dose of testosterone may help. But keep in mind that excessively high testosterone may increase the risk of heart attacks and blood clots. Your healthcare provider can check your levels to make sure you stay in a healthy range.
Symptoms of low testosterone include: 
Hair loss

Erectile dysfunction 

Low muscle mass

Poor libido

Fatigue 
If you have these symptoms, it doesn't mean you have low testosterone. The only way to know if you have a deficiency is to get a blood test.
The bottom line
Heart disease is the leading cause of death, but it's often preventable. Knowing your risk factors, exercising, choosing a healthy diet, and keeping stress under control can make a difference. If you have erectile dysfunction, consider it a wakeup call for a medical checkup. When you make changes that help your heart, you also protect your brain, kidneys, and other organs. There's a good chance you'll also have more energy. It's easy to feel overwhelmed when you think about all these different changes and options. But remember that it can start with just one small step.
GoodRx Health has strict sourcing policies and relies on primary sources such as medical organizations, governmental agencies, academic institutions, and peer-reviewed scientific journals. Learn more about how we ensure our content is accurate, thorough, and unbiased by reading our editorial guidelines.