Key takeaways:
Prices for tattoo removal vary based on such factors as removal method, tattoo size, existing scars, skin color, body part, ink colors, and ink depth.

The average price for laser tattoo removal is $423. For a large piece of art, the cost can reach $4,000 or more.

Insurance will not cover tattoo removal, but some community programs offer free removal if you qualify.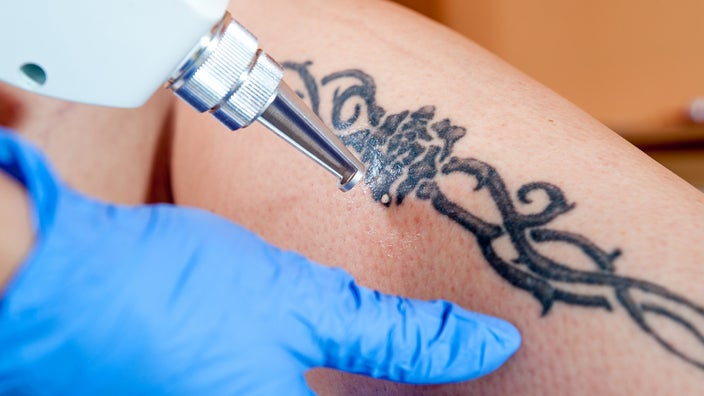 If you have tattoo regret, you're not alone. A 2021 survey revealed that about 12% of Americans would like to be rid of at least one tattoo. In fact, people around the world spent $478 million on tattoo removal services in 2019 alone. One market research firm projects that total will reach nearly $800 million by 2027. 
As these numbers suggest, saying goodbye to tattoos can be costly. It can also be time-consuming, requiring weeks or months of treatment. So, it's wise to think through all the options. 
If you're ready to get rid of your unwanted ink, here's a look at how much tattoo removal is likely to cost you. 
How much is tattoo removal?
The price of removing your tattoo depends on many factors, so you'll want to talk to the provider about the cost before your first visit. One major factor is the method used for the removal. 
Laser treatment is the only FDA-approved removal method. The laser's light waves break up the pigment under the skin, and your immune system then clears out the pigment over time. The technician uses different lasers for different colors of ink. For most people with light skin, the entire process takes 6 to 10 treatments. 
For people of color, the process may take longer (and thus be more expensive). Because the melanin in dark skin increases heat absorption, there is a higher risk that standard laser settings could cause blisters, skin color changes, and even scarring. If you have dark skin, find a professional who has experience in removing tattoos for people with darker skin tones. Your removal process may require longer laser wavelengths, more sessions, and longer healing time.  
According to the American Society of Plastic Surgeons (ASPS), in 2020, the cost of laser tattoo removal averaged $423 (not counting related expenses). Removing a large, detailed piece could cost $4,000 or more. Some providers have a flat fee for removal up to a certain size. Others charge by the square inch.
Are there cheaper tattoo-removal options?
Dermabrasion is a less common removal method. A technician uses a rotating device to remove the ink by sanding away the top and middle layers of skin. This technique doesn't always work. It can also be very painful, with extensive healing time needed between sessions. The American Society for Dermatologic Surgery reports that the cost can range from a few hundred dollars to several thousand dollars. It will depend on your tattoo's size, location, and age, and on the number of treatment sessions needed. 
Surgical excision is another alternative. This method removes the tattoo by cutting away the affected skin. Excision works best for small tattoos, because it leaves a noticeable scar. The ASPS reports that excision is likely to be more expensive than laser treatment, as it requires local or general anesthesia. Anecdotal information about an excision in Charlotte, North Carolina, puts the cost at roughly $1750 for removal of a forearm tattoo.
Special considerations for cosmetic tattoos
There are additional options for removal of cosmetic tattoos, often called permanent makeup. Examples include permanent eyebrow filler, eyeliner, and lipstick. These tattoos are much smaller than other forms of skin art. They also fade after 1 to 3 years because the "pigment" (cosmetic ink) has a different chemical composition and remains close to the skin's surface. With a bit of patience, you may not even need to pay for removal. 
If you don't want to wait that long, you can see a technician who can use saline injections, glycolic acid, or specialized lasers to break down the cosmetic tattoos. PMU Hub, a resource for permanent makeup artists, reports average costs of about $215 for laser removal, $250 for saline, and $400 for glycolic-acid treatments. 
Does insurance cover tattoo removal?
No. Since tattoo removal is considered cosmetic surgery, you can't get insurance coverage or use FSA or HSA funds to pay for the procedure. 
Finding the best tattoo-removal price
The setting for your procedure affects the cost. Tattoo-removal sessions at a medical spa will cost less than treatments from a dermatologist or plastic surgeon. Providers with more experience tend to charge more. At Removery, a chain of tattoo-removal clinics with locations in 22 states plus Canada and Australia, laser erasure of an extra-small, one-color tattoo costs just under $1100, while removal of an extra-large tattoo carries a price tag of roughly $3600.
For the most accurate cost estimates, work with a dermatologist who uses the Kirby-Desai Scale. It gauges the cost of a tattoo removal by helping the doctor calculate the number of appointments that will be necessary. The scale's elements are:
Current scarring

Amount of ink

Amount of color layering 

Ink colors

Skin color and type 

Tattoo location
This model indicates that removal will cost more for Black and dark-skinned people because they typically need more treatments, as noted above.
Tattoo-removal payment plans
Medical spas and cosmetic dermatologists often discount laser tattoo removal. They may have a special price if you pay cash for services or purchase a package in advance. 
Also, many providers offer payment plans. If you decide to finance the procedure that way, take time to compare rates and terms carefully. Consider whether you can get a personal loan with a lower interest rate and friendlier terms than the provider's plan. 
One popular medical credit card, CareCredit, offers promotional rates in the 15% to 18% range but has a standard APR of 26.99%. You can probably do better with a regular credit card; APRs have averaged roughly 14.5% over the past several years. 
Free and low-cost tattoo removal 
You may qualify for free or low-cost tattoo removal. Programs such as Removery's INK-nitiative will take on free removal projects for people who want to move past a history of incarceration, gang involvement, or victimization. You can search for similar offerings in your area through the Jails to Jobs network. 
The bottom line
If you're ready to say goodbye to your tattoo, budget $1,000 to $10,000 for body-art removal and up to $500 for permanent makeup removal. Laser remains the gold standard because of FDA approval and efficacy. If you need to use a credit card or personal loan to finance the procedure, explore a variety of options to find the best terms and interest rate. 
GoodRx Health has strict sourcing policies and relies on primary sources such as medical organizations, governmental agencies, academic institutions, and peer-reviewed scientific journals. Learn more about how we ensure our content is accurate, thorough, and unbiased by reading our editorial guidelines.
Subscribe and save.
Get prescription saving tips and more from GoodRx Health. Enter your email to sign up.
By signing up, I agree to GoodRx's Terms and Privacy Policy, and to receive marketing messages from GoodRx.