Key takeaways:
When it comes to building a skin care routine, keep it simple and consistent, and use products that work with your skin type.

Be patient. Most skin care products take at least 6 weeks to start working. 

Sunscreen is key for preventing skin cancer and premature aging.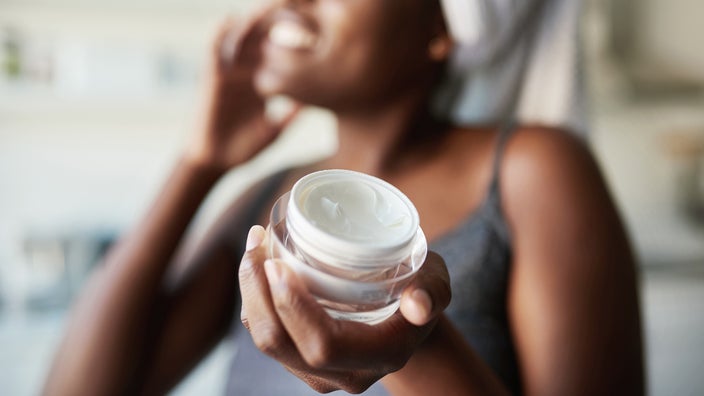 With so many options on the market, it's easy to get overwhelmed when choosing products to use on your skin. You don't need to spend a fortune on skin care, but you do need to find products that work well with your skin type and be patient with them. If you're new to the whole skin care game, it can be helpful to start with some basic tips and tricks. 
Here are tips to keep in mind when starting a skin care regimen. 
10 tips for starting a skin care regimen
There are a few basic guidelines when designing your regimen:
Be patient. It should be simple enough that you can be consistent. Most products take at least 6 weeks to start working, so you'll notice changes over time and not overnight. Try taking pictures before starting a regimen. This way, you can compare your results over time.

Know the basics. The foundation of a regimen is cleanser, moisturizer, and sunscreen in the morning and then cleanser and moisturizer at night. Specific products and additional steps should be tailored to your skin goals and skin type.

Keep your skin type in mind. The skin care you use should be appropriate for your skin type. What works well for one person can cause irritation for someone else. Understanding your skin type is very important. If you're not sure, it's a good idea to check in with your dermatologist.

Protect your skin from the sun. Good sun protection is the best thing you can do for your skin. Sun damage increases your risk of skin cancer, causes dark spots, and leads to premature aging. In one study, people who used sunscreen daily over a period of 4.5 years found that their skin aged 24% less than those who used it occasionally.

Ease into your regimen. When using products with active ingredients like acids or retinol, start with one at a time. Use the recommended amount, and give your skin a couple of weeks to get used to it before adding something else. Applying too much of an active product won't help but can cause irritation or even a chemical burn.

Know that some products don't mix. For example, alpha and beta hydroxy acids mixed with benzoyl peroxide can cause redness and irritation. Alpha and beta hydroxy acids can also alter your skin's pH, inactivating vitamin C.

Remember that some products make your skin more sensitive. Products like retinol and alpha and beta hydroxy acids make your skin more sensitive to the sun, wind, and procedures. Make sure to protect your skin from the sun. Stop using them for a week before you go on a beach or ski vacation or have a procedure like waxing, chemical peel, or laser.

Skin care in pregnancy can be challenging. Most experts don't advise using retinol if you're pregnant. Benzoyl peroxide, salicylic acid, and glycolic acid are probably safe to use in limited amounts, but it's best to discuss with your healthcare provider before using these.

Know that having a beard changes things. There are special considerations for people who shave their beards. Before shaving, wet your skin and hair. Use a shaving cream, and shave in the direction of hair growth (not against it). Rinse your razor after every swipe, and change it frequently. If you're prone to razor bumps, use a single-blade razor, and don't pull the skin tight while shaving.

Realize the limitations of skin care products. There is no magic in a bottle. Aging is a natural part of life. One of the best things you can do is accept this, be grateful for your age, and love yourself. If you are interested in making changes to your appearance, you might need oral medications or procedures to reach your goals.
Are there lifestyle habits that lead to improved skin?
An ideal skin care routine is also holistic. It begins from the inside out. As your largest organ, your skin is a window into what's happening to and in your body. Stress is a known trigger of different skin conditions like acne, eczema, and psoriasis. Not sleeping enough? Just one day of sleep deprivation leads to skin dehydration and a noticeable difference in brightness, elasticity, and wrinkles. When it comes to diet, sugar may have an effect. It's possible that a high-sugar diet may accelerate the aging process by damaging collagen and elastin fibers.
Interested in learning how your lifestyle can improve your skin? Start from within by following these tips: 
Meditate, take deep breaths, and spend quiet time alone.

Focus on getting at least 7 hours of sleep per night. 

Exercise regularly.

Do your best to limit refined carbohydrates to keep your blood sugar levels stable.
When to turn to medications and procedures
A good skin care routine can do wonders for your complexion, but don't expect any miracles. If you have a condition like acne, rosacea, hyperpigmentation, or eczema, you might need prescription medicines to control it.
If you'd like to address visible signs of aging, your dermatologist can direct you to some of the minimally invasive procedures available. But remember, procedures are just one choice. Another is to accept and embrace the aging process.
The bottom line
An ideal skin care routine begins with a cleanser, a moisturizer, and a sunscreen. Skin care products take time to work and require consistency. For some people, a basic skin care routine is enough. If you have specific concerns, you can add active ingredients accordingly. Reach out to your dermatologist if you have questions.
Anne Arundel Dermatology. (n.d.). Healthy skin month: How stress affects your skin.
Bozzo, P., et al. (2011). Safety of skin care products during pregnancy. Canadian Family Physician.
Danby, F. W. (2010). Nutrition and aging skin: Sugar and glycation. Clinics in Dermatology.
Hughes, M. C. B., et al. (2013). Sunscreen and prevention of skin aging: A randomized trial. Annals of Internal Medicine.
Jang, S. I., et al. (2020). A study of skin characteristics with long-term sleep restriction in Korean women in their 40s. Skin Research and Technology.
Kornhauser, A., et al. (2010). Applications of hydroxy acids: Classification, mechanisms, and photoactivity. Clinical, Cosmetic and Investigational Dermatology.
Reich, A., et al. (2010). Stress and the skin. Giornale Italiano di Dermatologia e Venereologia: Organo Ufficiale, Societa Italiana di Dermatologia e Sifilografia.
Telang, P. S. (2013). Vitamin C in dermatology. Indian Dermatology Online Journal.
GoodRx Health has strict sourcing policies and relies on primary sources such as medical organizations, governmental agencies, academic institutions, and peer-reviewed scientific journals. Learn more about how we ensure our content is accurate, thorough, and unbiased by reading our editorial guidelines.