Key takeaways:
Over 70% of people have been exposed to medical or health-related misinformation.

Of those exposed, almost half are not confident in their ability to discriminate between true health information and misinformation.

Social media is cited as the most common source of misinformation.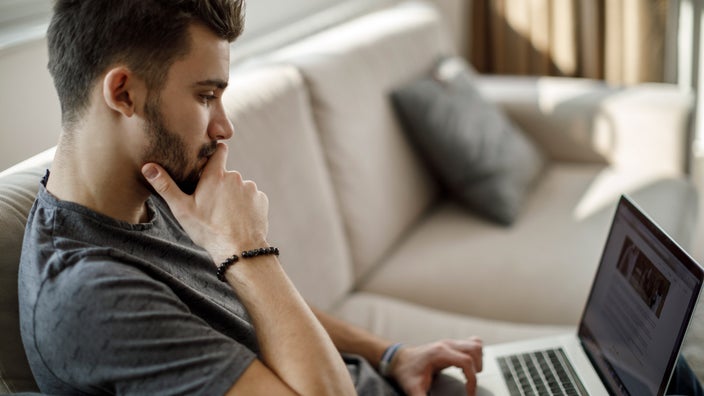 Misinformation is everywhere — especially now, during the COVID-19 pandemic. But according to new research from GoodRx, many people are having trouble telling the difference between fact and fiction.
We're inundated daily with information about COVID-19: some of it reputable, some of it half-truth, some of it entirely false. But the volume of medical misinformation (any health-related claim that is false based on current scientific consensus) about COVID-19 and the speed at which it travels have resulted in a number of negative health consequences, including:
Vaccine hesitancy: Misinformation has made people wary of, afraid of, and outright opposed to getting vaccinated against COVID-19.

Hesitancy to visit medical facilities: Along with general concern about contracting COVID-19, misinformation has led to increased mistrust in medicine and a hesitancy to visit medical facilities. Specifically, this has meant quicker disease progression for patients with chronic conditions who visited providers less than recommended or needed.

High numbers of deaths: Ultimately, medical misinformation contributed to an increased number of deaths in the U.S. due to non-vaccinations, fewer medical facility visits, false medical advice, and more. 
To dig into the effects of medical misinformation in 2022, GoodRx Research surveyed over 1,000 people from a nationally representative sample of U.S. individuals. We found that while most people have been exposed to medical misinformation, many have trouble determining what is true and what is not. 
Most Americans have been exposed to medical misinformation
Nearly three-quarters of participants reported seeing or hearing inaccurate medical or health information at some point in their lives. Another 16% weren't sure if they'd encountered medical misinformation — which likely means that they struggled to discern which information was true.
Social media is the biggest offender
Medical misinformation is most commonly seen on social media. In fact, 82% of those who reported seeing misinformation said that they saw it on social media.
Participants overwhelmingly reported that the health misinformation they saw on social media were posts about COVID-19, mask-wearing, and COVID-19 vaccine credibility. What's more, 41% reported seeing the U.S. government spreading medical misinformation on social media. 
Our results jibe with other research: A study found that out of a subset of 112 million COVID-19-related social media posts, almost 40% came from unreliable sources. With that in mind, it makes sense that medical misinformation exposure runs high, given that 72% of Americans are on at least one social media site, according to Pew Research.
These findings also suggest that the COVID-19 "infodemic" is still going strong well into 2022. The infodemic is a term coined by the World Health Organization to describe the "overabundance of information, both online and offline" about COVID-19, including "deliberate attempts to disseminate wrong information to undermine the public health response."
Many struggle to distinguish misinformation from true information
Because misinformation is so prevalent, having the skills to parse fact from fiction is essential in a global pandemic. But according to our research, 44% of people — almost half of the U.S. — reported that they weren't confident in being able to tell whether medical information was accurate or not.
The above chart is worrisome enough. But unfortunately, the issue doesn't just stop at confidence. COVID-19 literacy among U.S. adults is also lacking. Prior research shows that when presented with eight false statements about COVID-19, 78% of adults either believed or weren't sure about at least one of them. 
Your gut reaction to these statistics might be, "Maybe other people don't know how to tell if something is fake, but I can." However, multiple factors make distinguishing between real health information and misinformation quite difficult:
Misinformation may not always be obviously wrong. Everyone makes mistakes, and sometimes the facts get misinterpreted in small ways that don't stand out as a red flag.

Disinformation, or purposeful misinformation, is often intentionally designed and targeted to blend in with your typical news feed. 

The human brain isn't perfect when it processes information. For example, even when information is corrected, updated, or revealed to be false, the original information continues to affect memory and reasoning. In other words, the brain continues to be influenced by information it first sees. 
People believe they are more concerned about the spread of medical misinformation than others
We found that 87% of participants were concerned (19%) or strongly concerned (68%) about the spread of medical misinformation. 
However, we also found that people believed they were more concerned than others about the spread of medical misinformation. Only 54% believed others were concerned (25%) or strongly concerned (29%) about the issue.
Why does this matter? Even when an individual's convictions are strong, those convictions can wane when they sense that others hold weaker convictions than they do. This phenomenon happens both consciously and subconsciously, as a way to fit the social norm. Discounting our own concerns can affect how much we end up paying attention to misinformation, thus making us more susceptible to it.  
The bottom line is that it's not 54%, but rather closer to 87%, of U.S. adults who are concerned about the spread of misinformation. So, the next time you come across information that may be inaccurate or misinformed, call it out: Comment on the post, report it to a social platform, or discuss it with your friends, family members, or colleagues. Your social network is likely thinking the same thing but just afraid to speak up about it.
Summing it up
The U.S. population has a high rate of exposure to medical misinformation, has trouble deciphering medical fact from fiction, and is very concerned about the spread of misinformation. But it is possible to combat the spread by staying aware and holding one another responsible. Consider following these tips: 
Have a healthy amount of skepticism about online medical information. It can be difficult to tell what is real or fake online. But being aware of the issue makes us more critical of the information that we read or hear.

Talk with your healthcare provider. Bring a list of questions to your annual physical to get verified medical information from your provider.

Check other online sources. When you come across information online, do a quick search to find out if anyone else has written about the same topic and to find out what other reputable sources are saying.

Check if the medical information has been studied and approved clinically. See if academic or health institutions like the CDC have published clinical results about the topic.

Set a good example. When you see or hear misinformation, call it out. Many major social media platforms (like Twitter) allow you to report a post containing misleading information. 
Co-contributors: Sasha Guttentag, PhD, Tori Marsh, MPH, Amanda Nguyen, PhD
Methodology 
Our survey was run through Google Surveys and was entirely composed of Android smartphone users. The survey ran from December 22, 2021, to January 17, 2022; a total of 1,158 responses were collected and analyzed. Survey responses were weighted to the U.S. population using age, gender, and geographical location. More information on the Google Survey methodology is available here. Throughout the survey and article, the concept of "medical misinformation" was measured as "inaccurate medical or health-related information."
GoodRx Health has strict sourcing policies and relies on primary sources such as medical organizations, governmental agencies, academic institutions, and peer-reviewed scientific journals. Learn more about how we ensure our content is accurate, thorough, and unbiased by reading our editorial guidelines.