Key takeaways:
Cervical Health Awareness Month occurs every year in January.

The HPV vaccine and regular screenings can help prevent cervical cancer.

HPV is so common that more than 80% of sexually active people will be infected in their lifetimes.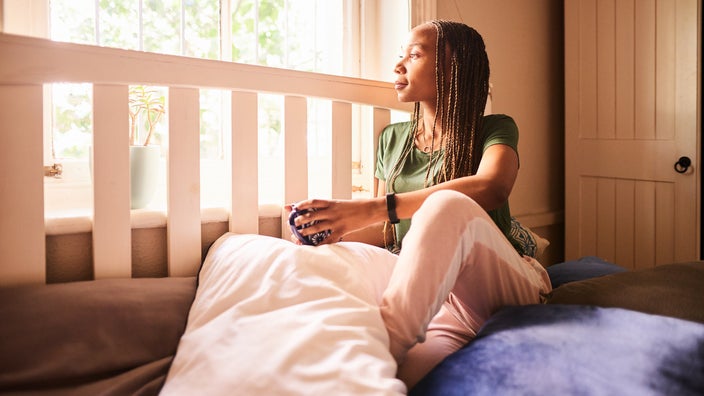 Every year, healthcare organizations across the country promote health observances to raise awareness for a wide range of conditions. They're designed to remind you to be proactive about your health. 
January is Cervical Health Awareness Month. In this post, we'll explore ways to get involved in Cervical Health Awareness Month, learn more about vaccinations and screenings, and discover where to find support if you've been diagnosed with cervical cancer.
What is Cervical Health Awareness Month?
Cervical Health Awareness Month happens each year in January. It's the time of year when organizations like the National Cervical Cancer Coalition (NCCC) raise awareness about cervical cancer and human papillomavirus (HPV).
Here's what you need to know about these conditions.
Cervical cancer
Cervical cancer develops in the cervix, the organ that connects the uterus and vagina. This type of cancer grows and spreads slowly, often without symptoms. 
Cervical cancer symptoms
As mentioned above, you may not have any symptoms of cervical cancer. But if you do have any of the following, you should make an appointment to see your healthcare provider:
Having longer and heavier menstrual cycles

Bleeding after sex or a pelvic exam

Noticing more vaginal discharge than normal

Spotting or light bleeding between or following periods

Having pain during sex

Bleeding after menopause

Experiencing back pain or pain in your pelvis (the area between your abdomen and legs)
A pap screening can help you know if you have cervical cancer. You can learn more about pap smears below.
Cervical cancer screening
A cervical cancer screening includes a pap smear, an HPV test, or both. Here are recommendations from the American College of Obstetricians and Gynecologists (ACOG) for cervical cancer screenings:
Start screening at age 21, regardless of when you first start having sex. 

Women between the ages of 21 and 29 should have a pap test every 3 years.

Women between 30 and 65 years old can get a pap and HPV test every 5 years, a pap smear alone every 3 years, or an HPV test alone every 5 years.
Where to find support for cervical cancer
You don't have to go through your cancer journey alone. Several organizations host support groups specifically for people dealing with cervical cancer and their families. 
What is HPV?
HPV is the most common sexually transmitted infection (STI) in the U.S. About 43 million Americans have HPV. HPV is spread through vaginal, anal, or oral sex. Often, HPV goes away on its own within 2 years. But in some cases, it can cause health problems such as genital warts and cancer.
HPV symptoms
Some people with HPV have no signs or symptoms. That's why screening is so important. However, you may develop genital warts. 
Genital warts may look like a small bump or group of bumps in or near your vagina. The bumps can be small, large, raised, flat, or shaped like a cauliflower. You may also see warts, lumps, or sores on or in your penis, scrotum, anus, mouth, or throat.
You should talk to your healthcare provider if you notice any signs of genital warts. You can also ask your provider about ways to protect yourself during sex. 
HPV vaccine
The HPV vaccine is safe and effective, and it can help reduce your cancer risk. It may prevent more than 90% of cancers caused by the virus. The CDC recommends the HPV vaccine for the following age groups:
Children ages 11 to 12 should get two doses of the HPV vaccine, 6 to 12 months apart.

Children who first get the HPV vaccine on or after their 15th birthday need three doses over 6 months.

Everyone up to 26 years of age should get the HPV vaccine if they are not vaccinated already.

For everyone older than 26, talk to your healthcare provider if you would like to consider the HPV vaccine.
Getting tested: pap smears
A pap smear is the test used to screen for cervical cancer or precancerous tissue caused by HPV. During an exam, your provider inserts a small brush or scraper into your vagina and collects a sample of cells. They then send the cells to a lab that tests them for HPV, cervical cancer, or both.
What could an abnormal pap smear mean?
If your test results are abnormal but not yet cause for concern, your provider may ask you to schedule another appointment in a year. The abnormal cells may go away on their own without any treatment. 
If your test results show serious cell changes or certain HPV infections, your provider may ask you to schedule a colposcopy. This procedure allows your provider to get a bigger sample of cells for further testing.
Raising awareness for Cervical Health Awareness Month
Many organizations offer ways to raise awareness for Cervical Health Awareness Month. Here are a few ways you can get involved:
The bottom line
Cervical Health Awareness Month in January is a great time to learn more about cervical cancer and HPV. Consider seeing your healthcare provider this month to talk about the HPV vaccine or to get screened for HPV and cervical cancer. If you have a vagina, remember to follow the cervical cancer screening schedule listed in this article. Make cervical health a priority in 2022.
GoodRx Health has strict sourcing policies and relies on primary sources such as medical organizations, governmental agencies, academic institutions, and peer-reviewed scientific journals. Learn more about how we ensure our content is accurate, thorough, and unbiased by reading our editorial guidelines.