Key takeaways: 
Elder financial abuse is a crime. It may involve theft, intimidation, and fraud.

Certain signs can clue you in that an elderly person is facing financial abuse.

If you suspect financial abuse, take steps to help the victim and report the crime.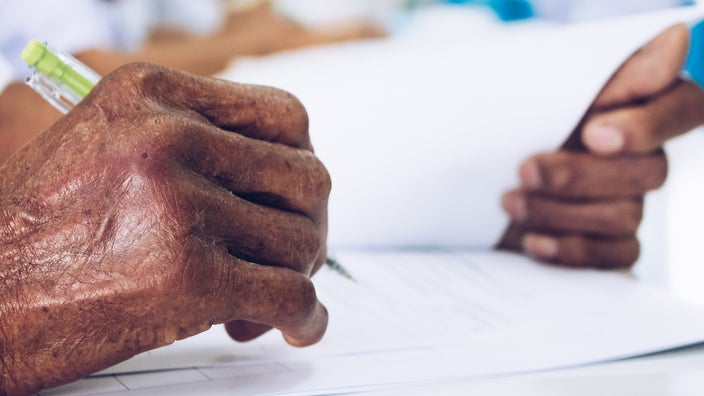 It's a sad fact that each year, as many as five million older adults suffer some form of abuse, such as emotional harassment, physical harm, neglect, or financial abuse.
Financial abuse costs older adults as much as $36.5 billion annually. Such abuse can be doubly traumatic: Not only can it leave victims penniless, but it can also make them feel frightened and anxious, not knowing whom to trust or where to turn for support.
You can help protect older people by knowing the signs of elder financial abuse. Read on to learn what to do if you suspect it's happening to someone you care about.
What is considered elder financial abuse? 
Elder financial abuse is when someone uses their relationship with an older person to take advantage of them financially.The abuse may include theft, misappropriation, misuse, or fraud. The abuser may steal money or possessions, or coerce the victim into giving away property or making bad investments.
In many cases of elder financial abuse, the perpetrator and the victim live together. If the older adult is particularly vulnerable — cognitively impaired, in poor health, isolated, or dependent on others for care — the risk is greater.
Whether the financial abuse is prosecutable depends on the crime's legal definition in your state.
Examples of elder financial abuse
People may commit elder financial abuse through deception, coercion, undue influence, or even outright theft.
Here are some common abuse scenarios: 
A relative takes control of an elderly person's finances without consent.

A caregiver steals money or possessions from the elder they are caring for.

An unscrupulous investment advisor convinces an elderly person to invest their life savings in a fraudulent scheme.

A family member pressures an elderly parent to give them power of attorney so they can make financial decisions on their behalf.

A family member makes the elderly person sign their pension or benefit checks over to them and then deposits the money into their own personal account.

An adult child forces a parent to sign a financial document even though the parent doesn't understand it.

A caregiver writes unauthorized checks on the elder's account or uses their credit card without permission.
Hybrid abuse happens when there's financial exploitation in addition to physical abuse or neglect.
Who is most likely to financially exploit an elderly person? 
If you're wondering what sort of person could prey on the elderly like this, the answer is, unfortunately, anyone. But financial abusers usually fall into three main categories: 
Family members, including children, grandchildren, nieces, and nephews.

Caregivers, such as home health aides, nurses, nursing-home staff, and anyone else paid to provide care.

Strangers who target the elderly, including scammers, telemarketers, and door-to-door salespeople.
The first two types are far more common. Recent research indicates that the vast majority of financial abusers were people the victim trusted: family members (54%) and caregivers (31%). 
Of course, strangers can also do financial harm to the elderly. These exploits typically involve impersonation scams, IRS scams, health insurance scams, and other forms of theft. Under the law, such situations are often considered fraud instead of abuse, because the perpetrator doesn't have a relationship with the victim. 
How would I spot elder financial fraud or abuse?
It's not always easy for friends and family to identify financial abuse while it's happening. That's because the abuser may be someone your elderly loved one trusts. The elder might not even believe anything is wrong.
Even when they do realize their situation, older adults may be embarrassed or ashamed to tell anyone. The abuser may have threatened them with harm or warned them that talking would get them in trouble. As a result, many elderly victims never speak up about abuse — even to caring and concerned family and friends.
There are, however, some common signs of elder financial abuse. As a family member or caregiver, you'll want to keep an eye out for red flags like these:
Sudden changes in your loved one's bank accounts, such as large withdrawals that aren't accounted for

Unusual changes in the person's will or financial arrangements

Unpaid bills and phone calls from creditors

Unfamiliar signatures on documents

Disappearing belongings — especially jewelry, money, or medications

Utilities such as gas, electricity, or water suddenly shut off

Many checks made out to "cash"
Just because you notice one of these things doesn't automatically mean abuse is taking place. But, if you have concerns, reach out and talk to your older relative or friend. It's better to err on the side of caution and investigate further than to do nothing and hope the problem goes away on its own.
How do I report elder financial abuse? 
As with any type of abuse, it's important to report elder financial abuse to the appropriate authorities. In cases involving immediate danger or physical injury, call 911 and let the police handle the situation.
If the abuse doesn't require on-the-scene police intervention, you can still contact local law enforcement. The federal government's Elder Justice Initiative site can provide guidance tailored to the details of your situation.
You or the abuse victim can also contact:
The local Adult Protective Services (APS) agency: APS is responsible for investigating allegations of elder abuse and providing assistance to victims.

The National Center on Elder Abuse (NCEA): NCEA offers a national helpline that can help connect you to services in your area.

The Long-Term Care Ombudsman Program: This program, available in every state, can help if the abuse is taking place in a long-term care facility.
When you report the situation, you'll need to provide some basic information to explain what you think is happening. Be prepared to tell the authorities:
The date and time of the incident you're reporting

The address where the incident happened

The names of everyone who was involved and any other witnesses

A description of the type of financial abuse you suspect, and why you suspect it

Information about the elderly person, including any relevant disabilities or health conditions
How do I prove financial abuse?
Provide as much information as you can, but, remember: It's not your job to prove the abuse. You're simply reporting your concerns and the relevant details so that the professionals can get to the bottom of what's going on.
If you need to report suspected abuse, you can usually do that anonymously. However, if you provide your name and contact information, the authorities can come to you with any questions they have.
Once you've alerted APS, they'll investigate the situation and take action to protect the abuse victim. This may include removing the abuser from the home, getting a restraining order, or filing criminal charges. Legal consequences will vary based on state laws' penal codes and definitions of financial abuse.
How can I prevent financial elder abuse? 
There are a few things you can do to help prevent elder financial abuse from happening.
1. Check in on elderly family members
If you have an elderly family member, friend, or neighbor, check in on them regularly. Spend time together, make sure they're doing OK, and check on their mental health.
2. Help the older people in your life create a financial and estate plan 
Make sure the elder's income is deposited directly into their checking account. If they find it difficult to keep financial records, they may benefit from professional money management services.
Also, work with the elderly family member and an attorney to create a will, a revocable trust, and a durable power of attorney for asset management. Having two people with co-powers of attorney can help protect the elderly loved one; a backup is useful in case the person with the primary power of attorney becomes untrustworthy.
3. Stay current on common scams targeting the elderly
By staying informed, you can help an elderly person avoid being swindled. Also, remind them not to provide personal information over the phone.
4. Know who has access to the elderly person's financial and personal information
Someone may choose to make their information available to family members, friends, caregivers, and professionals such as lawyers, accountants, and financial advisors. But you can help them be cautious. It's a good idea to first do background checks on anyone with access to the accounts.
The bottom line
The elderly are often the target of abuse, whether physical, emotional, or financial. If you suspect abuse, report the abuse to the authorities along with as much information as you can. By learning the signs of abuse and staying in touch with the older people in your life, you can help prevent this crime from happening.
GoodRx Health has strict sourcing policies and relies on primary sources such as medical organizations, governmental agencies, academic institutions, and peer-reviewed scientific journals. Learn more about how we ensure our content is accurate, thorough, and unbiased by reading our editorial guidelines.