Key takeaways:
Health insurance doesn't cover skin tag removal unless it's medically necessary.

If your insurer considers the procedure cosmetic, expect to pay 100% of the cost yourself.

Cosmetic removal is likely to cost you hundreds of dollars out of pocket. The exact price will depend on how many tags are taken off, what kind of facility you choose, and doctors' market prices in your area.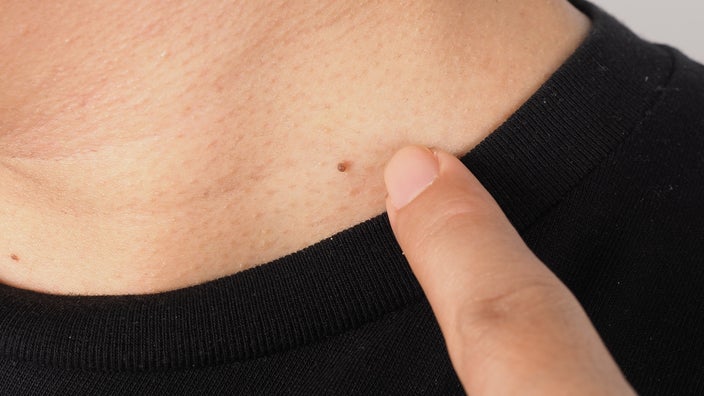 Skin tags are benign (noncancerous) growths that may appear in areas where your skin folds, such as underarms, sides of the neck, eyelids, or groin. Also called acrochordons, these growths are small — usually less than a quarter-inch across. They're also harmless. But they can be an annoyance if they frequently catch on clothing or jewelry or get irritated by rubbing against skin or fabric.
If you're ready to get rid of your skin tags, see a dermatologist, as they have the necessary medical training to do the job right. A dermatologist can remove skin tags in various ways:
Cauterization: Burning them off with a heated wire or needle

Cryotherapy: Freezing them off with liquid nitrogen

Excision: Cutting them off with surgical scissors
People commonly have skin tags removed for cosmetic reasons. In those cases, they have to pay out of pocket, as health insurance does not cover cosmetic procedures.
How much does it cost to remove skin tags?
The fees for skin tag removal are based on the number of skin tags removed by the doctor. The method of removal typically doesn't affect the price, but the area where you live does.
According to the healthcare cost estimator FAIR Health Consumer, a patient in Columbus, Ohio, would be charged $156 for the cosmetic removal of up to 15 skin tags; each additional batch of 10 would add $53 to the bill.
FAIR Health Consumer reports that in New Orleans, the removal of up to 15 tags costs $603.
In Columbus, Healthcare Bluebook's "fair price" for removing an unspecified number of skin tags is $208.
Other skin tag removal costs
In addition to paying for the removal, a patient also faces:
A fee for the doctor's office visit

A possible charge for a pathology examination of the tags after removal

A hospital or surgical facility fee
According to FAIR Health, the Columbus patient's costs would be $144 for the doctor visit and $230 for the pathology services.
The choice of facility can make a big difference in the total bill. In the Ohio case, the hospital outpatient facility fee is $207, and the ambulatory surgical center (ASC) costs $3,732.
All told, the cosmetic removal of 15 skin tags would cost this Ohio patient $737 at a hospital or $4,262 at an ASC.
Is skin tag removal worth it?
Skin tags are usually benign, so getting rid of them is rarely urgent or even medically necessary. Still, removing them does have some benefits. It may help you feel better about your skin's appearance and make you less self-conscious. Your skin may no longer get irritated when you wear certain clothes or jewelry.
Risks of the procedure include the possibility of scarring, or, in rare cases, nerve damage at the wound site. If you have concerns about risks related to your health history, consult with your doctor about any possible complications.
Does insurance cover skin tag removal?
Sometimes. If you're having skin tags removed for cosmetic reasons, your health insurance won't cover the cost. This is true whether you're insured by a private job-based or marketplace plan, Medicare, or Medicaid. Expect to pay 100% out of pocket for cosmetic procedures.
On the other hand, insurance will cover the removal of skin tags if it's medically necessary. If you have documentation showing that your skin tag is in a high-friction spot, causing regular irritation and bleeding, that could well meet your insurer's requirements.
Your dermatologist may suspect a problem if a growth on your skin is:
Bleeding

Itching

Painful

Suddenly enlarged

Inflamed

Oozing

Swollen with fluid

Changing color
In that scenario, your dermatologist would snip off the tags and send them to a pathologist. That doctor would analyze the tissue, looking for skin cancer. All assessments and actions would be documented. If the medical record shows that the procedure was medically necessary, the insurance company will cover the removal cost.
Medicare and Medicaid coverage
Medicare and Medicaid won't cover removal of skin tags unless they threaten your health or ability to function. Medicare specifically rules out coverage when the removal is based on:
When medically appropriate, though, Medicare and Medicaid do cover skin tag removal. Your dermatologist would clearly show the medical need by documenting certain symptoms related to the skin tags.
As with private insurance, qualifying symptoms may include:
Bleeding

Intense itching

Pain

Change in physical appearance

Recent enlargement of the tag

Increase in the number of tags

Physical evidence of inflammation or infection

Presence of pus

Oozing

Swelling due to fluid in the affected area

Redness or rashes

The tag obstructing or restricting an orifice, such as the eye

Clinical uncertainty, particularly if skin cancer is a realistic possibility
Paying out of pocket
When you're having skin tags removed for cosmetic reasons, you'll pay the full cost yourself. Your best move is to use savings, but if you can't do that, there are other options.
You may be able to finance the procedure through your dermatologist's payment plan. Sometimes these payment plans are based on CareCredit, a credit card designed for medical expenses. But if you can get your doctor's office to provide the financing directly, you may be able to negotiate better terms than CareCredit's.
For that matter, you may find lower rates with a regular credit card or personal loan instead.
Another option for financing is a buy-now-pay-later (BNPL) short-term healthcare loan. You can access these credit offers yourself online or, sometimes, through your doctor's office.
BNPL loans may be appealing if your credit history is scant or spotty, since most of these lenders don't require you to have good credit. They prequalify you with a "soft" credit check that doesn't affect your credit score. You pay a down payment (usually 25% of your medical bill) when you get your bill. The rest of the cost is loaned to you, and you pay it back in a set number (usually four or fewer) of bi-weekly or monthly installments. Pay everything on time, and your loan can be interest-free.
Be aware that BNPL loans make it very easy to rack up lots of debt. Also, BNPL loans lack certain protections that credit cards are legally required to provide.
In choosing among your BNPL loan options — as with any loan — be sure to read the terms and conditions carefully.
How long do the effects of skin tag removal last?
Forever. Removed skin tags don't grow back in the same place. However, you might develop new ones if you're prone to them. They're more likely to appear if you have diabetes or a high BMI.
The bottom line
People often have benign skin tags removed for cosmetic purposes. The price of the procedure could be several hundred dollars. It depends on how many tags are taken off, plus facility fees and regional price variations. 
As with all cosmetic procedures, insurance plans — including Medicare and Medicaid — won't cover the removal. However, if you can show a documented medical necessity for removing the tags, your insurer is likely to pay.
GoodRx Health has strict sourcing policies and relies on primary sources such as medical organizations, governmental agencies, academic institutions, and peer-reviewed scientific journals. Learn more about how we ensure our content is accurate, thorough, and unbiased by reading our editorial guidelines.
Subscribe and save.
Get prescription saving tips and more from GoodRx Health. Enter your email to sign up.
By signing up, I agree to GoodRx's Terms and Privacy Policy, and to receive marketing messages from GoodRx.