Key takeaways:
Unemployment is associated with lower prescription drug use due to higher out-of-pocket costs and loss of income.

Higher unemployment during the COVID-19 pandemic resulted in a 2.6% reduction in medication adherence and 57.5 million fewer prescriptions filled in 2020, with prescriptions declining for many chronic conditions.

Reductions in prescription fills and medication adherence were highest in states without expanded Medicaid eligibility. This further underscores the importance of social safety nets during times of economic hardship.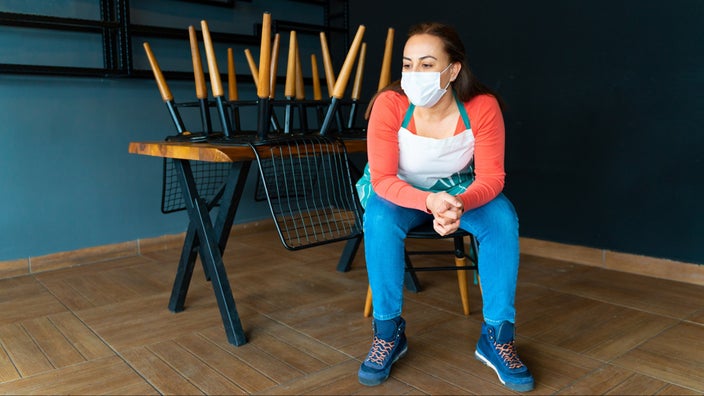 We are just starting to understand the enduring impact the COVID-19 pandemic has had on nearly every aspect of life. With over 920,000 deaths and a severe economic downturn rivaling the Great Depression, the coronavirus is estimated to have cost the U.S. over $16 trillion in lost lives, quality of life, and economic production. 
Healthcare and the economy have been inextricably linked during the pandemic. The coronavirus has triggered historic levels of unemployment, which in turn have led to significant declines and delays in healthcare treatment, with dangerous implications for future health outcomes.
A new analysis by GoodRx Research that was published in the International Journal of Health Services estimates the impact of COVID-19-related unemployment on prescription drug use. We present our key findings from that analysis below.
Loss of employment leads to fewer prescription fills and higher costs
Over half of all Americans have health insurance that is tied to their job — often called "employer-sponsored insurance" or ESI. Under ESI, the employee typically shares the cost of their monthly premiums and copays with their employer. The average employer pays 70% to 82% of the monthly premiums for an employer-sponsored plan. Subsidizing health insurance for employees is one way that companies can offer additional benefits to their workers.
However, this also means that when people lose their jobs, they often lose not only their source of income but also their health insurance, which exposes them to the full cost of their healthcare.
According to GoodRx Research, the average patient who lost their job and became uninsured in 2020 filled 2.6 fewer prescriptions a year. Those who switched from an employer-sponsored plan to an individually purchased plan filled an average of 1.8 fewer prescriptions per year. 
On top of filling fewer prescriptions, those who lost their jobs paid more out of pocket. Those who became uninsured saw their out-of-pocket cost per prescription increase by 162%, while those who switched to an individually purchased plan saw a 79% increase.
COVID-related unemployment caused a significant reduction in medication use
The last 2 years have shined a spotlight on the consequences of large-scale unemployment. 
In March 2020, COVID-19 was declared a national emergency, and unemployment skyrocketed to historic levels. In order to slow the pandemic, states issued stay-at-home orders and business shutdowns, putting millions out of work and triggering an economic recession. As a result, an estimated 25 million people lost their ESI. And while Medicaid enrollment surged, an estimated 12.1 million remained uninsured.
In total, we estimate that approximately 393 million fewer prescriptions were filled at retail pharmacies in 2020. Of that decline, an estimated 57.5 million prescriptions were not filled because of higher unemployment. This represents a 2.6% decline in medication adherence, relative to pre-pandemic levels.
Some states were hit harder than others and saw larger drops in prescription fills due to unemployment. Specifically, over the study period, Texas patients filled 9.2 million fewer prescriptions, Georgia patients filled 6.2 million fewer prescriptions, and Florida patients filled 5.9 million fewer prescriptions. 
The overall decline in prescription fills can be attributed to several factors: 
Fewer patients seeing providers: In 2020, stay-at-home orders delayed many non-emergency healthcare services, so providers were seeing fewer patients and writing fewer prescriptions. 

Less spread of diseases: With better hygiene practices and reduced social interactions, the spread of other communicable diseases may have also decreased, reducing the need for medication. 

Lack of income and insurance: At the same time, an increasing number of patients were losing their ESI along with their jobs. Faced with higher healthcare costs and lost income, many of these patients may have skipped filling their prescriptions simply because they could not afford them.
Medicaid can help prevent these dangerous disruptions to healthcare treatment
Individuals who are able to enroll in Medicaid after losing their job tend to be better off when it comes to healthcare use and spending. The continuation of health insurance coverage combined with lower out-of-pocket costs helps unemployed patients afford any medical treatments they may need.
We found that people who were able to enroll in Medicaid after losing their employer-sponsored insurance didn't cut back on their prescription drug use and actually paid less out of pocket for their prescriptions on average. 
We also found that during the COVID-19 pandemic, states with expanded Medicaid eligibility saw significantly smaller reductions in prescription drug fills due to unemployment.
Read about our study methods and all of our findings in the full research article, which was published in the International Journal of Health Services, here.
---
Co-contributors: Sasha Guttentag, PhD, Diane Li, Jeroen van Meijgaard, PhD