Key takeaways:
The FDA can recommend medication recalls to remove a defective or potentially harmful medication from the market.

The FDA assigns different classes (rankings) to medication recalls based on how serious the violation is and its risk to the public.

You can find information about recent medication recalls on the FDA's website. Make sure to discuss recalls with your healthcare provider first before stopping any medications.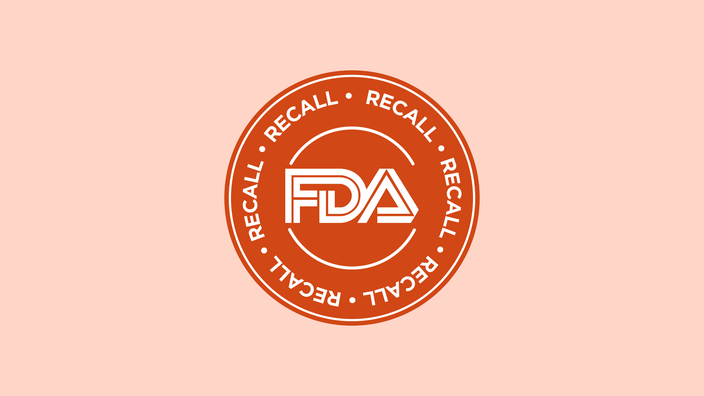 Imagine taking a "miracle" diet drug only to find out that it may cause heart problems. In 1997, the FDA requested the withdrawal of two popular weight-loss medications — fenfluramine and dexfenfluramine — from the U.S. market due to their serious heart risks. This FDA recall is one of the most well-known in the organization's history.
Before a medication can be marketed, it must receive FDA approval by demonstrating that its intended benefits outweigh potential risks. After approval, the FDA continues monitoring the medication's safety and effectiveness and can request it be recalled if problems are discovered.
Read on to find out how and why the FDA may recommend recalling a medication and how this may impact you.
What happens during a medication recall?
The FDA's primary goal during a recall is to remove any medications, medical devices, or other products that may cause harm to the general public.
During a medication recall, the FDA will issue a recommendation for a pharmaceutical company to withdraw its medication from the market. This is done after the FDA has reviewed the medication's risk.
After this, the pharmaceutical company will submit a recall strategy — a plan on how they'll handle and address the recall — to the FDA. After agreeing with the proposed strategy, the FDA continues monitoring the recall's progress until it's resolved.
The FDA monitors all medication recalls and includes them in the enforcement report once a recall has begun. This is a list of ongoing recalls with up-to-date information about the recall. Enforcement reports are updated weekly, and you can sign up to receive these updates. 
How does the FDA medication recall process work?
According to the FDA, a medication recall is a voluntary action that a pharmaceutical company takes to remove a defective or potentially harmful medication from the market. 
The process may involve the following steps:
The FDA learns about medication issues through inspecting companies' facilities or from receiving consumer reports of problems. 

The FDA conducts a health hazard evaluation to review suspected problems.

The FDA determines how serious the recall is and recommends the recall to the company.

The FDA works with the company to develop a recall strategy.

The FDA continues monitoring the recall until it's resolved.
These are the steps for when the FDA initiates a recall. If a pharmaceutical company announces a recall, the initial process may differ.
What are the three classes of recalls?
Medication recalls are classified into three classes based on the severity and risk to consumers:
Class I recall: This is the most severe type of recall, when a medication may likely cause serious or life-threatening problems. An example of this may be mislabeling a lifesaving medication, such as insulin or epinephrine.

Class II recall: This recall is less severe and means a medication may cause temporary problems or has a low risk of serious harm. An example of this could be a non-lifesaving medication that's a lower strength than it's supposed to be.

Class III recall: This is the least severe recall and means a medication is unlikely to cause harm. An example of this may be a minor defect to a medication container.
Why might a medication be recalled?
Medications are recalled if they are found to violate FDA regulations. These products may pose a safety risk to the public by causing unintended reactions, containing harmful contaminants, or having inaccurate packaging information.
A study reviewing over 21,000 FDA-recalled products found that the most common reasons for recalls included:
Sometimes, medication recalls only apply to certain batches — or lots — of medication and not every container currently in circulation. Other times, all lots are recalled. How much of the medication is recalled differs by incident and depends on why the medication is recalled.
Are FDA recalls mandatory?
Pharmaceutical companies aren't required to comply with FDA-initiated recalls. Although the FDA may request recalls, it usually can't force a company to withdraw medication from the market. Typically, companies comply with the FDA's request to ensure the safety of consumers and avoid negative publicity.
But even though the FDA cannot force a mandatory recall of most medications, it can order manufacturers to recall the following medical products:
It's important not to confuse a medication recall with a medication seizure. This is a legal action the FDA takes to remove a medication or medical device from the market. Seizures happen after a company receives written warning from the FDA to address problems.
With medication seizures, the FDA seeks court action from the federal government to seize a company's medication if they don't voluntarily comply. This action is typically reserved for when the risk to consumers is very high or a product contains illegal substances. Seizures happen less frequently than recalls, since companies usually follow the FDA's guidance. 
Do companies ever recall medications without FDA intervention?
Yes, companies do conduct recalls. Companies may sometimes discover a problem on their own and alert the FDA that they will be recalling medication.
It's not uncommon for pharmaceutical companies to voluntarily recall a medication if there are contamination concerns. An example of this was when Pfizer discovered possible carcinogens in the anti-smoking medication Chantix (varenicline). They voluntarily recalled the product and notified the FDA of the recall.
How long does the medication recall process usually take?
Recall lengths can vary, depending on the seriousness and nature of the recall. For example, a labelling error would typically be corrected faster than a contamination issue. The recall strategy details the steps needed to resolve the recall and how long it might take.
The pharmaceutical company and FDA may issue a public warning to notify consumers of the recall, especially if the medication has been widely distributed. However, this isn't always necessary. For example, a typographical error on a label would most likely not affect the public and may only be communicated to distributors and pharmacies.
During a recall, the FDA will request that companies submit status reports — usually every 2 to 4 weeks — to evaluate whether the companies are making all appropriate efforts to resolve the recall. This process varies depending on the recall class and severity.
Where can you find out about recently recalled products?
Medication recalls are sometimes highly publicized in the news, depending on how serious they are. The FDA also announces medication recalls, withdrawals, and safety alerts on its website. The site gathers information from press releases and public notices about recalls of FDA-approved medications. However, it may not include all recalled medications — especially recalls companies do on their own. 
The FDA's MedWatch program is a safety-reporting program that encourages the public to report potential problems and adverse events from their medications. After the FDA reviews these reports, it may publish safety alerts for these medications.
What should you do with recalled medications?
When medications are recalled, the first thought people may have is to immediately throw out the medication. However, it's best to talk with your healthcare provider first before stopping any medications you take. Stopping some medications can be dangerous with certain conditions.
Taking the appropriate steps to learn more about the recall, whether your medication is affected, and your healthcare provider's recommendation is crucial in staying safe.
The bottom line
Medication recalls are sometimes necessary to protect the public from products that may be unsafe or violate FDA-issued guidelines. Medications are recalled for a variety of issues, including contamination, safety concerns, inaccurate packaging information, or issues with a medication's strength. If you believe that your medication may be recalled, make sure to discuss it with your healthcare provider first before stopping your medication.
GoodRx Health has strict sourcing policies and relies on primary sources such as medical organizations, governmental agencies, academic institutions, and peer-reviewed scientific journals. Learn more about how we ensure our content is accurate, thorough, and unbiased by reading our editorial guidelines.