Key takeaways:
Art therapy is a combination of traditional techniques for treating mental health and the practice of art or other creative activities.

Art therapy is used to treat a variety of conditions, ranging from depression to dementia. 

While other types of therapy may include creative activities, art therapy takes place in a therapeutic setting with a certified art therapy provider.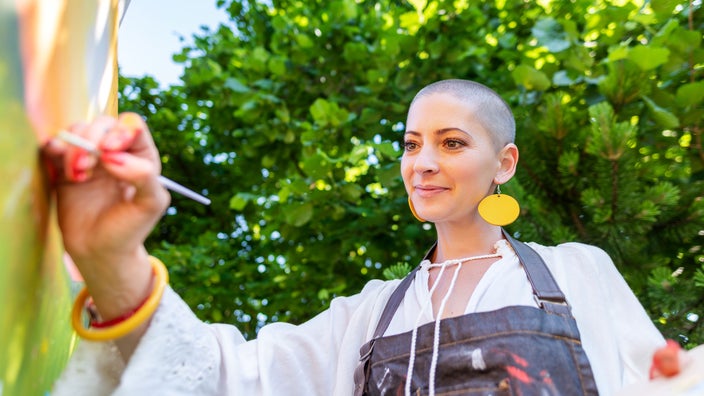 Many people find it hard to talk about their feelings and experiences. They may struggle with the right words or not feel comfortable sharing in therapy. In that case, a more creative approach might help.
Art therapy is a treatment that combines ideas from psychology with making art and other creative exercises. While many therapies include creative activities, this treatment is provided by a fully trained and credentialed art therapist. 
What conditions does art therapy help with?
Art therapy may help with a person's overall wellness. It's often a less intense way for people to explore and understand things that are bothering them. It can be fun and playful, even when someone is dealing with a serious topic. 
Although art therapy may feel less serious, it's used to treat major mental health conditions. It's found to work particularly well with: 
Art therapy is also used to treat people struggling with trauma, social skills, emotional issues, and more. It's sometimes considered an alternative treatment to traditional talk therapy. But it can also be combined with other therapeutic approaches. 
What happens in art therapy?
What happens in art therapy sessions will depend on you, your goals, and the style of your therapist. You may begin by talking with your therapist about your needs. Then, they may guide you toward an activity or invite you to choose your own.
Similar to other mental health providers, art therapists tailor their approach to the client. They may encourage you to talk about your issues as you create art. Or they may focus on the art itself as the main therapeutic activity. 
Like with other types of treatment, the relationship between you and your therapist is important. The idea is that you'll trust your therapist more and more over time. And you'll work together on goals, such as understanding yourself better.
If you feel nervous or uncertain about the process, ask your potential therapist about it ahead of time. They may be able to answer questions via email or over the phone before you schedule your first appointment. 
What are the different types of art therapy? 
Art therapists offer various creative activities. Often, clients are given multiple art supplies and activities to choose from. In some cases, they may build on the same activity over time. This can show people how they've changed or grown during therapy.
Below are five examples of exercises you might complete during an art therapy session. 
Painting and drawing
Painting and drawing are among the most-used and popular art therapy techniques. Clients may choose to draw a specific experience or emotion. Or they may just paint what comes to mind at the time. 
Painting and drawing can help clients identify emotions they were not aware of. This can lead to conversations about their experiences or the final piece with the therapist. 
Mask-making
Mask-making is a common technique used in art therapy. Clients might create a mask representing a feeling, thought, or aspect of themselves. Or the process might be more spontaneous. Sometimes, masks are also used in role-playing activities. 
Mandala-drawing
The mandala is a figure commonly seen in spiritual images. Traditionally, mandalas include symmetrical patterns within a circular shape. In art therapy, what constitutes a mandala is more flexible. They may simply be drawings or shapes within a circle. Each drawing is unique and is meant to represent your inner self. 
Sculpting with clay
Sometimes, art therapists include sculpting in sessions. Clients may follow a prompt, such as sculpting how they feel. Or they may work more naturally with the clay and see what develops. 
Working with clay can be a particularly soothing activity due to the touch involved. Studies show that this activity can decrease stress and improve mood. 
Collaging
You might have made collages in school. They typically involve cutting out pictures from magazines and taping or gluing them to a piece of paper. In art therapy, collages can be used to represent experiences and feelings. Personal photos and other art supplies might be combined with the glued images for this purpose.
Is an art therapist a real therapist?
An art therapist is a real therapist. Depending on your state's requirements for therapist training, art therapists may have different levels of expertise. 
Similar to other credentialed providers, art therapists can treat a variety of mental health conditions. They also sometimes have additional training in specialized areas. Some states require art therapists to have additional mental health credentials.
While many therapists use art or music during sessions, that alone does not constitute art therapy. Only a certified art therapist can officially offer this kind of treatment. 
Art therapists are approved by the Art Therapy Credentials Board (ATCB). Prospective therapists must complete a master's level degree, as well as 600 supervised hours providing therapy. Their coursework covers topics in psychology as well as art-making techniques. 
You can identify credentialed art therapists based on the letters they have behind their name. Look for letters that mean they're a registered (ATR) or board-certified (ATR-BC) art therapist. Some therapists may be provisionally licensed (ATR-P), meaning they are in the process of completing the final certification requirements.
How do I find an art therapist who's right for me?
To find a certified art therapist, you can start with the ATCB directory. Select your state to bring up a list of therapists. You may then need to search online with the provider's name and certification to find their contact information. 
You can also look for certified art therapists online by typing the name of your region and "art therapist" in a search tool. Once you find a listing for a local therapist, look for their art therapy credentials. They may be listed as an ATR, ATR-BC, or ATR-P. 
If there are no options in your town or region, you can check to see if there are providers in your state who offer telehealth care. This way you can participate in art therapy online, using technology like video conferencing.
Art therapists are not always covered by insurance, so check with your provider before making an appointment. 
The bottom line
Art therapy is a treatment that uses art-making and other creative practices to help you with your mental health goals. True art therapy can only be provided by a certified provider. This approach has been shown to help with depression, anxiety, and many other mental health conditions. It may also help with self-esteem and overall wellness. 
To get started with art therapy, look for a credentialed provider near you. 
American Art Therapy Association. (n.d.). Credentials and licensure.
Art Therapy Credentials Board, Inc. (n.d.). About the credentials.
Art Therapy Credentials Board, Inc. (n.d.). Find a credentialed art therapist.
Art Therapy. (n.d.). Healing with mandala art therapy – A multi-cultural idea worth exploring.
Chilton, G, et al. (2014). Snipping, gluing, writing: The properties of collage as an arts-based research practice in art therapy. Art Therapy.
Chilton, G., et al. (2016). Exploring strengths through masks: Art therapy from a positive psychology perspective. American Art Therapy Association.
Haeyen, S. (2019). Strengthening the healthy adult self in art therapy: Using schema therapy as a positive psychological intervention for people diagnosed with personality disorders. Frontiers in Psychology.
Hu, J., et al. (2021). Art therapy: A complementary treatment for mental disorders. Frontiers in Psychology.
Mark, J. J. (2020). Mandala. World History Encyclopedia.
Suputtitada, P. (2021). Clay art therapy for physical, psychological and cognitive improvement. International Journal of Medical Science and Current Research.
GoodRx Health has strict sourcing policies and relies on primary sources such as medical organizations, governmental agencies, academic institutions, and peer-reviewed scientific journals. Learn more about how we ensure our content is accurate, thorough, and unbiased by reading our editorial guidelines.