Key takeaways:
Kawasaki disease (KD) is a rare illness that's most common in children. Researchers don't know the exact cause, but it leads to swelling of the blood vessel walls. 

The classic symptoms of KD include fever, a large lymph node in the neck, and red eyes. Other common symptoms are changes to the mouth or lips, rash, and swelling of the hands or feet. Healthcare providers mainly base the diagnosis on symptoms. 

KD can be serious if it affects blood vessels of the heart. Treatment includes aspirin and intravenous immunoglobulin.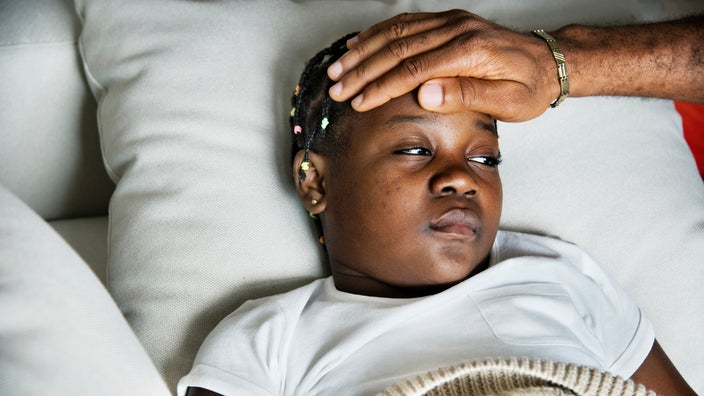 Save on AUVI-Q® (epinephrine injection, USP)
Be prepared with AUVI-Q, an epinephrine auto-injector with voice instructions. See if you could get AUVI-Q for as little as a $35 copay*. Not covered or uninsured? You can still save with GoodRx.
*See full terms at auvi-q.com/support I GoodRx Health information and resources are reviewed by our editorial staff with medical and healthcare policy and pricing experience. See our editorial policy for more detail. We also provide access to services offered by GoodRx and our partners when we think these services might be useful to our visitors. We may receive compensation when a user decides to leverage these services, but making them available does not influence the medical content our editorial staff provides.
Kawasaki disease (KD) is a rare illness that affects the blood vessels throughout the body. Other names for it are Kawasaki syndrome and mucocutaneous lymph node syndrome. Researchers first described KD in Japan in the late 1960s. It's most common in children, especially in those under 5 years of age. It can be a serious illness, even with treatment. 
In this article we'll explain KD's causes, common symptoms, diagnosis, and treatment.
What causes Kawasaki disease?
KD is an illness that affects blood vessels, also known as a vasculitis. It means the blood vessels become inflamed or irritated and swollen. Many of KD's symptoms are the result of this swelling. 
Experts aren't sure why people develop KD. Scientists have made some guesses as to the possible causes, although there seems to be more than one.  
KD often starts with a viral infection, although not a specific one. And not everyone who develops KD has a viral infection first. In the U.S., KD seems to happen more commonly in the winter months. This makes sense, given this is when viral infections — like the cold and flu — are more common. 
There's likely a genetic component as well. The following data support this:
You're 10 to 20 times more likely to have KD if a sibling had it. 

Asian children, especially those with Japanese ancestry, seem more likely to get KD.

Boys seem to have a higher chance of getting KD and having more severe illness.   
What are the symptoms of Kawasaki disease? 
The symptoms of KD change as the illness evolves. Below are the common symptoms people experience from week to week. This is mostly based on the experience of children, given this is the most likely population to get KD.
Weeks 1 to 2
Early on in the illness, children with KD have the following symptoms:
Fever (usually 102.2℉ or higher) that lasts for 5 days

Red eyes without a lot of drainage

Red and cracked lips 

Red tongue that looks like a strawberry 

Sore throat 

Red rash (on the entire body, or only in the diaper or genital area)

Swelling of hands or feet

Swollen lymph node in the neck, which you may see or feel as a fullness in the neck
Sometimes these symptoms all happen at the same time. Other times they're spread out over the first couple weeks. 
Less common symptoms are:
Weeks 2 to 4 
Around the second week, the fever starts to improve. And during the second to fourth weeks, most of the early symptoms gradually go away. 
New symptoms during this phase include:
Skin peeling on the palms of the hands and soles of the feet 

Joint pain, and possibly redness and swelling of the affected joints
This is also the phase when KD can start to affect the blood vessels of the heart. It can lead to coronary artery aneurysms, which cause the blood vessels in the heart to swell and stretch out like balloons. This makes it harder for the heart to pump blood. It can also increase the chance of getting blood clots. 
There may not be any symptoms when KD affects the heart's blood vessels. But if it does, they could include: 
Although rare, adults with KD will have symptoms similar to those in children. And healthcare providers will base the diagnosis on the same symptoms. But there are some symptoms that are more common in adults than children:
Weeks 4 to 8
Around the fourth week people generally start to get better, and the symptoms start to go away. 
How do you diagnose Kawasaki disease?
Diagnosis of KD can be tricky. There isn't a specific test for KD, so the diagnosis relies on symptoms. 
For a healthcare provider to diagnose you with KD, you must meet two criteria:
Fever for 5 days

And 4 of the 5 following symptoms in the first 2 weeks: 

Red appearance of the lips, tongue, or throat

Rash 

Swelling of the hands or feet 

Enlarged lymph node in the neck 
In addition to symptoms, there are changes in the blood and urine that might help to make the diagnosis. But these are abnormalities that can occur in many different illnesses.
Because KD affects blood vessels in the heart, healthcare providers often do an echocardiogram, an ultrasound of the heart. This study looks at whether there's injury or damage to the blood vessels to the heart. 
How do you treat Kawasaki disease?
Although the diagnosis can be a challenge, the therapy is more straightforward. There are two main treatments.
Intravenous immunoglobulin (IVIG): These are proteins that come from the blood of healthy donors. They work by binding to the proteins that cause harm in someone with KD. A healthcare provider gives it through a vein over several hours. Providers usually give IVIG once they make a diagnosis of KD. Studies show it decreases the risk of aneurysm in the vessel walls, especially if started within the first 10 days of illness.

Aspirin: This medication helps with inflammation and decreases the risk of a blood clot from KD. Providers often recommend aspirin after making a diagnosis and continue it until the illness resolves at 6 to 8 weeks. 
What are the long-term outcomes?
Most people will recover from KD without any long-term issues. There's a small number of people — about 3% — who have more serious injury to the heart and the blood vessels of the heart. These injuries may include:
Heart attack: This can happen because the blood vessel walls are stretched enough that the heart can't get the oxygen it needs. Sometimes the walls are so thin that the vessel wall can tear. Although very rare, this can lead to death.

Blood clots: Blood doesn't flow normally in the stretched vessel walls. This makes clots more likely.

Leaky heart valves: The swelling of blood vessels can sometimes also affect the heart valves. When they become leaky, the heart doesn't pump blood as efficiently. 
Over time, as the vessel walls heal, the walls may thicken a bit. Think of this as scar tissue. It makes the blood vessel walls slightly stiffer, which can also make it easier for clots to form. 
Sometimes the blood vessels will also become narrower over time. These changes can take over 20 years to be noticeable. In general, these long-term issues occur in people with more serious cases of KD or those who didn't get treatment within the first 10 days of illness. 
People who fall in the following categories seem to have a higher chance of more severe KD:
Fever for more than 8 days

Fever returns after going 48 hours without fever

Males

Children under 1 year of age

Asian, Pacific Islander, or Hispanic ancestry
The bottom line
Kawasaki disease may seem scary. But keep in mind that it's a relatively rare condition. Many of the symptoms of KD commonly occur with other illnesses. But if you or your child are experiencing several days of fever and have the common early symptoms, consider seeking medical attention sooner rather than later. Treatment in the first 10 days of illness can help prevent injury to the heart, so a timely diagnosis is important.
GoodRx Health has strict sourcing policies and relies on primary sources such as medical organizations, governmental agencies, academic institutions, and peer-reviewed scientific journals. Learn more about how we ensure our content is accurate, thorough, and unbiased by reading our editorial guidelines.