Key takeaways:
Transferring your prescription to a new pharmacy can sound complicated, but the process is fairly simple. 

After you provide your new pharmacy with basic information about yourself, your prescription(s), and your previous pharmacy, they take care of the rest. The process is even easier if you're transferring a prescription to a different pharmacy within the same company. 

Not all medications are eligible to be transferred. Some even have strict transfer requirements. Your local pharmacy team can tell you if a certain medication is eligible to be transferred.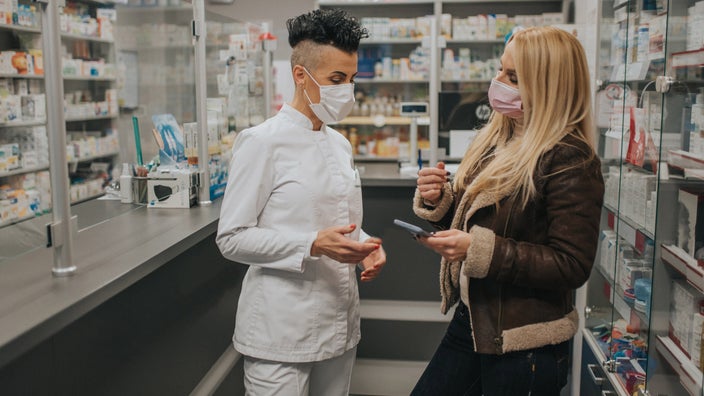 So, you used GoodRx to compare prices for your prescription and found a less expensive pharmacy. But transferring your prescription is a pain, right? It's actually easier than you may think. Pharmacies want to make transfers as smooth as possible. Here are a few things you can do to keep things simple.
1. Get in touch with your new pharmacy
Let your new pharmacy know that you want to transfer your prescriptions from your old pharmacy. You'll need to get them the name, strength, and prescription number of each prescription, along with the phone number and address of your old pharmacy. You can do this by calling, stopping by the new pharmacy in-person, or going online (if your new pharmacy offers transfer services on a website or mobile app).
If you want to take the online route, pharmacies like CVS and Walgreens have a streamlined process. For a CVS transfer prescription, you can go online and enter your personal information, basic prescription information, and your old pharmacy's contact details. From there, your desired CVS store will reach out to your old pharmacy to handle the transfer process. For a Walgreens transfer prescription, the process is very similar. This is also true for many other pharmacies, such as Rite-Aid, Walmart, and more.  
However, if you're looking to transfer your prescription(s) to a different pharmacy within the same company, such as from one CVS to another CVS, the process is a bit easier. You can skip the other steps listed here and contact your new pharmacy directly. In most cases, you can just tell them your name and date of birth. They can then pull up your information through the company's connected system and fill your prescription if it's eligible for a refill. You may also be able to request this service through your account on your pharmacy's website or mobile app. 
Keep in mind: It's important that your new pharmacy starts the transfer process. They can reach out to your old pharmacy and have them send your prescription(s) over. In most cases, your old pharmacy won't be the one to start the transfer request. 
2. Gather your health and insurance information
As mentioned, you'll need to give your new pharmacy some personal information and your insurance information. If they offer online transfers, you can also send this information through their website. The new pharmacy will typically need to know your:
First and last name

Date of birth

Home address

Phone number

Allergies (if applicable)

Prescription insurance information (if applicable)

Desired coupon information (if applicable)
3. Wait for your prescription to be transferred 
Wait for your prescription(s) to be transferred. The amount of time your new pharmacy needs can depend on how many prescriptions need to be moved over and the current workload of the two pharmacies. It's best to give the pharmacies at least 2 to 3 days before trying to pick up your refills. That way, any resolvable issues can be taken care of before you go in. You can also ask your pharmacy team how long they expect the transfer process to take, given their current workload, staffing, and availability.  
If you want the pharmacy to send you status updates during the transfer process, make sure they have your preferred phone number to reach you. For instance, pharmacies like CVS and Walgreens have text alert services. They can text you with different status updates, such as when your prescription is ready to be picked up. But know that they may call you for more information if there's an issue that's holding up your prescription. 
Don't forget to bring your insurance card or any coupons you want to use with you to the pharmacy. The pharmacist, pharmacy intern, or pharmacy technician will need that information to get you the right price. However, it's best to give this information as early in the process as possible. If you give your insurance or coupon information right before you pick up your prescription, the pharmacy team will need time to reprocess your prescription from the beginning. This may add a serious delay, especially if the pharmacy is busy. 
Special circumstances
If you're on top of your medication regimen and know which of your prescriptions are eligible for a refill, transferring your prescriptions should be an easy task. However, it's important to know that a few things could keep you from having a smooth transfer process. Keeping in touch with your healthcare provider's office can help make sure you don't run into any of these roadblocks:
Your prescription ran out of refills. If your prescription is out of refills, your new pharmacy may be able to contact your healthcare provider on your behalf to request a new prescription. However, know that some pharmacies aren't allowed to send refill requests for you if you haven't filled a medication there before. If your prescription is out of refills, it's a safe bet to reach out to your healthcare provider's office for refills, especially if you ran out of refills for reasons that your pharmacist won't be able to resolve. For example, your healthcare provider might need you to schedule a follow-up appointment or get blood work done before getting refills. Or maybe, you no longer need that medication.

Some prescriptions can only be transferred once. Schedule III, IV, and V medications are controlled substances and can only be transferred one time, no matter how many refills you have left. After transferring them once, you'll need a new prescription from your healthcare provider to switch pharmacies again. Many states also have extra transferring restrictions for these types of controlled substances. Some common examples of these types of medications include Ambien (zolpidem), Tylenol with codeine (acetaminophen/codeine), and testosterone.

Some prescriptions can't be transferred. Schedule II controlled substance medications cannot be transferred — at all. They also aren't eligible for refills, so your healthcare provider will need to give you a new prescription every time you need it. Some common examples include Adderall (amphetamine salt combo), Concerta (methylphenidate ER), and Norco (hydrocodone/acetaminophen).
The bottom line
Transferring a prescription to a new pharmacy may seem bothersome. But the process is often simple. Most of the logistics are handled behind-the-scenes. You just need to get the process started and pick up your prescription when it's ready. You can request a prescription transfer by calling your new pharmacy, talking to them in-person, or by submitting an online transfer request. But, keep in mind that certain medications — like Schedule II controlled substances — cannot be transferred. 
GoodRx Health has strict sourcing policies and relies on primary sources such as medical organizations, governmental agencies, academic institutions, and peer-reviewed scientific journals. Learn more about how we ensure our content is accurate, thorough, and unbiased by reading our editorial guidelines.
Subscribe and save.
Get prescription saving tips and more from GoodRx Health. Enter your email to sign up.
By signing up, I agree to GoodRx's Terms and Privacy Policy, and to receive marketing messages from GoodRx.