Key takeaways:
Danny Casale used to turn inward when he dealt with personal struggles.

When he started to express the importance of mental health through his art, he reached another level of people as an influencer.

Today, he's invested in the power of positivity to help people through tough times.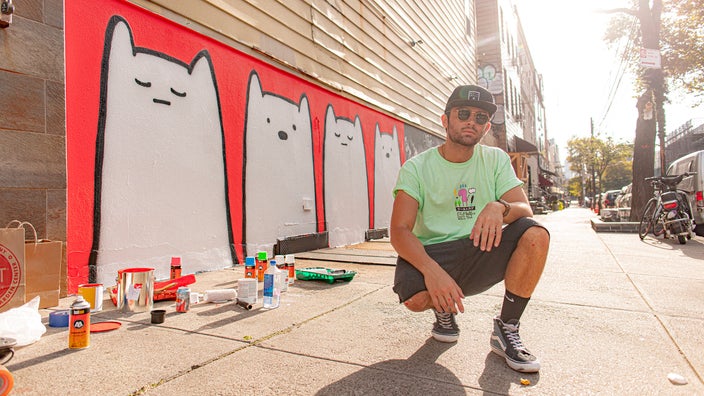 In October 2017, Danny Casale had what he now calls "his Spiderman moment." 
The New York artist, also known as Coolman Coffeedan, had gone viral a few months earlier. Millions of people had viewed his animation, "Snakes Have Legs," a take on unreliable news sources.
Now, Casale was watching the real news. And he was horrified: A gunman had opened fire on a crowd at a Las Vegas music festival, killing 58 people.
"I had a few thousand followers, and I needed to say something with this new platform," says Danny, now 26. "I felt for the first time that I could say something and have a positive effect and make people feel 1% better."
He skipped his college classes and went home to draw an animation. It featured a "blue blobby figure with a deep voice" — Danny's actual voice. The figure, named Blue Dude, has a simple message: There are bad people in the world who do bad things. But there are better people in the world and more good things. Good things like the smell of bakeries, babies' smiles, the feeling you get when your crush says your name, or the taste of watermelon in the summertime.
Millions of people found the animation and took comfort from it. Danny received countless thank-you's from strangers. 
"The world was so hungry for some positivity," Danny says. "That was the start of it all: These characters could do more than just draw laughs. They could be there for people." 
A platform to talk about mental health
Five years later, Danny has about 7 million social media followers who turn to his work for solace and support. And he's using his platform to bring awareness to the importance of mental health.
He's honest about his own issues.
"I was a very self-conscious, anxious kid," he says. "I still am, but I'm much better at dealing with it.
He shares personal struggles, like when his grandmother died, and he created an animation about missing someone you love. He collaborated with a Bollywood star on an animation about self-care that has been viewed by more than 10 million people.
While he often translates his messages into animations, they break down into these six themes:
1. It's never quite as bad as you think
"Growing up, I always thought I was the ugliest person in the world, and I'd have nervous breakdowns and have to skip school if I couldn't get my face or my hair to look a certain way. And that's just not right. It's not correct," Danny says. 
"You need to take [your feelings] seriously, sure, and address it. But you need to realize that the situation is never as bad as your brain is making it out to be."
2. Reach out to someone
Danny knows letting someone else know you're in pain is easier said than done. 
Despite his close relationship with his parents, he often found himself turning inward during tough times. Now he's more conscious of the dangers of distancing himself from the people who love him. 
"It's very easy to shut yourself off and not want to start that dialogue," he says. "But when you find your thoughts bottled up, it's important to talk to someone you trust."
"You can talk about nothing, or you can talk about everything, but what's important is getting it out of your brain through your mouth. That does wonders for me."
3. Never underestimate the impact of doing something simple
Stay hydrated. Go for a walk outside. Call a friend you haven't talked to in a long time. Danny says simple things like those go a long way for your mental health.
He practices yoga and has kept a journal since his freshman year of college. These are proven ways for him to ground himself. But sometimes, he must remind himself of that and make a point to do them. 
"Your brain wants to keep you from doing these self-lovey things," he says. "But they're very important, simple, and effective ways to feel better."
4. Realize you are not alone
While Danny is accustomed to hearing from friends and fans these days, he was surprised when people who bullied him in high school reached out to thank him for his work. 
"These were the guys who 10 years ago I thought didn't like me. And they reached out to say, 'Hey, man, this video was amazing.' They'd text or DM and comment. And it made me realize that if something's not right, we need to work together to feel sane and healthy."
5. The world is a less judgmental place since the pandemic
For Danny, the pandemic changed everything.
"Five years ago, even a few years ago, it was like, 'You're anxious? You have anxiety? Get over it,'" he says. "But all of the events since March 2020 have shown it's OK to feel things, and we have to keep an eye out for each other."
6. Helping others can help you heal yourself
"When people come up to me and tell me how much these characters or videos have helped them get through tough times, it's a reminder that I'm doing now what other animators and cartoonists, like Walt Disney and Jim Henson, did for me when I was younger," Danny says. "It's a wild, full-circle thing."
Danny says adding a mental health element to his work has been life-changing. A few months ago, a coffee shop barista told Danny that she and her sister would send his videos to each other during the COVID-19 shutdown to ease their anxiety.
"These characters have proved to be a huge help for kids and adults around the world regardless of language or culture," he says. "It's created this positive mental health community, and it's awesome to be part of it."