Key takeaways:
A tick-borne disease is an infection you get from the bite of an infected tick. Different ticks transmit different diseases and depend on your geographic region. Lyme disease is the most common.

Most tick-borne illnesses cause flu-like symptoms within days to weeks of a bite from an infected tick. Most of the time antibiotics can treat the infection.

Sometimes tick-borne illnesses can cause long-lasting problems — especially if you don't get treatment soon enough.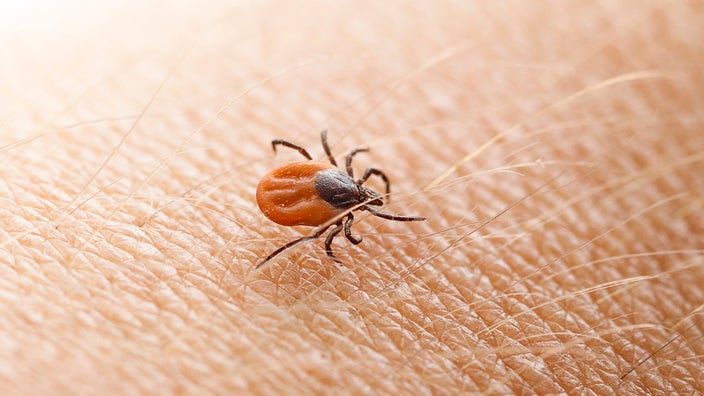 Ticks are tiny parasites that can cause big problems. When it comes to tick-borne illnesses, you've probably heard of Lyme disease. But did you know there are several other tick-borne diseases in the U.S.? We'll look at seven common tick-borne illnesses, including how to recognize their symptoms and what you can do to treat them. 
What is a tick-borne disease?
A tick-borne illness is an infection that an infected tick transmits. The tick itself doesn't cause the illness. There's no risk of illness if a healthy tick bites you.
But an infected tick can pass the infection on to the host (a human or another animal) when it bites. This happens because the infected tick attaches to and "feeds" on the blood of the host.
There are lots of different tick-borne infections. They can be caused by a virus, bacteria, or parasite. 
Whether or not an infected tick transmits an infection depends on how long the tick stays attached and feeds. A tick's meal can last several hours to several days. The sooner you remove the tick from the skin, the lower the risk of getting a tick-borne infection. 
What diseases are linked to tick bites?
The CDC lists 16 diseases ticks carry and transmit in the U.S. The presence of the ticks carrying these diseases varies by region.
Let's run through some of the more widespread tick-borne diseases.
1. Lyme disease
Lyme disease is the most common tick-borne illness in the U.S. It's easy to treat if you catch it early. Without treatment it can lead to long-term joint, heart, nerve, and brain complications. 
The bacteria Borrelia burgdorferi or Borrelia mayonii (less common in the U.S.) cause it.
Infected blacklegged ticks transmit it.
In the U.S., most cases of Lyme disease come from the Northeast and upper Midwest. But new research shows some cases along the West Coast.
A "bullseye" rash (erythema migrans) can happen 3 to 30 days after a tick bite, but it doesn't happen to everyone who gets Lyme disease. Other symptoms include fevers, body aches, headaches, and fatigue.
You're more likely to get Lyme disease if an infected tick stays attached to you for over 24 hours. Lab tests can diagnose Lyme disease. Common antibiotics, like doxycycline, can treat it.
2. Anaplasmosis
Anaplasmosis is a tick-borne illness that has only been reported in the U.S. since the 1990s. Late and severe illness is rare in anaplasmosis.
The bacteria Anaplasma phagocytophilum causes it.
Infected blacklegged ticks transmit it.
In the U.S., most cases of anaplasmosis come from Northeast and upper Midwest. 
Early symptoms usually start within the first few days and can include fever and chills, headache, muscle aches, nausea, vomiting, diarrhea, and loss of appetite.
3. Babesiosis
Babesiosis is caused by microscopic parasites that infect and destroy red blood cells of hosts.  Although it's rare and typically doesn't cause symptoms for humans, babesiosis can be severe. 
The parasite Babesia microti causes it.
Infected blacklegged or deer ticks transmit it.
In the U.S, most cases of babesiosis come from the Northeastern and upper Midwestern states.
Because babesiosis spreads during the very young stages of a tick, most infected people won't notice a bite or feel symptoms. Those with symptoms may have a flu-like illness within weeks to months. Hemolytic anemia (destruction of red blood cells) may also lead to jaundice (yellowing of the skin).
No treatment is necessary if there are no symptoms. 
4. Rocky Mountain spotted fever
Rocky Mountain spotted fever (RMSF) is a serious tick-borne illness. It's important to identify and treat it early. RMSF can rapidly progress to life-threatening or permanent disability, such as limb amputation or paralysis.
The bacteria Rickettsia rickettsii causes it.
Infected American dog ticks, Rocky Mountain wood ticks, or brown dog ticks transmit it.
In the U.S., RMSF is most common in North Carolina, Tennessee, Missouri, Arkansas, and Oklahoma. 
The early symptoms of RMSF begin within 3 to 12 days of a tick bite. Symptoms are like those of other tick-borne illnesses: fever, headache, loss of appetite, nausea, and muscle aches. Most people with RMSF also get a red rash that looks splotchy or pinpoint. 
5. Ehrlichiosis
Ehrlichiosis is another tick-borne illness that needs early treatment to avoid late or severe illness. Untreated ehrlichiosis can cause life-threatening neurological, respiratory, and blood-related complications.
The bacteria  Ehrlichia chaffeensis or E. muris eauclairensis can cause it.
Infected lone star ticks or blacklegged ticks transmit it.
Most cases occur on the East Coast across to Texas (lone star ticks) as well as in Wisconsin and Minnesota (blacklegged ticks).
6. Tularemia
Ticks can transmit tularemia. But transmission can also occur when a human handles an infected animal, often when hunting. Tularemia is highly infectious and can be difficult to diagnose. Antibiotics can easily treat it. 
The bacteria Francisella tularensis causes it.
Infected dog ticks, wood ticks, or lone star ticks transmit it.
Fever is the most common symptom. Beyond that, symptoms can vary depending on which part of the body the infection affects. People may get a skin ulcer, swollen lymph glands, pneumonia, or irritation and inflammation of the eyes or throat.
Symptoms can last up to a few weeks, but most people recover. Blood cultures or lab tests can confirm the diagnosis. Common antibiotics, including doxycycline and ciprofloxacin, can treat tularemia. 
7. Alpha-gal syndrome
Alpha-gal syndrome (AGS), isn't an infection. It's an allergy to a specific type of sugar in red meat. There's still a lot of mystery around AGS, but experts know a tick bite (not necessarily an infected one) often triggers it.
This is not an infection. It can develop after a person gets a tick bite. 
Lone star ticks transmit it.
It's more common in the Southeastern states.
Symptoms of AGS usually start 2 to 6 hours after eating red meat. Mild symptoms can include stomach upset or hives, but anaphylaxis can occur in severe cases.
What are the symptoms of tick-borne diseases?
Many of the common tick-borne diseases share similar early symptoms:
Late-stage symptoms depend on the specific disease and treatment (if any) the person uses. 
Tick paralysis is a rare complication that happens if the saliva of an attached tick contains a toxin. Tick paralysis causes weakness that starts in the legs and moves up the body. It can look and feel similar to other nerve diseases, like Guillain-Barré syndrome. 
The treatment for tick paralysis is to remove the infected tick. Usually people regain movement within 24 to 48 hours after the tick is removed. But, because paralysis can be so scary, healthcare professionals should monitor anyone with tick paralysis in the hospital.  
When to seek medical help for a tick bite
If you notice a tick on your body, remove it right away and watch carefully for symptoms over the next month. Seek medical care if you develop symptoms.   
Remember, most ticks aren't infected. And even if they're infected, most ticks can't spread disease unless they're in the right stage of life and stay latched on for several hours to days. 
If you're in an area that has a high percentage of infected ticks, then you'll want to look for ticks and bites very carefully whenever you spend time outdoors. 
How long after a tick bite do symptoms appear?
Although the specific timelines may vary, most early symptoms of tick-borne diseases show up  within days to 3 weeks. If you don't see and remove the tick yourself, ticks typically fall off on their own after a couple of days. 
Even if you don't see the tick, you might notice that your skin becomes hard, red, bumpy, or itchy at the site. This is just your body's reaction to the tick's saliva and does not necessarily mean you're infected.
How do you diagnose tick-borne diseases?
Since the symptoms of various tick-borne illnesses are similar, your healthcare provider might use lab tests. To help diagnose and treat you, they'll base this on the geographic region where the tick bit you.
But lab testing for ticks is not always reliable. There have been cases of false-positive and false-negative results. So, if you've seen a tick, removed one, or you were in a high-risk area and developed symptoms, that's a good enough reason to get treatment to cover the most likely tick-borne diseases in your area. 
Are tick-borne diseases curable?
Antibiotics can cure most cases of tick-borne diseases. The key points are to recognize the tick when it's attached, notice the symptoms, and get prompt treatment. 
How soon do you need antibiotics after a tick bite?
If a tick bites you, be on the lookout for symptoms over the next few weeks. Get treatment as soon as possible if you develop a rash, fever, fatigue, body aches, or other concerning symptoms. 
If you live in an area of high risk for Lyme disease, your healthcare provider may give you a single preventive dose of doxycycline, even if you don't have symptoms. 
Antibiotic prevention is only effective for Lyme disease. Healthcare providers usually recommend it in the following circumstances: 
You can take it within 72 hours of a tick bite.

An adult blacklegged tick was attached for 36 hours or more.

You live in an area where there are many cases of Lyme disease.
A single dose of doxycycline can prevent Lyme disease if you take it within 72 hours of tick removal. But healthcare providers should consider certain criteria before prescribing it. For most other tick-borne illnesses, experts don't recommend preventive antibiotics for people who don't have symptoms. 
How long do tick-borne illnesses last?
Most tick-borne illness symptoms get better with the right antibiotic. If not treated, symptoms can become more severe, like with Lyme disease and RMSF. But even with quick treatment, up to 20% of people with Lyme disease might have symptoms even after the infection is gone. This is called "chronic Lyme" or "post-treatment Lyme disease syndrome." 
Chronic Lyme disease can cause many symptoms, including fatigue, muscle pain, and difficulty concentrating. The symptoms must have started within 6 months of a Lyme infection and last for at least 6 months. More research is needed to better understand why this occurs in some people and not others. 
How can you avoid tick bites?
If you spend time in outdoor, wooded, and/or grassy areas, it's a good idea to learn about the types of ticks in the area and the rates of infection. 
Try to avoid areas you know have a lot of ticks. When this is not possible, chemicals in bug repellents — like DEET, permethrin, and picaridin — can help ward off tickbites. You can keep ticks off your skin by wearing light-colored clothing, long sleeves, and pants. And you can tuck your pants into your socks. Finally, check yourself and your pets often, and quickly remove any ticks you find.   
The bottom line
Different ticks carry various tick-borne illnesses, but not all ticks are infected. Learn about the different tick species and their infection rates in your specific region to help you stay ahead of the problem and avoid getting infected. Knowing what symptoms to look for will help you get treatment fast and avoid long-term complications. 
GoodRx Health has strict sourcing policies and relies on primary sources such as medical organizations, governmental agencies, academic institutions, and peer-reviewed scientific journals. Learn more about how we ensure our content is accurate, thorough, and unbiased by reading our editorial guidelines.
Subscribe and save.
Get prescription saving tips and more from GoodRx Health. Enter your email to sign up.
By signing up, I agree to GoodRx's Terms and Privacy Policy, and to receive marketing messages from GoodRx.