Key takeaways:
The COVID-19 pandemic spurred telehealth use, and now both consumers and healthcare providers find value in virtual visits. Both report increased interaction and better outcomes.

Many consumers find value in a hybrid model of care, which combines both in-person visits and telehealth. 

No-show rates for telehealth visits may be a pitfall for providers.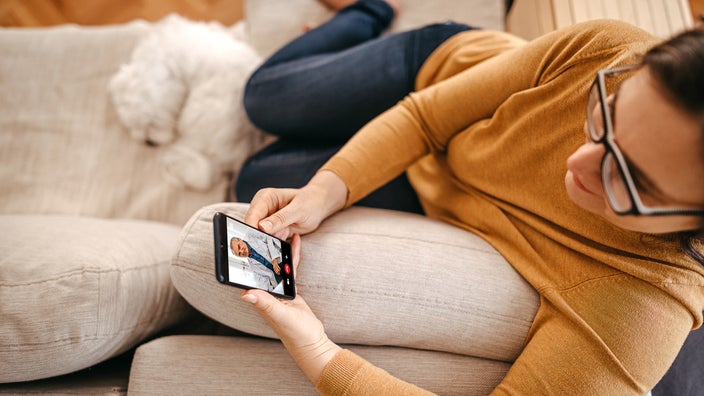 In-person versus virtual care. Texting with a healthcare provider or seeing them in the office. 
Which option is better for consumers? And which one allows providers to deliver the best care? 
During the COVID-19 pandemic, telehealth changed the way many people interacted with their providers. And now that the pandemic has eased a bit, those in the healthcare space are trying to figure out which model of care is best for everyone. 
Some argue that in-person visits are invaluable, while others claim that virtual visits can replace most visits to a provider's office. 
But just like everything in healthcare, this debate is not black or white. And this false dichotomy — pitting in-person care against virtual care — doesn't exist when you talk with both consumers and providers. 
GoodRx Research surveyed over 1,000 patients and over 600 providers during August and September 2021 about their telehealth experiences. In the survey, both providers and consumers told us that they valued telehealth and planned to use it in the future. But that doesn't mean they're ready to forgo in-person visits, either.
Below, we walk through our survey findings, starting with consumers. 
Consumers enjoy the ease of scheduling telehealth visits and plan on using them along with in-person visits 
To understand consumers' experiences with telehealth, GoodRx Research surveyed 1,042 individuals. 
Of those respondents, 10% were uninsured, while the majority had some sort of insurance through the healthcare marketplace, an employer, or a government program. Only 5% of respondents had little to no familiarity with telehealth, while more than half were "very familiar" with it. 
Here's what they had to say.

1) The COVID-19 pandemic spurred telehealth use, with nearly half of respondents using telehealth for the first time during COVID-19
Prior to the COVID-19 pandemic, only 17% of consumers had used telehealth. But during the pandemic, as provider's offices carried the risk of COVID-19 transmission, many turned to telehealth. In fact, almost half of respondents used it for the first time during COVID-19.
2) More than 60% of respondents plan on using telehealth alongside in-person visits
Telehealth transformed care during COVID-19, but it's likely here to stay. Going forward, more than 60% of respondents planned on using a hybrid model of care that combines telehealth with in-person visits. 
Even more promising for the future of telehealth is that only 12% of respondents wanted to ditch virtual care altogether and opt for only in-person visits. 
3) Many consumers see no difference between in-person and virtual visits with regards to quality of care, privacy, and cost
While many have questioned the effectiveness of telehealth, arguing that in-person care is better, consumers don't necessarily agree. 
With respect to factors such as quality of care, comfort level with providers, and cost, many consumers viewed telehealth as neither better nor worse. Convenience, however, was better with virtual care — a majority of respondents noted that securing an appointment and scheduling were easier with telehealth. 
4) About 40% of consumers interact with providers more because of telehealth 
A hybrid model of care may be the future, specifically because consumers tend to see their providers more when telehealth is an option. According to our survey, 29% of respondents noted that they interacted with providers more frequently because of virtual care, and 11% reported interacting with providers much more often because of virtual care. Only 29% reported that they saw providers less because of telehealth.  
5) More than half of people prefer video visits over texting or a phone call 
A majority of consumers preferred to video chat with providers during their telehealth visit. A phone call was the next best thing, followed by text messages.
6) Virtual visits for mental health care and chronic care treatment grew the most during COVID-19

While consumers used virtual care across different specialties, mental health care and chronic care treatment saw the largest growth. Consumers also used telehealth for acute emergency care, skin care, and connecting with other specialists. 
7) A majority of consumers didn't use telehealth simply because they didn't have a medical issue that required a medical visit
On top of that, of respondents who had never used telehealth, only 36% preferred face-to-face visits with a provider. 
Surprisingly, even though many have raised concerns about telehealth privacy, few consumers were worried about it. Only about 9% of respondents noted that they had security or privacy concerns that were holding them back from using virtual visits. 
Providers see good outcomes for their patients because of telehealth 
As the COVID-19 pandemic took over much of daily life in the U.S., many healthcare professionals turned to telehealth to treat patients. GoodRx conducted a survey of 624 healthcare providers to understand their experiences with telehealth. 
Below, we outline the main areas of telehealth use and provider-patient experience that have emerged from the COVID-19 pandemic. We've also highlighted how providers might conduct telehealth visits in a post-pandemic world.  
We surveyed nurses, nurse practitioners, physicians, and physician assistants for this survey. Physicians made up the majority of the sample (53%), followed by physician assistants (36%), nurses (8%), and nurse practitioners (3%). Providers came from a range of practice settings: HMOs, hospital-owned group practices, hospital-based care, independent group/multispecialty practices, and nonprofit clinics, among others. 
1) The services and formats offered via telehealth are widespread
According to our survey, 65% of healthcare providers used telehealth to diagnose a new health issue, and over 51% used it to prescribe medication for a new health issue raised during a telehealth visit. 
We also found that providers commonly used telehealth to issue a prescription electronically for an ongoing health issue that was identified prior to the telehealth visit (41%). 
Providers can use several different types of platforms and technology to complete a telehealth visit. The availability of each type of service may vary depending on provider or organization preference and/or may be dictated by state law. 
While nearly two-thirds of providers we surveyed reported using synchronous video (a traditional video call where both parties are online at the same time meeting) to meet with patients and provide care, they also used other forms of telehealth including:
Synchronous chat (a text-based visit where both parties are online and typing at the same time)

Asynchronous chat (a text-based visit where the parties are communicating but not at the same time — the provider might send a message, and then the patient can respond an hour later and so forth)

Audio-only calls (talking over the phone)
Many providers also reported using a combination of the different forms of communication. 
There are a wide range of platforms available for telehealth use — Zoom, Facetime, and EHR Provider were the most popular, according to our survey. 
2) Telehealth has a positive impact on patient outcomes and experiences
Telehealth may not be a perfect substitute for all types of in-person care. But it may be better for patient continuity of care, adherence to medication, and conversations around cost, according to our sample of healthcare providers. 
Over 70% of providers we surveyed reported that telehealth had made patient continuity of care better or much better. And about 60% reported that telehealth had made adherence to medication and conversations around cost better or much better.
Providers also reported that the overall level of care provided via telehealth was better or equal to that of in-person care. Over 43% reported that telehealth care was better or much better than in-person care, while less than 20% reported that telehealth care was worse or much worse than in-person care. The remaining 37% indicated that the two forms of care were about the same.
3) No-show rates are one potential pitfall of telehealth care 
One area of telehealth that providers may need to be mindful of is no-show rates. While 22% of providers indicated that the no-show rate in telehealth was equal to the rate of in-person visits, 45% indicated that the telehealth no-show rates were higher or much higher than in-person rates. 
4) Telehealth may increase provider confidence in visit security
Of over 600 healthcare providers surveyed, the largest group reported that telehealth was more secure or much more secure than in-person visits (41%). An additional 35% said that there was no difference between the security of in-person visits versus telehealth visits. 
Certain types of clinical visits and the common patient experience of revealing health information in a traditional waiting room, among other patients, may have contributed to providers' feelings about telehealth security.
5) Telehealth has made accessing care more seamless for the Medicare population 
In March 2020, the Centers for Medicare & Medicaid Services enacted a waiver for telehealth care. The waiver stated that Medicare recipients would be covered for telehealth visit costs. 
Almost half of the providers sampled said that the COVID-19 pandemic and the waiver for telehealth services caused an increase in the number of Medicare patients they saw over telehealth. Nearly three-fourths of the providers we sampled said that they had billed Medicare for online treatment since coverage was expanded to cover telehealth for this population. 
When asked about treating the Medicare population in a post-COVID world, over 70% also said that they would continue to bill Medicare for online treatment.
6) Across the board, providers are optimistic about the future of telehealth 
Based on our sample of over 600 healthcare providers, the vast majority thought that telehealth was here to stay. Over 80% of the providers we sampled said that they plan to continue using telehealth in the future, and 6% were unsure. Only 11% said that they would likely not continue to offer telehealth services in a post-pandemic world. 
According to our sample, 35% of providers would ideally complete 26% to 50% of their visits over telehealth; an additional 25% would prefer to complete 51% to 75% of their visits over telehealth.
We also asked the providers we sampled to tell us their general feelings about telehealth. Among those currently using telehealth, 64% reported feeling more optimistic or much more optimistic about telehealth since the COVID-19 pandemic began. 
But this sense of optimism is not just limited to those currently practicing via telehealth. Among the providers who were not using telehealth, nearly half felt more optimistic or much more optimistic about telehealth following the COVID-19 pandemic. 
Among our sample of providers, nearly 50% reported feeling excited about telehealth. Participants also reported feelings of cautiousness (27%), curiosity (35%), and indifference (11%).
Summing it all up
The COVID-19 pandemic accelerated what might have been an inevitable transition to telehealth in the U.S. 
Offering care over telehealth seems, in many cases, to be a win-win for both providers and patients. Patients seem to prefer video-based telehealth visits and find telehealth to be more convenient. They are using telehealth to treat a range of issues including mental health and chronic conditions. Providers say that telehealth has improved the patient-provider relationship and patient health outcomes. 
However, telehealth may not be a one-size-fits-all approach to healthcare. Both patients and providers should be mindful of its limitations. But even though some patients may be returning to in-person health appointments as the COVID-19 pandemic subsides, the telehealth space will likely continue to grow in popularity because of its convenience, security, and benefits to overall patient care. 
Methodology
Consumer survey: GoodRx surveyed 1,042 adults in the U.S. via an online survey. The survey ran from September 13 to 17, 2021. 
Provider survey: GoodRx Research, in collaboration with the American Telemedicine Association, surveyed 624 providers, via an online survey from August 2 to September 5, 2021, to learn about their telehealth experiences.
GoodRx Health has strict sourcing policies and relies on primary sources such as medical organizations, governmental agencies, academic institutions, and peer-reviewed scientific journals. Learn more about how we ensure our content is accurate, thorough, and unbiased by reading our editorial guidelines.