Key takeaways:
Lori Schneider's fear and anxiety over her multiple sclerosis diagnosis changed after she climbed Mt. Aconcagua in South America.

Reaching the summit of Aconcagua with the disease empowered her to live life more fully.

Lori is the first person with multiple sclerosis to climb the Seven Summits — the tallest mountains in each of the seven continents.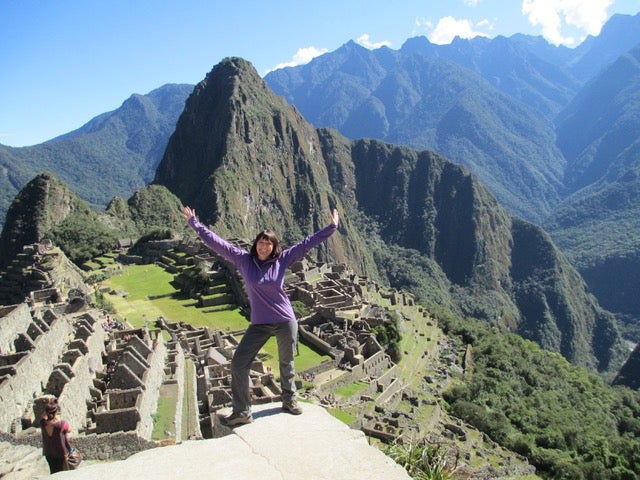 When Lori Schneider summited Mt. Aconcagua on New Year's Eve in 1999, her life changed.
She would leave her job, separate from her husband, and start working toward her goal of climbing the Seven Summits — the highest mountains on each continent.
It was all Lori's way of dealing with her multiple sclerosis (MS) diagnosis.
Getting a multiple sclerosis diagnosis
Lori had gotten her MS diagnosis almost a year before. On January 4, 1999, she woke up with half of her body numb.
"I was getting ready to get my exercise in before I headed off to my teaching job, and I noticed the whole side of my body was numb," she says. "It was as if someone had drawn a line from the top of my head all the way down the midsection of my body. One entire side was numb, and the other wasn't."
Concerned, she called her doctor, who said to call back the next day if the symptoms persisted. As the day progressed, however, her symptoms intensified. She started to feel tingling in her fingers and toes, and her balance seemed off. Later, her vision blurred, she developed muscle spasms, and she complained of a brain fog.
The next day, after calling her doctor back, she started what would be 2 months of tests for everything from lupus to strokes to brain cancer, until she got the final diagnosis of MS.
"It was a horrible, horrible time in my life," she says. "I often say that the worst symptom I had was the fear and depression. Going through those 2 months, thinking in my mind that I was dying, finally getting the diagnosis of MS, and then dealing with the fear of really not understanding what that meant … I thought, 'OK, I'm going to be disabled forever.' It was horrifying to me because I'd always defined myself as a very active person."
A diagnosis that threatened an active life
Prior to January 1999, Lori had lived a very active life. As a special education and elementary education teacher, she was constantly on the go. When she wasn't in the classroom, she was in the mountains of Colorado where she lived — hiking, exploring, and skiing. Just 6 years earlier, she'd started her climbing journey with a trek up Mt. Kilimanjaro with her father on his 61st birthday — the trip that had started her love for mountain climbing.
But the MS diagnosis threatened that active life, she says. Fear and anxiety took hold.
To lessen her symptoms, doctors started her on infusion treatments. Eventually, she says, her vision went back to normal, the numbness and tingling went away, and the muscle spasms stopped. But the depression persisted.
"The depression was silent for me because I was afraid to tell people that I had MS," she says. "I worried that they would judge me as weak, and I couldn't face it."
Then working as a kindergarten teacher, Lori hid her diagnosis from her students and her coworkers, opting instead to suffer in silence with her symptoms.
She couldn't even bring herself to tell her parents. She and her father had already paid for the trip to summit Mt. Aconcagua. She couldn't bring herself to tell her parents about the diagnosis out of fear they would tell her she couldn't do the trip, she says.
Climbing Mt. Aconcagua, a life-changing moment
As the treatments began working and her symptoms lessened, she began to train for the Mt. Aconcagua climb. And on December 31, 1999, nearly a year to the day of her first symptoms, she reached the top of South America's tallest peak. 
"I'll tell you, when I reached the summit, I thought, 'It's time to let go of the shame and the fear and the embarrassment,'" she says. "It really changed my life. That's when I really started climbing more because it was such a powerful experience."
Those 10 minutes on the summit, she says, changed the way she thought about her diagnosis. Instead of letting MS control her life, she says, she decided to take control back.
"It was really an amazing gift to be able to take that time and think about myself as a strong person and not a weak person, and to use that diagnosis to empower me instead of weakening my spirit," she says. "It had been a whole year of feeling so powerless and weak. I needed something to get me moving forward again."
She gave herself permission to live again, she says.
Part of that, she says, was fitting in all the adventure she could before she couldn't anymore. For her, that meant climbing the Seven Summits — the tallest mountains in each of seven continents.
She'd already done Mt. Aconcagua in South America. In 2002, she summited Mt. Elbrus in Europe. Four years later, she climbed to the top of Denali, formerly Mt. McKinley, in North America, and four years after that, in 2008, she climbed to the top of Mt. Kosciuszko in Australia, and Vinson Massif in Antarctica. Finally, in 2009, she summited Mt. Everest in Asia.
She was the first person with MS to climb to the top of each of them and to achieve the goal of climbing the Seven Summits. 
"Almost 10 years passed since the time I woke up numb to the time that I ended up on Mt. Everest," she says. "Through a lot of hard work physically, and a good lifestyle, and healthy eating and meditation, I've been able to live with this disease."
Her goal now is to help others live their fullest lives by taking them up to the tops of mountains.
"When I finished Everest, I thought I'd done all the mountains that I needed to do to satisfy my goal of climbing the Seven, but my lust for adventure was still there," she says. "I decided then what I really wanted to do was to help other people find their power and realize that, when they receive a diagnosis of something that's life-changing, they can still set goals and have big dreams and live a full and happy life."
A year after Everest, she organized a climb up Mt. Kilimanjaro with a group of 10 people with MS, and four others with Parkinson's disease. Along with 14 companion climbers and medical staff, she went back to Africa, where it had all started on that first climb with her father, to help others realize the power within themselves.
"That's what my goal in life is — to help others find their own power," she says. "They don't need my power. They need to find their own power and to somehow move beyond their label."