Key takeaways:
Jaime Sanders has had to revise some of her dreams, but she does not let migraine define her.

Her migraine tool kit contains medications and nonpharmacologic strategies, including mindfulness meditation.

She is an advocate committed to health equity.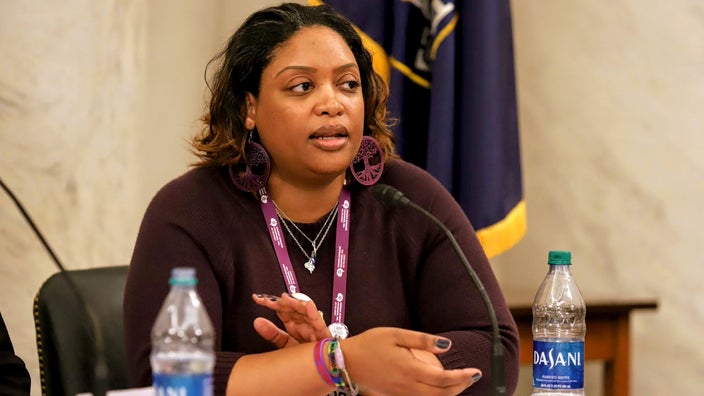 Long before Jaime Sanders started her migraine blog, she was a little girl who went to school, did her homework, played clarinet, and studied dance. 
She also struggled with symptoms so confusing and pain so great that they made her cry. She remembers spending time in darkened rooms, trying to avoid movement. Her mother would place cold washcloths on her forehead.
Diagnosed at age 8
Jaime received a diagnosis of episodic migraine when she was 8 years old. 
She took propranolol for 5 years, Children's Motrin, and Tylenol, but found none worked well for her. Her family and close friends were understanding, but she remembers school teachers who were sometimes dismissive.
Her migraines settled into a pattern that lasted throughout high school. She'd have two severe and three to six more manageable headaches per month. Sometimes she'd simply "power — or suffer — through it." She also learned coping strategies that were based on the intensity of the migraine. She continued to play musical instruments and dance ballet until she was 18. She also formed close, lasting friendships.
When she was 19, she married a police officer to whom she's "still happily married today." At 23, she was working a full-time job she enjoyed, going to school in the evenings, and pregnant with her third child. Early in her pregnancy, she experienced her first multi-day migraine.
It didn't seem extraordinary at first. But after 2 days of unrelenting, intense pain, she was worried. An MRI came back clear — no tumor, no aneurysm. She tried headache medication that's safe for use during pregnancy but found it ineffective. Finally, after almost 90 days, the migraine lifted. She remembers this period as the hardest 3 months of her life.
Several months later, she and her family moved from Buffalo, New York, to Washington, D.C., for her husband's job. She welcomed the opportunity to focus on caring for her young children. But her migraines "just got worse and worse, and harder to control," she says.
They had become severe and chronic, and they lasted for 3 or more days. Based on her doctor's advice, Jaime tried Imitrex to try to prevent her migraines. When none of the triptans worked for her, a long phase of medication trial and error began.
A personalized approach
Over time, Jaime developed her own migraine tool kit.
Today, she gets Botox every 3 months to help prevent migraines. She gets injections, called occipital nerve blocks, between rounds of Botox to help manage her daily pain. 
Her nonpharmacologic tools include mindfulness meditation and acupressure. Meditation helps her recognize that she can "affect how [her] body responds to stress and pain," she says. 
For example, intentionally relaxing parts of the body like the jaw and shoulders can help reduce physical tension and pain. It also helps her manage migraine-related anxiety and depression. 
"When you can't seem to do anything to ease the pain, it's depressing," she says. "The more depressed you feel, the worse the pain gets." 
She's benefited from migraine support organizations and mindfulness apps, which she recommends for others. She also works with a pain psychologist on a personalized approach involving mindfulness and positive thinking. 
She has two biofeedback devices to help prevent migraines. Electrical sensors detect subtle changes in her body. The biofeedback can signal a migraine is coming. She can track analytics and share information with her providers.
If all preventive measures fail, Jaime uses an injectable NSAID at home. When she's stuck in a high pain cycle, she uses a prescription steroid called Decadron to try to break it.
If she's still stuck at a high pain level, her last resort is to go for an inpatient dihydroergotamine infusion. She says that the infusion can cause severe nausea, and it means she must be attached to an IV and heart monitors for several days. When she gets an infusion, she also has to take other injections to prevent blood clots. All these steps cause her more anxiety, and she usually needs several days to recover from the physical and emotional impact of the episode and treatment. But she says it can also bring her relief and "back down to baseline."
Jaime says she's grateful to have "really good insurance," given her increased healthcare needs. But her insurance doesn't cover alternative therapies she finds helpful. 
"Massage, acupuncture, naturopathy, and chiropractic aren't usually covered by insurance," she says. "The longer I've been on this journey, the more those [out-of-pocket expenses] have accumulated."
Advocacy and health equity
Jaime began her blog hoping to connect with others like herself. Its title, "The Migraine Diva," is a little tongue in cheek, she says. 
"There's nothing glamorous about migraine. But I love makeup, the art of it, and it was important for me to keep a piece of my identity," she says. "My symptoms don't represent who I am, they're symptoms of a genetic or neurologic disease I have."
She built a community through online support groups and advocacy organizations. She's part of efforts to address issues of racial disparity and has spoken on Capitol Hill as a migraine patient advocate.
"If people of color read this and feel like they have not been seeing themselves within this community," she says, "know that people are doing work to fix that."
The condition can be isolating
Jaime says having a migraine diagnosis is complicated. What's common to all people with migraine, she says, is "how inconvenient, debilitating, and isolating it is." 
Her condition has made her revise her idea of what being a mother looks like: "There came a point where I couldn't just get down [on the floor] and play hard with my kids, because that would trigger pain." She felt she should be making them lunch or helping with homework, instead of lying down.
"That mom guilt was horrible," she says. 
Talking openly and honestly with her family about her condition and feelings helped. She reassured them that, although there were things she couldn't do, it didn't mean she loved or valued them any less. 
Migraine "caused us to have really tough conversations early on," she says. "But one of the positives is that I now have children in their twenties, adults now, who are very compassionate and empathetic human beings."
"That was the jewel buried underneath all that," she says.
Her migraine journey also brought her even closer to her husband: "He just shows up for me, time and time again. He is my rock through all of this."
"What living with migraine this long has taught me is that perspective is everything," she says.
Migraine doesn't define her, or make her "any less of a mother or a wife or sister or daughter." When she has a flare, she can allow herself grace. 
"I know I'm going to survive any particular bad day," she says, "and everything else can wait."

Want to tell your patient story? Email us at patientstories@goodrx.com
Subscribe and save.
Get prescription saving tips and more from GoodRx Health. Enter your email to sign up.
By signing up, I agree to GoodRx's Terms and Privacy Policy, and to receive marketing messages from GoodRx.