Key takeaways: 
Dina Thachet almost didn't survive her lupus diagnosis.

Despite 3 years of chemotherapy treatments, she got pregnant — after 13 years of trying.

She now lobbies Congress and advocates for better care, fertility preservation, and more research funding for all lupus patients.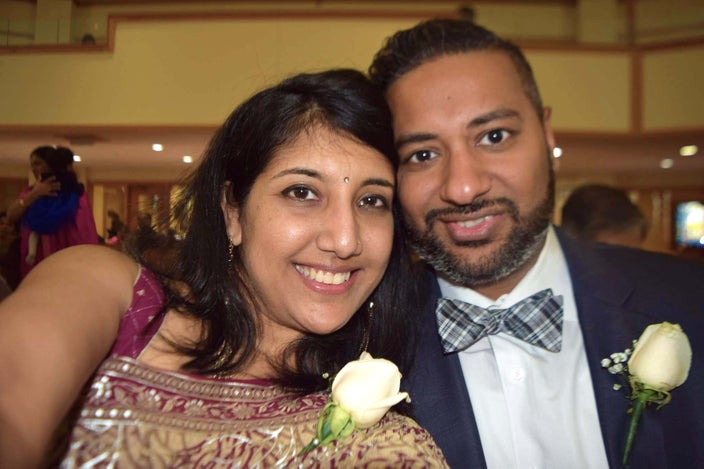 Dina Thachet believes anyone with lupus should be able to access affordable treatments that allow them to become a parent.
A series of harrowing health events led to Dina's diagnosis of systemic lupus erythematosus (lupus) and lupus nephritis. That was nearly 28 years ago.
Today, Dina is a mom to a 3-year-old daughter. And she fights for improved care and increased funding for lupus research.
"At minimum, we deserve to have hope," Dina says.
Purposeful advocacy
Dina, 48, says her purpose in life is to make an impact on others. She does this as the referral outreach manager for Make-A-Wish Foundation of Illinois — and through volunteering. Dina shares her lupus experiences and knowledge so her survival is not in vain.
She volunteers with the Lupus and Allied Diseases Association, Inc. (LADA) and the Lupus Research Alliance (LRA). She lobbies pharmaceutical firms and lawmakers on Capitol Hill. She wants equitable healthcare for people in vulnerable communities, better treatments, and more research funding.
She says she and others with lupus want more medicines made specifically for them because:
There aren't many medicines for lupus approved by the Food and Drug Administration.

Health insurance plans often don't cover off-label use of medications prescribed to reduce lupus symptoms.

Patients are concerned about long-term side effects of their medicines. 
Dina also works to improve life for the newly diagnosed and those who want to be parents. When diagnosed at age 20, her care team didn't discuss fertility preservation, which wasn't as widely available then. Dina says doctors told her not to get pregnant, and warned that if she did, she and her baby would likely die. She felt hopeless.
"We lose hope and faith," she says. "It's the reality of living with a chronic illness. But we are young people who want to be parents and live our lives, despite our diagnosis."
An 'extremely scary' lupus flare 
 At 19, Dina experienced vague symptoms: anemia, fatigue, hair loss, sore fingers, and unexplained weight loss. Her doctors couldn't find a cause. Her condition became so debilitating that she withdrew from college.
A year later, Dina needed emergency surgery for severe endometriosis. Her doctor prescribed birth control to regulate her cycle. Soon after, Dina landed in the ER with meningitis and an E. coli intestinal infection.
Dina spent 3 weeks in the intensive care unit. She experienced heart problems, pleurisy, and seizures. She went into cardiac arrest three different times. As a last resort, her primary doctor called in a rheumatologist. 
"He spoke with us for 2 ½ hours, listening to everything I had gone through," Dina says.
He diagnosed Dina with a full-blown lupus flare. A kidney biopsy revealed stage 4 nephritis. Her kidney was functioning at 9%. Doctors told her she'd likely have 5 years to live, based on her kidney condition.
Her treatments included:
She felt better but concerned.
"This was a false sense of health. Steroids mask the symptoms," Dina says. "Despite being very sick, I felt well."
Dina enjoyed 3 years of stability. Then, her kidney symptoms returned. Doctors recommended more chemotherapy. Dina pushed for a delay and is glad she did so.
"I had this notion that I could impact it from a wellness standpoint with diet and other changes," she says.
Dina remained diligent about her care. Her rheumatologist kept a close eye on her kidney function while Dina studied her options. Dina spent several weeks in a medical library reading about lupus nephritis, kidney functionality, and anti-inflammatory diets. She made changes based on what she learned. Dina's diet and lifestyle adjustments included:
Drinking more water

Eating an anti-inflammatory diet

Getting better and more rest/sleep

Setting and respecting boundaries and limitations

Taking specific vitamins and supplements to support her entire system and her kidneys, including Omega-3 fatty acids (flaxseed)

Using acupuncture, meditation, stretching/gentle yoga and therapeutic massage
Dina says these changes increased her overall sense of wellness. Her clinical test numbers improved slightly, too. She felt more empowered, more in control, and stronger physically and psychologically. 
"While I still had to undergo chemo because of the active lupus and inflammation in my kidneys, I went into the treatments feeling stronger and healthier than I did the first time around," Dina says. "I felt healthier during and after treatments."
Dina maintains her lifestyle changes ever since completing those 18 months of chemotherapy. She says this approach helps manage her symptoms, makes her feel healthy and lets her live a productive life despite the severity of her diagnosis. She continues to avoid a kidney transplant.
Yet nearly 28 years on medication takes a toll. Dina's long-term side effects include GI issues, osteopenia, and prediabetes. 
Lessons in life, love, and fertility
Before lupus, Dina was a pre-med student in Champaign, Illinois, with dreams of becoming a neonatologist. Her diagnosis forced time off and a transfer closer to home.
Dina changed her major to early childhood education with a focus on medically fragile and special-needs children.
Her college boyfriend was a leukemia survivor. He understood what she was going through. He helped her figure out how to explain her condition to others. His leukemia relapsed, and he passed away when they were still in school.
"That changed my life," she says.
Dina completed her degree (while getting chemotherapy) at Northern Illinois University. She interned at a hospital and passed her board exams to become a certified child life specialist. Another internship with Make-A-Wish followed, and Dina is still there 21 years later.
"I couldn't have planned or designed a better job description for myself," Dina says. "It's a calling for me. It's the place I am intended to be."
Marriage and fertility challenges
Fast forward a few years. Dina met Nittin Thachet. They became friends and got married. It took 13 years to become parents.
Dina and Nittin worked with a rheumatologist and maternal-fetal medicine specialists. They ensured Dina's lupus and kidney function were stable and weighed the lupus-related risk factors. Tests showed Dina's ovarian reserve was near zero — the result of chemotherapy treatments.
"We had a lot of heartbreaking losses, challenges, pain, and tears," Dina says.
The Thachets kept exploring options. The costs were overwhelming. Even with good insurance, the Thachets depleted their savings.
Dina realized how tough achieving parenthood would be for lupus patients who are uninsured or underinsured.
"Our hopes, dreams, and desire to be parents are just as important as our physical health and should be factored into the treatment plan," Dina said in recent testimony to the Institute for Clinical and Economic Review.
Through hope, resilience, and support, Dina finally got pregnant.
"At the age of 43, while high risk, and far from easy, I carried a full-term pregnancy," Dina says. "I am the proud mother to our little miracle. She is the biggest blessing of our lives."
Dina and Nittin live in Bolingbrook, Illinois, with their 3-year-old daughter.
'We exaggerate being well'
With help from her dad, Dina planned for any worst-case lupus emergencies. She invested in the stock market and set those funds aside.
Dina and Nittin value stability. "We found good jobs, and we stick with them," she says. "We are fortunate to have good insurance."
To manage the ongoing costs of care, the Thachets:
Find ways to stretch a dollar (bargain shopping, coupons).

Live beneath their means.

Take advantage of 401(k) matching from their employers.
Dina also lives with a baseline pain level she can manage without extra medication.
The current research for lupus does bring hope, Dina says. A handful of medicines are now approved just for lupus. This opens new treatment options for patients.
Most lupus patients want to be healthy, productive members of society, Dina says. They want to work, go out with friends, be parents, and live a good life. Any therapies that bring them closer to these goals are welcome.
"We exaggerate being well," Dina says. "We are faking being well, not faking being sick."
Living authentically and gratefully
Living with lupus helps Dina focus on who she really is and how she wants to show up in this world.
She tries not to sweat the small stuff and lives with gratitude.
"I think I am living a more authentic life than I could have without lupus," Dina says. "I wouldn't wish this on anyone, but there is a freedom to living authentically."
Subscribe and save.
Get prescription saving tips and more from GoodRx Health. Enter your email to sign up.
By signing up, I agree to GoodRx's Terms and Privacy Policy, and to receive marketing messages from GoodRx.