Key takeaways:
Dr. Rebecca Lee Crumpler was the first Black woman to earn a medical degree in the U.S. She also wrote one of the first medical texts by a Black author.

Standing firm in her goals, she persisted in the face of extreme racism and sexism to serve her community. 

Her achievements inspired the formation of the Rebecca Lee Society. This was one of the first medical societies to serve Black women.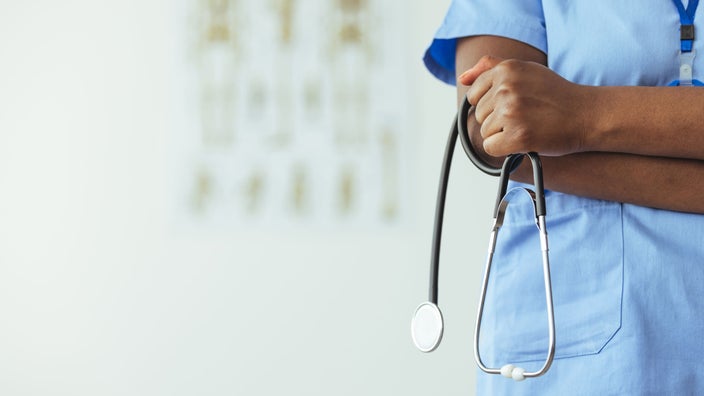 This series of GoodRx articles shines a spotlight on trailblazers who broke down barriers in medicine and their invaluable contributions to the healthcare field.
You may be the only person of your culture, identity, or creed in a room. You may be feeling isolated and confused, calling your support system to rant anxiously about what you experienced at work. You may have had sleepless nights and had to do a lot of soul-searching to redefine your purpose. But you're not alone.
Many important figures throughout history have had to bear the burden of being "the first" in their field, and in the process they created more opportunities for those who didn't fit society's norm at the time. One such trailblazer was Dr. Rebecca Lee Crumpler. 
As a child, she was inspired by her aunt's skill and willingness in caring for ill neighbors. Later on, and during great upheaval, she would become the first Black woman to earn a medical degree — defying the status quo and making history.
Historical context
By the mid 19th century, the U.S. had become the largest enslaver in the world. And in turn, America had also become the world's largest agricultural and industrial economy. 
This financial success prompted a wave of immigration to the U.S, mostly from western Europe. It also spurred internal economic, political, and social movements. This would become the foundation of the Reconstruction era.
Beginning with the Civil War, this era is sometimes called the nation's Second Founding. Amendments were passed to end slavery, expand citizenship, and grant all males the ability to vote, among other things. 
But after the Union's victory, the Confederate south resisted the changes. Of course, they didn't know that this resistance would lay the foundation of the modern civil rights movement 100 years later. It would be in this pre-modern society that Dr. Rebecca Lee Crumpler practiced medicine to serve her community.
Early life and inspirations
In 1831, Rebecca was born in Delaware to Absolum Davis and Matilda Webber. She was then raised and inspired by her aunt in Pennsylvania to begin a career in medicine. 
She notes, "... having been reared by a kind aunt in Pennsylvania, whose usefulness with the sick was continually sought, I early conceived a liking for, and sought every opportunity to relieve the sufferings of others."
In 1852, she moved to Charlestown, Massachusetts to work as a nurse. After 8 years, the doctors encouraged her to attend medical school with their letters of recommendation. So she applied and was accepted into the New England Female Medical College. This was the first institution to train physicians who were women in the U.S. And Rebecca was the first and only Black woman to attend.
In 1860, there were only 300 women — none of whom were Black — out of 54,543 physicians in the U.S. Sexism and racism were both deeply ingrained in the country's education and medical systems, making it almost impossible for Black women in particular to succeed. 
Despite this, Rebecca made history in 1864 as the first Black woman to earn an M.D. Her groundbreaking achievement came just a few years before the first historically Black medical school, Howard University College of Medicine, would open in 1868.
Medical career and contributions to community
Rebecca started a practice in the Boston area treating mostly women and children. After the Civil War ended in 1865, she moved to Richmond, Virginia. She provided healthcare alongside other Black physicians, community groups, and the Freedmen's Bureau. This was a federal agency tasked with helping people who were regaining their human and civil rights.
During this time, war and strife created the perfect environment for diseases to flourish. A smallpox outbreak in Richmond was believed by some to be caused by Black people. Rebecca soundly rejected this narrative. Rebecca, rather, identified that a lack of shelter, clothing, and nutrition was the biggest threat to public health. She helped define what we would now consider the social determinants of health.
As both a public health official and doctor, she braved discrimination and harassment. Some days pharmacists refused to fill prescriptions. And administrators wouldn't allow her to admit patients. Still, she stayed true to her purpose and wasn't intimidated. 
Her perspective, rather, was to care for those who could not care for themselves.
Returning to the Northeast
In 1869, Rebecca returned to practice medicine at 67 Joy Street, Beacon Hill, a thriving, primarily Black neighborhood in Boston. She had a "renewed vigor" in this setting, caring for children.
In 1880, Rebecca moved to Hyde Park, NY, and in 1883, she published A Book of Medical Discourses in Two Parts. This was one of the first medical texts by a Black author. She dedicated it to "mothers, nurses, and all who may desire to mitigate the afflictions of the human race." 
The text is based on her experience in the medical field and focuses on maternal and child health. It also contains her wish for the future of medicine, which is to emphasize prevention. She wrote, "There is no doubt that thousands of little ones annually die at our very doors, from diseases which could have been prevented, or cut short by timely aid."
In 1895, she died due to fibroid tumors. She was 64 years old and was buried without a headstone. 
Legacy
In 2019, Virginia Gov. Ralph Northam established March 30 as Dr. Rebecca Lee Crumpler Day. Boston's mayor also acknowledged Rebecca's achievements. Two years later, Mayor Martin Walsh proclaimed February 8 as Dr. Rebecca Lee Crumpler Day. Rebecca's Beacon Hill home is also a stop on the Boston Women's Heritage Trail.
About 125 years after her death, a headstone was installed at Rebecca's grave in 2020 — thanks to the fundraising efforts of the Friends of the Hyde Park Library. At the ceremony, Dr. Joan Reede, the first Black woman to be a dean at Harvard Medical School, spoke about Rebecca's impact. 
Rebecca's achievements also inspired Dr. Saundra Maass-Robinson and Dr. Patricia Whitley, who, in 1989, established one of the first societies for Black women in the medical field. It was called the Rebecca Lee Society.
The bottom line
There is a history of people who have felt what you have, struggled as you have, and made the impossible possible. Their stories can help us on our journey by illuminating the strategies they used to persevere and the values kept along the way. 
Most of Dr. Rebecca Lee Crumpler's life is still unknown. There also aren't any photos of her. Most of what we know is based on her book. Nevertheless, she has inspired generations of women and Black healthcare providers, letting her achievements and poise speak for themselves.
GoodRx Health has strict sourcing policies and relies on primary sources such as medical organizations, governmental agencies, academic institutions, and peer-reviewed scientific journals. Learn more about how we ensure our content is accurate, thorough, and unbiased by reading our editorial guidelines.