Key takeaways:
Chemotherapy is usually given as an IV infusion, which means the medication is delivered directly into a vein. 

Chemotherapy treatment often requires repeated IV infusions, and there are devices that can remain in place and make it easier to access a vein. 

The two main options are a PICC line or an implanted port. And each method has its own benefits and drawbacks.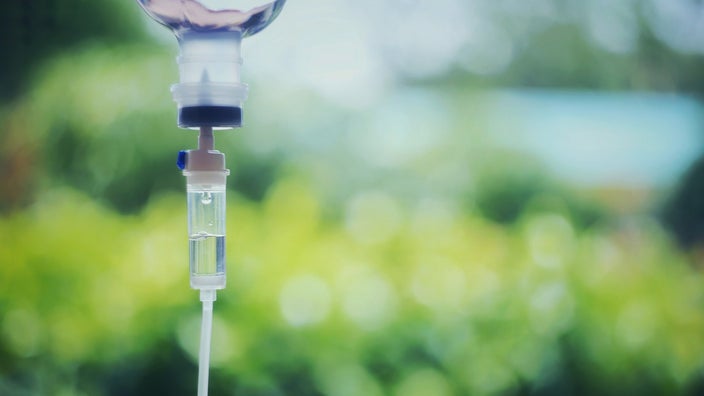 A round of chemotherapy treatment often includes repeated intravenous (IV) infusions, given over several weeks to months. Placing an IV for each treatment can be painful, not to mention anxiety-provoking for those that have a fear of needles. But there are a couple of devices that can remain in place to spare someone the discomfort and fear of a new IV for each treatment. Here, we'll discuss these options and the pros and cons of each one.  
What are the options for intravenous access for chemotherapy infusion?
Before we get into details of the special IV devices that are used for chemotherapy, it helps to understand some basics about IVs in general. 
First, there are several different terms that all refer to a device placed into a vein so a medication can be given. These include:
And there are two main categories of IVs:
Peripheral IVs are placed into a vein in the arm or hand (and sometimes, the foot). Most people will have a peripheral IV if they need a short course of treatment, such as fluids for rehydration or antibiotics for an infection. But peripheral IVs are not ideal for longer courses of treatment. This is because peripheral veins are smaller, and so it is easier for them to break and bruise if the peripheral IV is left in too long.

Central IVs are placed in veins that are closer to the chest. They are typically inserted in the neck, groin, or chest. These veins are generally larger than peripheral veins, and so they are more durable. This means that central IVs can stay in for a longer period of time, which is better for chemotherapy. 
The two main central IV options for chemotherapy are: 
Peripherally inserted central catheter (PICC), also known as a PICC line.

Implanted port, also known as an implanted venous access device, totally implantable venous access port system (TIVAPS), or Port-a-Cath (brand name).
PICC lines
A PICC line is a special IV that is inserted into a vein in the arm (peripherally inserted) in order to gain access to a larger vein (central IV). This means that the PICC line is quite long. So after the PICC line is inserted, the external tip is located on the arm, while the internal tip sits in a central vein near the heart. The external end can easily be accessed when it's time to give a chemo infusion. 
A few pros and cons of PICC lines are:
Pros:

Easily inserted through a simple bedside procedure.

Can be used right away after insertion.
Cons: 

May be more prone to certain complications, such as infection or inflammation in the vein.

Requires a dressing on the arm to keep the IV covered and needs to be kept dry while bathing.

More likely to be accidentally dislodged, because one end of the line sticks out of the arm, where it may get caught on clothing or other objects.
Implanted ports
An implanted port is a little bit different than a traditional IV. It is a small device that is inserted under the skin and is connected to a catheter that goes into a central vein nearby. It can be placed in different locations but is most commonly placed in the chest. It creates a small "bump" that can be felt under the skin. But it is usually less noticeable than an IV because no part of it sticks out past the skin. Once the skin heals, the port can be easily accessed with a small needle anytime an infusion needs to be given. 
A few pros and cons of implanted ports are: 
Pros: 

May have less complications than PICC lines — including less infections — because the skin serves as a natural protective barrier.

Once the area heals after the surgical placement procedure, ports can be left uncovered with no special daily care or dressing required.
Cons:

Requires a small surgical procedure for placement, which is more involved than a bedside PICC placement.

Cannot be used right away like PICC lines, because the skin needs to heal after the procedure.

If not in regular use, they require regular maintenance infusions of heparin — a blood-thinning medication — to keep blood from clotting inside the catheter.
Common complications of venous access sites 
All venous access sites and catheters are prone to certain complications. These include:
Infection of the skin around the placement site, or more serious infection of the bloodstream called bacteremia. 

Bleeding around the catheter site, causing bruising or a collection of blood under the skin.

Leak in the catheter tubing, causing infused medication to leak under the skin rather than entering the veins.

Blood clots inside the catheter, or in the blood vessel where the catheter is inserted.
Caring for your venous access site
There are steps you can take to care for your intravenous access site and help prevent complications: 
Keep the area clean and dry.

Anyone who handles the catheter should wash their hands before and after use.

Flush the catheter as needed if not in use to prevent blood clots.

Regularly check the area for signs of infection, such as redness and swelling of the skin around the site. 
If you or a loved one has questions about how to take care of their port or PICC, don't hesitate to reach out to your provider for instructions. And inform them if you experience pain at the insertion, signs of infection, or fever. 
The bottom line
Chemotherapy is usually given intravenously (IV), either via a PICC line or an implanted port. These devices provide a simple way to receive chemo infusions over several weeks or months. And they help to avoid multiple needlesticks and difficulties in getting IV access. While each device has pros and cons, your healthcare provider can help you decide which method is best for your individual needs. 
GoodRx Health has strict sourcing policies and relies on primary sources such as medical organizations, governmental agencies, academic institutions, and peer-reviewed scientific journals. Learn more about how we ensure our content is accurate, thorough, and unbiased by reading our editorial guidelines.