Key takeaways:
Both high- and low-income groups stockpiled medications in March.

Hydroxychloroquine fills for the highest income group jumped 300% the first 2 weeks after COVID-19 was declared a pandemic.

For the top 100 most-filled medications in the U.S., there were no notable differences in how fill rates changed for high- and low-income groups through March.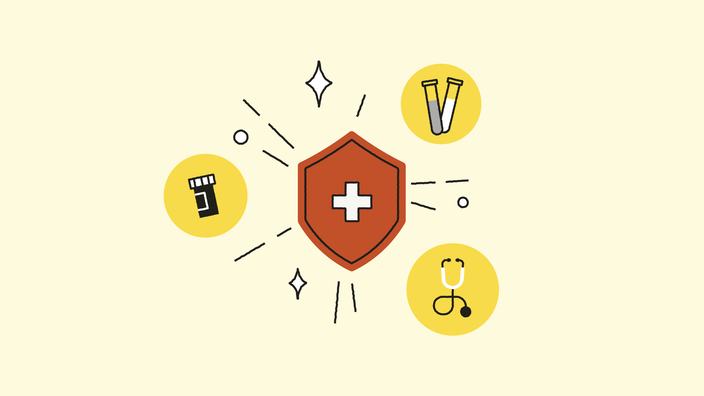 During the week of March 9, the World Health Organization (WHO) declared COVID-19 a pandemic, and President Trump declared it a national emergency. Previous GoodRx research showed a surge in prescription fills for chronic medications around the same time, as people stocked up on medications to prepare for the pandemic, per CDC recommendations. COVID-19 does not affect all people equally, however, and a new GoodRx analysis shows that income may play a role in who stocks up more on specific medications.
According to the analysis, income levels may have affected prescription fill patterns during March when many were stocking up on medications, what we'll be referring to as an "income effect." While changes in fills didn't differ by income for all drugs, there was a notable difference for certain categories, namely unproven COVID-19 treatments (i.e., hydroxychloroquine and azithromycin), promoted by the Trump administration in March, and rescue inhalers for asthma. 
Income effect on unproven COVID-19 treatments
Hydroxychloroquine
Hydroxychloroquine, an antimalarial drug that is normally used to treat lupus and arthritis, has been one of the most discussed medications since COVID-19 was declared a pandemic. The Trump administration has encouraged people on multiple occasions to take this medication to treat COVID-19, despite it being unproven. GoodRx observed a large rise in fills in the weeks after.
Fills for hydroxychloroquine spiked across the board during the first 2 weeks of March. However, fills rose by over 300% for the highest-income group, while for the lowest-income group, fills increased by less than half of that, by only 144%. Fills for both groups have since dropped and leveled off, as hydroxychloroquine went into shortage.
The FDA released a notice authorizing the emergency use of hydroxychloroquine in late March, but they also released an announcement cautioning against using the drug outside of the hospital setting due to a risk of irregular heart rhythms. In the announcement, the FDA also reiterated that hydroxychloroquine "has not been shown to be safe or effective for treating or preventing COVID-19."
Azithromycin
Azithromycin, which is sold under the brand name Zithromax, is a macrolide antibiotic. Against expert recommendation, President Trump also promoted this medication (in conjunction with hydroxychloroquine) as a treatment for patients with COVID-19.
From March 1 to March 15, prescription fills for azithromycin increased by 14% in the high-income group. Fills for the low-income group increased by just 3% during the same time.
Azithromycin has officially been in shortage for weeks now. Fills dropped off drastically after mid-March, and the percent decrease in fills from baseline for each income group is now equal. While the increase in demand for azithromycin was much lower than that of hydroxychloroquine, the sharp decrease in fills might suggest that this drug is most affected by a shortage. Whether it will remain in shortage, or if demand will decrease due to the FDA's warning against using azithromycin and hydroxychloroquine together is yet to be seen.
Income effect on asthma medications
GoodRx research also shows that people rushed to stock up on important asthma medications in case they needed them during the pandemic. While some preliminary clinical data has shown that asthma is not among the top chronic health conditions present in those that have died from COVID-19, people with moderate to severe asthma may be at higher risk of severe illness from COVID-19 due to its effect on the respiratory system.
When asthma-related prescription fills peaked on March 15, fills for the highest-income group had increased by 30% since the start of March, while fills for the lowest-income group had increased by 23%.
Much of this increase in both groups was driven by fills for rescue inhalers like albuterol (ProAir, Ventolin, Proventil). These inhalers are classified as short-acting beta agonists, meaning that they act quickly in the lungs to open up the airways during an asthma attack.
From March 1 to March 15, fills for this class of drugs spiked 60% for the highest-income group, and only increased by 44% for the lowest-income group.
Fills for rescue inhalers for the lowest-income group also dropped off more slowly after March 15 compared to fills for the highest-income group, indicating that they continued to stock up on their medications over a longer period of time. 
GoodRx is here to help you get access to the care you need when you need it, from the comfort of your home.
Income effect on depression and anxiety medications
Understandably, there is concern about the short- and long-term mental health effects of quarantine and isolation in the era of COVID-19. Fills for depression and anxiety medications saw a small spike in March, indicating that people are stocking up, but not as much as with medications for other chronic conditions.
From March 1 to March 15, depression and anxiety medication fills increased by 11% and 8% for the highest- and lowest-income groups, respectively.
Income effect on the top 100 most-filled medications
For the top 100 medications with the most fills year-round (according to GoodRx research from 2019), changes in fills for the two income groups barely differed through March and early April. Fills for these drugs increased around 5% to 6% from March 1 to March 15, and then dropped dramatically, perhaps because people decided to shelter at home, cut costs, or had difficulty getting prescriptions from their healthcare providers.
For these 100 drugs, GoodRx also looked at whether people were getting more medicine per prescription (like a 90-day supply instead of a 30-day supply) by measuring the change in quantity (such as number of tablets) per fill over time. We found that through March 15, the trend was very similar between the highest- and lowest-income groups — quantity per fill increased by 2.5% and 3.5%, respectively. Since then, this has dropped off but hasn't returned to baseline levels yet.
People should never be caught without enough medication to treat a serious illness. But, when prescriptions are already unaffordable on a regular basis, it's not always possible to stockpile essential medications as quickly as necessary during an emergency. The biggest difference GoodRx observed in this analysis was that fills for the unproven COVID-19 treatment hydroxychloroquine and for rescue inhalers increased much more for the highest-income group than the lowest-income group after COVID-19 was identified as a pandemic. 
While these drugs might not be expensive, getting a prescription for them may be easier if you have ample time, resources, and healthcare. However, this difference did not hold for all categories, such as the 100 top-filled medications, indicating that only certain conditions or medications saw an income effect. 
This research adds to the body of literature identifying how income levels can affect how people access emergency resources, particularly during COVID-19. One poll, for example, which looked at the behaviors of the affluent and less affluent, found clear differences in how these groups are responding to the pandemic. If you're more affluent, you're more likely to stock up on medical supplies, cleaning products, and food. You're also more likely to be able to work from home and social distance. These are just some of the ways that COVID-19 affects income classes differently.
As the pandemic continues, GoodRx will continue to report on the latest trends and patterns in prescription fills.
– – –
Co-contributor: Diane Li
Methodology:
Using a representative sample of U.S. prescription fills, not GoodRx fills, we selected fill data for drugs in the following medication categories from March 1 to April 18:
All forms and dosages for hydroxychloroquine

All forms and dosages for azithromycin

Top 100 filled drugs in 2019

All drugs that treat asthma

All drugs in the short-acting beta agonist pharmacological class

All drugs that treat depression or anxiety
Then, we selected distinct zip codes where prescription claims were filled for each category. The zip codes represent the zip code of the pharmacy where each prescription was filled. Each zip code was grouped into an income quartile based on median household income information from the 2018 American Community Survey. For each category, income quartile, and drugs in a medication category, we calculated three weekly indices:
Fill index: The ratio of weekly fills to average fills during a baseline period

Quantity filled index: The ratio of total quantity filled to the average quantity filled during a baseline period

Quantity per fill index: The ratio of the quantity index to the fill index, a measure of the difference in quantity filled on a single claim compared to the baseline period
We rolled up individual drug indices into categories and income quartiles by calculating the average of the drug level index, weighted by the total fills for that drug during the baseline period. We then indexed all indices to the week of March 1. Finally, we converted all indices to a percent change.
Subscribe and save.
Get prescription saving tips and more from GoodRx Health. Enter your email to sign up.
By signing up, I agree to GoodRx's Terms and Privacy Policy, and to receive marketing messages from GoodRx.