Key takeaways:
Putting a stair lift in your home can cost from about $2,000 to $15,000 or more. The average cost is about $6,000. But, that price does not necessarily include delivery, installation, or upgrades like a swivel seat and remote control.

The cost of a stair lift depends on where you live and the product you choose. Outdoor lifts or lifts that wrap around curves will cost more. Upgrades also increase the price. 

Medicare and most commercial health insurance plans do not cover the cost of stair lifts.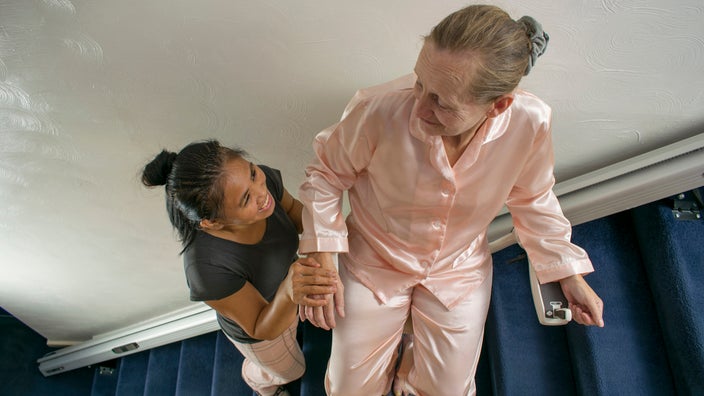 Need Medicare Guidance?
Call Chapter and speak with a licensed Medicare expert who can help you sign up, switch plans, or just learn about how Medicare works.
If you or a loved one need mobility assistance at home, a stair lift may help. A stair lift — also known as a chair lift — is an electric seat that moves along a reinforced track to help you navigate stairs. You sit on the chair and use remote controls to go up and down the staircase. 
Stair lifts can be expensive to purchase and install. Generally, they cost between $2,000 and $15,000, with an average cost of about $6,000. 
Although the cost can be significant, this home modification offers an improved quality of life for people who use it. The device may allow someone with limited mobility to continue living at home longer. And, when compared to the cost of an assisted living facility, a stair lift is by far the more affordable option.
What are the different types of stair lifts?
There are three main types of stair lifts:
Straight

Curved 

Outdoor 
The chart below provides a detailed comparison of the three types.
| Type of stair lift | Description | Price for new model | Price for used model | Rental availability |
| --- | --- | --- | --- | --- |
| Straight stair lift | Straight stair lifts take you from one floor to another in a straight line. They are mass-produced and fit the majority of regular staircases. | The cost of a new straight stair lift is typically between $2,800 and $5,000. | You can purchase a used straight stairlift from an authorized dealer for around $1,500 to $2,500. Individual resellers offer out-of-warranty models for as low as $400 to $1,000. | This is the easiest type of stair lift to rent. The rental cost is typically around $300 to $500 per month. |
| Curved stair lift | Curved stair lifts are used when you need to navigate a landing in between floors or go around a curve. New installations are built custom. | The cost of a new curved stair lift begins at about $9,500, but can be thousands of dollars higher. | You can purchase a used curved stair lift from authorized dealers, as well as individual resellers. Prices vary widely, from around $3,000 to $10,000 or more. | You can rent curved stair lifts from a few companies. Most businesses do not offer a rental option for these stair lifts because they are custom items. Check with the stair-lift providers in your area for more information. |
| Outdoor stair lift | Outdoor stair lifts are often custom builds. They also are made of more expensive, weather-resistant materials. | A straight outdoor stair lift costs $4,100 to $6,000. A curved outdoor stair lift runs between $11,500 and $15,000 before add-ons. | Most businesses do not offer used outdoor stair lifts. Checking auction sites is the best way to locate one. You can also ask stair-lift resellers about options. | Most companies do not offer outdoor stair lifts for rent. Consult a stair-lift provider in your area for more information. |
What to consider when choosing a stair lift
The final cost of your stair lift will be determined by the type of device you purchase and any upgrades. 
Here are some things to keep in mind:
Using a standard, straight stair lift will be cheaper than a custom-made, curved one. 

Indoor lifts cost less than outdoor lifts. Anything you plan to use outdoors must be built with heavy-duty, weather-resistant materials. 

Any upgrades you choose also will add to the cost. Common upgrades include waterproof upholstery, retractable seat belts, remote controls, and footrests.

Most stair lifts can support up to 300 lbs. Lifts with a larger capacity are available, but they are more expensive.
What factors go into the pricing of a stair lift?
Stair lift prices depend on factors such as the length of the track you require and the materials you select for your model. Standard straight stair lifts start with about 14 feet of track. Curved and outdoor stair lifts come in custom track lengths.
A longer track, or one that can wrap around a landing or curve, will be more expensive. And, since outdoor stair lifts are made from weather-resistant materials, they are more expensive than standard indoor lifts.
Any upgrades you select will affect the cost of your stair lift. The chart below details some common upgrade options by category.
Common Stair Lift Upgrades
Upgrade categories
Upgrade options
Seat options

Upholstery pattern and color
Power swivel seat
Adjustable seat height
Reinforced seats for heavier weights
Weather-resistant materials

Rail and footrest options

Larger footrest
Power-folding footrest
Folding rails

Power options

Battery operation
Electric operation
Electric with battery backup

Safety features

Obstruction sensors to stop the chair when something blocks its path
Retractable seat belts

Platform options

Flat platforms that can transport wheelchairs, in place of seats
Is installation included in the cost?
Installation is not always included in the cost of your stair lift. You will need to check with your stair-lift provider to find out whether or not the cost of installation is included in your quoted price. 
Should I buy or rent a stair lift?
Stair lifts are costly to purchase, so renting can be an attractive option — especially for people who can use a standard, straight indoor device. It's also a good option for people who only need a stair lift for a short period of time.
Many companies offer rental options for straight stair lifts, but they require that you keep the equipment in good shape. If you don't keep up with mandatory maintenance, you may not be eligible to return the stair lift when you are done using it. Some companies also offer rent-to-own options.
Curved and outdoor stair lifts are not commonly available for rental because they are usually custom installations. Check with stair-lift retailers in your area for availability and pricing.
What is the cost to rent a stair lift?
Renting a straight stair lift costs around $300 to $500 per month. Most companies require a minimum rental period of 3 months. And they may charge additional fees, including:
Does insurance cover the cost of a stair lift?
Usually, health insurance plans do not cover the cost of a stair lift. This is because stair lifts are considered home modifications, rather than durable medical equipment (DME).
There are a few exceptions:
Are stair lifts covered by Medicare?
Original Medicare does not cover stair lifts. These plans only cover certain DME, such as wheelchairs and home hospital beds.
Some Medicare Advantage plans may cover the cost of a stair lift if it is considered medically necessary. This requires your doctor to write an order for the device. 
Are stair lifts tax deductible?
If a stair lift is considered medically necessary, you can deduct all or part of the cost of the device when you do your taxes. As previously mentioned, your doctor will need to evaluate you and write an order for the stair lift in this case. 
In order to deduct the stair lift as a medical expense, it will need to fit the description laid out by the IRS for tax-deductible improvements to your home. Specifically, the IRS considers "modifying stairways" to accommodate a "disabled condition" to be a tax-deductible expense. The deduction may be reduced by any increase in the value of your home caused by the stair lift.
Some states also offer a sales tax exemption for mobility-enhancing equipment, including stair lifts.
The bottom line
Stair lift prices range from around $2,000 to $15,000 or more, depending on the type of device you need. Standard model, straight stair lifts are the most affordable devices to buy new. Unfortunately, it's difficult to find previously owned outdoor stair lifts and curved stair lifts, which are considered custom installations. 
Medicare and most commercial health insurance plans do not cover stair lifts. If your doctor is willing to write an order for your device, you may be able to get the cost covered by Medicare Advantage, Medicaid, or the VA. In some cases, a stair lift added to your home will be tax deductible.
GoodRx Health has strict sourcing policies and relies on primary sources such as medical organizations, governmental agencies, academic institutions, and peer-reviewed scientific journals. Learn more about how we ensure our content is accurate, thorough, and unbiased by reading our editorial guidelines.