Key takeaways:
Music therapy can be part of treatment for multiple health issues, such as anxiety, schizophrenia, and traumatic brain injuries. 

Music therapy is often provided alongside other treatments, such as medication or psychotherapy, in outpatient and residential settings.

While anyone can use music as a coping method, only experienced and credentialed providers can offer music therapy.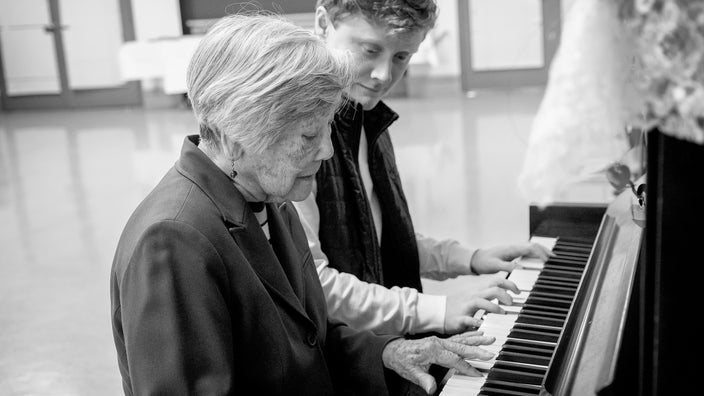 Have you ever found yourself tearing up during a love song or moving along to a fast beat? If so, you know the power of music. 
Certified music therapists use music to help people with stress, physical illness, mental health conditions, and more. Keep reading to learn more about how music therapy works and if it could help you. 
How does music therapy work?
Licensed music therapists use recorded songs, instruments, and other techniques involving sounds or vibrations. Their job is to help people deal with problems such as physical and mental health symptoms. They work with children, teens, and adults. 
For example, if someone is having trouble expressing their feelings, a music therapist may help them pick a song to match their mood. Or a music therapist may bring instruments to a session and encourage clients to create their own sounds. The music itself can be therapeutic, as can the process of creating it. 
For many people, music therapy may be less frightening than sitting face to face with a therapist. It might help them become more comfortable expressing their emotions. For some, it can make it easier to open up later in therapy. 
Others may find that talk therapy doesn't work for them. They might be able to communicate more easily through sound or music. Music therapists can offer many different techniques depending on their client's goals and needs. 
What are the different methods that music therapists use?
Music therapy is sometimes broken into two categories, called active and receptive techniques. Here's a look at each.
Active techniques
Active music therapy involves participating in making sounds or music. Some examples of active music therapy techniques include: 
Singing along to a favorite song

Playing drums during a session

Writing music to express difficult feelings

Performing music with a group
Receptive tTechniques
Receptive music therapy refers to experiencing music without participating in it. It may be followed by other activities that encourage you to process your emotions. 
Receptive music techniques might include: 
Listening to a favorite album and taking in the sound and lyrics

Discussing song lyrics and what they mean to you

Following a guided relaxation exercise that includes music

Playing music to trigger positive memories
Therapists or clients may have a specific goal in mind, such as relaxation, or may allow a session to unfold naturally. 
Benefits of music therapy
Music therapy can help with nearly any life challenge. Some people find that it helps them with stress or working through their emotions. 
It can also help people heal, both physically and mentally, after accidents. For example, music therapy may help those with traumatic brain injuries deal with stress or improve language difficulties. 
Researchers have also found that music therapy may help with schizophrenia, substance abuse, and Parkinson's disease. It's commonly used to support children in special education programs.
Music therapy may help treat the following issues, among others: 
Mood disorders like major depression

Chronic pain

Health-related stress

Adjustment following military service
What to expect when working with a music therapist
Like with other types of treatment, experiences with music therapy can vary. Your therapist may start by asking about your musical interests. Or they may want to know more about your personal background. 
How a session works will depend on your goals, your therapist, and your setting. You might be invited to pick a song to listen to or to experiment with a new instrument. Sometimes, therapists bring instruments or music selections to a session. They may also play an instrument themselves. 
In residential settings, such as rehabilitation centers or psychiatric hospitals, music therapists often offer group music therapy. In this case, they may have planned activities for sessions. They may also invite the group to play instruments together. 
Music self-help versus music therapy
Music therapy is a specific type of treatment that only a certified music therapist can provide. Such therapists have specific education and experience in using music as a treatment. 
Many people use music to cope outside of music therapy. They might play guitar to relax or sing to express themselves. 
Therapists might integrate music into their work as well. A trauma therapist might recommend that a client listen to music when they feel anxious. While this is a therapeutic tool, it's not considered music therapy, since that can only be provided by a specialist. 
Music therapists must complete a bachelor's degree or higher in music therapy. They are then credentialed through the Certification Board for Music Therapists. Some states also provide a specific licensure for music therapists.
How can you use music on your own to improve your mental health?
Some people use music on their own to help with stress or other problems. Here are some ideas, in case you'd like to try it: 
Create a song list to play when you feel anxious or stressed.

Learn to play an instrument, such as piano or guitar.

Join a local band or choir.

Write a song about your thoughts or feelings.

Play an upbeat song when you want to increase your energy or change your mood.
How do you find a music therapist near you?
You can search the Certification Board for Music Therapists' online directory to find approved board-certified (MT-BC) music therapy providers. Music therapists may also list themselves through other directories, including the American Music Therapy Association's online directory. 
You may also be able to find a provider through therapist directories such as Psychology Today or Therapy Den. If you use these tools, look for the provider's music therapy credentials, and ask them about their experience. 
Is music therapy expensive?
Music therapy may or may not be covered by your health insurance plan. You might need to have a healthcare provider's referral for it to be fully or partially covered. You can contact your insurance company to learn more about your benefits. 
Music therapists in community programs or private practices may offer sessions on a sliding scale based on your income. The cost may also depend on your local area or how experienced your therapist is. Ask your therapist to explain what to expect in terms of cost.
The bottom line
Music therapy uses music and other sounds to treat various health conditions. It can help people deal with mental health diagnoses, such as anxiety and depression. It can also help people recover following events like surgeries and brain injuries. If you're interested in trying music therapy, look for a certified therapist near you. You may be able to find individual or group music therapy services.
GoodRx Health has strict sourcing policies and relies on primary sources such as medical organizations, governmental agencies, academic institutions, and peer-reviewed scientific journals. Learn more about how we ensure our content is accurate, thorough, and unbiased by reading our editorial guidelines.